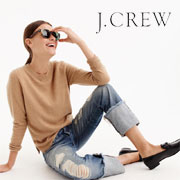 If you are searching for other stores like J Crew to find similar clothing at low prices, I suggest that you visit J Crew Factory before going anywhere else. J Crew Factory is really a great place to find good deals on sweaters, denim, shoes & more. If you have already checked that, on this page, I've listed some of the best alternative clothing brands along with links to their official websites.
Many of these online apparel retailers are more affordable than J Crew and they also offer free shipping on most orders.
For those of you who don't know, J Crew is a New York City based American fashion brand. J Crew specializes in premium casual clothing, formal dresses, footwear, outerwear and accessories for men, women, boys and girls.
Top 10 J Crew Alternatives
GAP > #1 On My List Of Stores Like J Crew

GAP is my personal favorite and one of the best places in the United States to shop comfiest clothing for the whole family. From formal dresses to casualwear and outerwear (jackets & vests) to undergarments, GAP offers almost everything you can find at J Crew stores. For a limited time, GAP is offering a flat 40% sitewide discount. This promotional offer is valid for every order that exceeds $50.
Zara > #2, New Collections & Lookbooks Every Week

Zara is another major brand in the world of premium clothing industry. The company offers a wide range of high-end clothing for men, women and kids, featuring original prints and elegant styles. The price range of suits, denim, loungewear and beachwear at Zara is comparable to J Crew. Zara also offers free shipping and returns on all orders above $50.
Lands' End > #3, Classic American Clothing For Men, Women & Children

Lands' End is another all-in-one (and often cheaper) alternative to J Crew. The brand is famous for offering timeless styles in clothing for women, men and children. Lands' End offers finest quality polo shirts, shorts, pants, dresses, coats and jackets. Lands' End is also a great store to buy trendy swimwear, bikinis and rash guards for the pool, the beach and beyond.
Banana Republic > #4, Better Than J Crew In Many Cases

This one comes from the house of GAP. I've already included the parent company as an alternative to J Crew in this list, then why another brand from the same house? There is a good reason. GAP Inc. operates three clothing brands Old Navy, GAP and Banana Republic under one umbrella (I'm not counting Athleta). Banana Republic is superior (and pricier) than the other two.
Banana Republic is recommended for those of you who are interested in an option that is better than J Crew.
Madewell > #5 On Stores Like J Crew

Madewell is parented by J Crew. Parents usually don't compete with their children. However, if you are a denim jeans enthusiast and want more options to choose from, visit Madewell. It's really one of the best places to buy SERIOUSLY great jeans for women. Madewell also offers an impressive variety of leather jackets and boots for ladies.
Nordstrom > #6, Free Shipping & Free Returns On Most Orders

Nordstrom is less similar and more different than all the brands, stores and websites I shared on this page. Nordstrom is an upscale clothing retailer that sells products e.g. wedding dresses & bridal gowns, formal wear, shoes, jewelry, makeup and a lot more from hundreds of different brands including J Crew. Visit the official website of the company, you'll find plenty of good deals on latest fashion and I hope you'll really enjoy your trip.
Anthropologie > #7, Women's Clothing By Top Designer Brands

From latest shoe collection to women's clothing by hundreds of designers, Anthropologie is another very popular fashion retailer. Parented by Urban Outfitters, Anthropologie is based in Philadelphia, Pennsylvania. The most popular designer brands sold at Anthropologie stores include Jeffrey Campbell, Alexa Chung, Ella Moss and Mara Hoffman. In most cases, the price range of women's clothing and footwear at Anthropologie is comparable to J Crew. Anthropologie offers free shipping on orders above $150.
Ann Taylor > #8, Fine Clothing For Tall Women

Ann Taylor is a strongly recommended alternative to J Crew for working women. Ann Taylor is famous for its flattering dresses, eye-catching blouses, elegant skirts and perfect-fitting pants. Ann Taylor also offers a fabulous range of clothing, jackets, footwear and accessories for tall women. Ann Taylor is not cheaper than J Crew. But still, it is a great place to shop at comparable prices.
Brooks Brothers > #9, Fresh Takes On Heritage Designs

Designing, manufacturing, marketing and selling stylish modern clothing since 1818, Brooks Brothers is the original authority on classic American fashion for men. Brooks Brothers can be a great alternative to J Crew to buy sport coats, vests and dress shirts. The company is headquartered in New York City, United States. Recently, Brooks Brothers has launched a full clothing line for ladies as well.
Ralph Lauren > #10 On Stores Like J Crew

Last (but certainly not the least) Ralph Lauren. I hope you already know this one. One of the most successful fashion brands of all time. Ralph Lauren was first introduced in the year 1967. Presently, it is a publicly traded company that is famous for a wide range of products in four major categories that include clothing, fragrances, accessories and home. Ralph Lauren may be a bit expensive than J Crew. But the quality of products by this brand will never disappoint you.
Would you like to suggest some other good stores like J Crew to include in this list? Please let me know in the comments section below
Further Reading