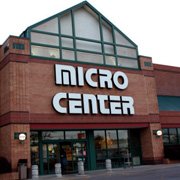 Microcenter is a privately owned American company that specializes in computers and technology. Headquartered in Hilliard, Ohio, the first Microcenter Store was launched in the year 1979. Microcenter Stores are famous for their huge variety of products under several categories including desktops, laptops, monitors, PC parts and networking tools and equipment. In this post, I am going to introduce you to some of the best alternatives to Microcenter to buy computer parts locally or online. All of these stores offer similar quality electronics at comparable or low prices. Below is a list followed by some basic introduction and links to the official websites of Top 10 Stores Like Microcenter.
List of Top 10 Stores Like Microcenter
NewEgg > #1 on My List of Stores Like Microcenter

Newegg is a full-featured ecommerce store that sells computer hardware, software, mobile phones, security cameras, home appliances, tools and office products. Headquartered in California, United States, Newegg was founded in the year 2001. If you are looking for an alternative to Microcenter to get some extra discount on your favorite products, I suggest, take a look over Newegg before buying anything from somewhere else.
Fry's > #2, Home Electronics, Computer Parts & Accessories

Fry's Electronics is a privately owned, American chain of retail stores that primarily sells software and consumer electronics. Founded in the year 1985, Fry's Electronics is headquartered in San Jose, California. The most popular product categories at Fry's Electronics include PCs, Laptops, Tablets, Cell Phones, TV & Home Theater. The price range of products sold at Fry's Electronics is comparable to Microcenter.
CDW > #3, Computer Hardware & IT Solutions For Businesses

CDW can be another great alternative to Microcenter to buy many products e.g. computers, software, hardware and IT Solutions for businesses. Headquartered in Vernon Hills, Illinois, CDW was founded in the year 1984. Last year, this publicly traded company generated more than 13 billion American Dollars in revenue.
Best Buy > #4, America's Leading Consumer Electronics Stores

Best Buy is one of the major retailers of consumer electronics in the United States, Mexico and Canada. The most popular product categories at Best Buy Stores include Home Appliances, Home Theater, Computers, Mobile Phone & Tablets, Cameras, Car Electronics, Video Games and a lot more. Such a huge range of products and its presence on more than 1050 locations make Best Buy a great alternative to Microcenter.
Related Link: Stores Like Best Buy
Tiger Direct > #5 on Computer Parts Stores Like Microcenter

TigerDirect is an eCommerce store that primarily sells computers and consumer electronics. Headquartered in Miami, Florida, TigerDirect was founded in the year 1987. The company is famous for its huge collection of Laptops, Tablets, Monitors, Networking Equipment, Printers and Power Management Solutions. If you are looking for an affordable alternative to Microcenter, I strongly recommend that you take a look over TigerDirect.
RadioShack > #6, Drones, Audio & Video Systems & More…

RadioShack is a popular chain of electronics stores that was founded in the year 1921. Headquartered in Fort Worth, Texas, RadioShack is owned and operated by General Wireless. RadioShack offers a huge variety of consumer electronics including Drones & RC Toys, Audio & Video Systems, Car Electronics, Cellphone Accessories & a lot more.
Related Link: Stores Like RadioShack
NCIX > #7, Buy Software & Computer Hardware Online

If you are looking for a cheap alternative to Microcenter that sells software and computer hardware, visit NCIX. Headquartered in British Columbia, Canada, NCIX is an online store that was founded in the year 1996. In addition to computer components and software, NCIX also sells a full range of consumer electronics.
Mouser > #8, Another Major Electronic Components Store

Mouser Electronics is a subsidiary of TTI, Inc., owned and operated by Berkshire Hathaway. Founded in the year 1971, Mouser Electronics is a great place to buy electronic components under several categories including Audio, Autmative, Broadcast, Communication, Computing, Instrumentation, Lighting, Motor Control, Security and a lot more.
DigiKey > #9, Sells Over 5 Million Electronic Products

DigiKey is a privately-owned company that is known to be the 4th largest electronic components distributor across the United States. Headquartered in Thief River Falls, Minnesota, DigiKey was founded in the year 1972 by Ronald Stordahl. In the year 2015, Digikey generated over 2 billion US Dollars in annual sales.
Sparkfun > #10 on Electronic Stores Like Microcenter

SparkFun (or SparkFun Electronics) is a Niwot, Colorado based, privately owned business that was founded in the year 2003. SparkFun is another cheap alternative to Microcenter to buy bits and pieces to make your electronic projects possible. In addition to electronic components, SparkFun also offers classes and online tutorials to help educate independent students.
Related Links