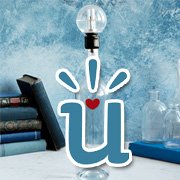 Uncommon Goods is a Brooklyn, New York based company that showcases handmade products by independent artists. The most popular product categories at Uncommon Goods include DIY Kits, Unique Gifts, Home Accents, Handmade Jewelry, Artwork, Tabletops etc. Uncommon Goods was founded by David Bolotsky in the year 1999. In this post I am going to introduce you to some of the best alternatives to Uncommon Goods. All of these stores offer very unique products that can be used as personalized gifts. Below is a list followed by some basic introduction and links to the official websites of Top 10 Stores Like Uncommon Goods.
List of Top 10 Stores Like Uncommon Goods
Gifts.com > #1 on My List of Stores Like Uncommon Goods

Gifts.com is a GOTO place (and one of my personal favorites) to buy almost every type of gifts. Gifts.com offers a massive variety of personalized gifts (over 10K categories of gifts). Additionally, it is also a good place to buy fresh flowers and gourmet sweets for special occasions.
Etsy > #2, Unique Stuff Made by Independent Artists

Etsy is a popular ecommerce website that was founded by Robert Kalin and Chris Maguire in the year 2005. Etsy specializes in handmade or vintage items and supplies. You need to be a registered member of Etsy in order to buy something or sell your own products using Etsy Marketplace.
Related Link: Sites Like Etsy
Perpetual Kid > #3, Entertain Your Inner Child

Perpetual Kid was founded in the year 2004 with a mission to entertain the inner child of millions of people. Perpetual Kid is famous for its unique variety of gifts under hundreds of categories. The gadgets sold at Perpetual Kid were featured in Time Magazine within 3 months of launching.
Kirkland's > #4, Gifts, Furniture and Decorative Stuff

Kirkland's can be another good and cost effective alternative to Uncommon Goods for you. Founded in the year1966, Kirkland's is a retail chain that sells low-priced but very unique gifts. The company also sells furniture, home decor products and accessories. Headquartered in Brentwood, Tennessee, Kirkland's presently operates a full-service ecommerce store and over 300 brick & mortar stores across the United States.
Related Link: Stores Like Kirkland's
Personal Creations > #5 on Stores Like Uncommon Goods

Personal Creations was launched in the year 2005 with a passion to offer perfect gifts that help create lasting memories for all life's occasions. You can also have your gifts delivered ready for the party for just USD 4.95. The shipments from Personal Creations arrive in a beautifully wrapped white gift box and a Gold Ribbon.
The Grommet > #6, Unusual… Very Unusual Gifts

The Grommet is a place where you can find very unusual gifts. The price range at The Grommet starts from USD 4.95. The most popular product categories at The Grommet are Tech Gadgets, Tools, Fitness & Outdoor, Home & Gardens, Beauty & Personal Care, Kitchen & Bar, Art, Décor & Stationary, Bed & Bath etc.
World Market > #7, Home Decor & Hand-Picked Collection of Gifts

World Market is a subsidiary of Bed Bath & Beyond that was founded in the year 1958. Headquartered in Oakland, California, World Market presently operates over 275 retail stores across the United States. The company is famous for its beautiful and unique collection of imported furniture, curtains, rugs, bedding, houseware and kitchenware. World Market also offers a hand-picked collection of beautiful gifts.
Related Link: Stores Like World Market
Bambeco > #8, a Bit Expensive, but Very Good

Bambeco is a Scottsdale, Arizona based company that was founded with a mission to create and sell eco-conscious gifts, accessories and home décor products. The price range at Bambeco may be slightly higher than Uncommon Goods, but keeping in mind the quality of products, I strongly recommend that you take a look over Bambeco.
Vat19 > #9, Gifts That Are Curiously Awesome!

Vat19 is a great gift shop that was founded with a mission to sell Curiously Awesome products. Some of my personal favorite products sold at Vat19 include The Human Slingshot, The Polar Pen, Hickies, Mouth Mover Mask, Giant Inflatable Soccer Ball and Candy Magic Dispenser.
VivaTerra > #10 on Stores Like Uncommon Goods

VivaTerra was founded in the year 2004 and is headquartered in California. The name "VivaTerra" means "Living Earth". If you are looking for an alternative to Uncommon Goods that sells eco-conscious products, take a look over VivaTerra's collection of gifts, furniture, home decor and wall decor stuff.
Related Links