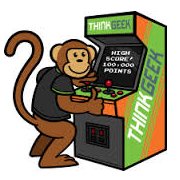 ThinkGeek is a subsidiary of GeekNet that is wholly owned and operated by GameStop. ThinkGeek is famous for its unique and wide variety of products, created with computer enthusiasts in mind. Some of the most popular product categories at ThinkGeek Stores include clothing, toys and games for adults, collectibles, tools and outdoor survival kits. In this post, I am going to introduce you to some of the best, alternative geek shopping stores like ThinkGeek. All of these stores offer imagination stimulant apparel, gadgets, collectibles and much more. Below is a list followed by some basic introduction and links to the official websites of Top 10 Stores Like ThinkGeek.
List of Top 10 Stores Like ThinkGeek
Uncommon Goods > #1 on My List of Stores Like ThinkGeek

Uncommon Goods is a Brooklyn, New York based company that showcases handmade products by independent artists. The most popular product categories at Uncommon Goods include DIY Kits, Unique Gifts For Computer Enthusiasts, Home Accents, Handmade Jewelry, Artwork, Tabletops etc. Uncommon Goods was founded by David Bolotsky in the year 1999.
Related Link: Stores Like Uncommon Goods
Zazzle > #2, Choose From Highly Customizable Products or Create Your Own

Zazzle is a privately owned American company that sells clothing, posters, invitation cards, home decor and electronics designed by independent artists from around the globe. Presently, over 300 million products are showcased on Zazzle's website. The company also allows its customers to design and order custom products.
Jinx > #3, Clothing Collection Influenced By Geeky Interests

If you are looking for an alternative to ThinkGeek to buy clothing, influenced by gaming and geeky interests, I hope you'll like JINX. JINX is a San Diego, United States based, privately owned company that was founded in the year 2004. The quality of stuff and price range of gaming shirts, hoodies and accessories at JINX is comparable to ThinkGeek.
Entertainment Earth > #4, Licensed Collectibles & Geek Clothing Stores

Entertainment Earth can be another very good alternative to ThinkGeek to buy a variety of products including (but not limited to) licensed collectibles, prop replicas, geek clothing, dolls and toys for adults. Headquartered in Simi Valley, California, the first-ever Entertainment Earth store was founded in the year 1996 with the motto, "Bring Hollywood Home".
CafePress > #5 on Geek Shopping Stores Like ThinkGeek

CafePress is a publicly traded, American eCommerce company that sells user-customized products. Headquartered in Louisville, Kentucky, CafePress was founded in the year1999. Millions of people from around the world visit CafePress to buy custom designed T-Shirts, Personalized Mugs, Unique Gifts, Wall Clocks, Bags, Calendars, Diaries and much more.
Related Link: Sites Like CafePress
NeatoShop > #6, A Great Store To Buy High-Quality & Unique T-Shirts Online

NeatoShop is one of the most popular online stores to buy unique T-Shirts. Presently, NeatoShop has more than 48000 designs to choose from. Some of the most popular T-Shirt designs categories at NeatoShop include Comics, Fantasy, Funny T-Shirts, Horror, Movies & TV, Gaming and Science T-Shirts. All of the T-Shirts sold at NeatoShop are designed by independent artists from around the globe.
STUPID > #7, Crazy Stuff With Surprisingly Useful Features
Stupid.com can be another online alternative to ThinkGeek. It was launched in the year 1998 with a mission to make the world laugh. Since then, Stupid.com has served its global audience with its unique and very high-quality range of funny gifts, wacky gags and other crazy stuff. Products sold at this store may seem stupid, but all of them are surprisingly useful.
StylinOnline > #8, Shop The Best Superhero Shirts Online

StylinOnline is one of the major online stores that specialize in pop culture clothing. A beautiful selection of more than 0.25 million items make StylinOnline a good alternative to many stores including ThinkGeek. StylinOnline is primarily famous for its high-quality range of Superhero Shirts, TV Shirts, Movie T-Shirts, Comics, Anime and Video Game Shirts.
Hot Topic > #9, Clothing Stores For Gaming & Music Enthusiasts

Hot Topic is an American chain of retail stores that sells clothing, accessories and licensed music with a prime focus on an audience that is passionate about music and gaming. Headquartered in California, Hot Topic was founded in the year 1988. Presently, Hot Topic operates almost 650 retail stores across the United States.
Related Link: Stores Like Hot Topic
VAT19 > #10 on Stores Like ThinkGeek That Sell Curiously Awesome Stuff

Vat19 is a great gift shop that was founded with a mission to sell Curiously Awesome products. Some of my personal favorite products sold at Vat19 include The Human Slingshot, The Polar Pen, Hickies, Mouth Mover Mask, Giant Inflatable Soccer Ball and Candy Magic Dispenser.
Related Links