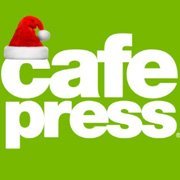 CafePress is a publicly traded American company that offers custom-made products and on demand printing services. Headquartered in Louisville, Kentucky, CafePress was founded in the year 1999. The most popular products at CafePress include T-Shirts, Bags, Mugs, Wall Clocks, Wall Arts and Stationary. In this post, I am going to introduce you to some of the best sites like CafePress. All of these eCommerce websites offer high-quality, user-customized products and majority of these sites are cheaper than CafePress. Below is a list followed by some basic introduction and links to the Top 10 sites like CafePress.
Top 10 CafePress Alternatives
Zazzle > #1 on My List of Print on Demand Sites

Zazzle is a privately owned American company that sells clothing, posters, invitation cards, home decor and electronics designed by independent artists from around the globe. Zazzle also gives you the option to print your artwork on a variety of products including (but not limited to) Mugs, T-Shirts, Housewares and Office Supplies etc. Presently, over 300 million products are showcased on Zazzle's website.
CustomInk > #2, Shipped 60 Million Custom T-Shirts in 15 Years

CustomInk is another world-famous American company that specializes in on-demand screen printing, digital printing and embroidery. Headquartered in Fairfax, Virginia, CustomInk was founded in the year 2000. The most popular product categories at CustomInk include T-Shirts, Apparel and Personalized Fashion Accessories. The price range at CustomInk is comparable to CafePress.

TinyPrints > #3, Design & Order Personalized Gifts

TinyPrints is a North Carolina based company that offers a comprehensive range of Print-on-Demand products. The primary product range at TinyPrints include all kinds of invitation cards, premium quality stationary, home decor products and personalized gifts. In many cases, TinyPrints can be a cheaper alternative to CafePress.

RedBubble > #4, A Great Place To Buy Print on Demand Merchandise

Redbubble is a publicly traded, Australian company that specializes in on-demand printing services, based on user-submitted artwork. Headquartered in Melbourne, Redbubble was founded in the year 2006. The bestselling products at Redbubble include T-shirts, hoodies, cushions, duvet covers, leggings, skirts and scarves. In the last fiscal year, Redbubble generated over 86 million US Dollars in revenue.
Related Link: Sites Like Redbubble
Moo > #5 on Sites Like CafePress

Moo.com is another reliable print on demand service. Headquartered in London, United Kingdom, Moo.com was launched in the year 2004. The product portfolio at Moo.com includes high-quality business cards, postcards, stickers, gift cards, letterheads, business card holders, notebooks and envelopes. In other words, Moo.com is a good alternative to CafePress to buy personalized office supplies.

Vista Print > #6, Another Great Print on Demand Fulfillment Service

VistaPrint is one of the major players in Print-on-Demand industry. VistaPrint can be an affordable alternative to CafePress for businesses to buy custom-made marketing material. Wall calendars, desk calendars, signature business cards and corporate gifts e.g. pens, USB Flash Drives, Mouse Pads and Mugs are just a few examples from a wide array of products offered by VistaPrint.

Teespring > #7, An Affordable Alternative to CafePress to Buy Custom Apparel

Teespring is a privately-owned eCommerce website that is famous for its high-quality and reasonably priced custom apparel. Headquartered in San Francisco, California, Teespring was launched in the year 2011. Every month, hundreds of thousands of people from around the globe visit Teespring to buy custom t-shirts, sweatshirts and tank tops for men, women and kids.

Printful > #8, Similar to CafePress But Cheaper

Printful is one among the best print-on-demand fulfillment services in the United States. Printful was founded by Lauris Liberts in the year 2013. Like CafePress, Printful offers a huge variety of products including apparel, home decor products and personalized accessories. Printful ships its products to over 190 countries across the globe.

123 Print > #9, Professional Printing on Business Cards, Post Cards & Address Labels

123 Print can be another very good alternative to CafePress to buy business cards, postcards, address labels, door hangers, car magnets, personalized office supplies and stationary. Another good thing about 123 Print is that, if you want to reorder a past item, you can do this with just a click of your mouse.

Spreadshirt > #10 on PRINT-ON-DEMAND Sites Like CafePress
Spreadshirt is another amazing alternative to CafePress that lets you design and order custom apparel online. Spreadshirt is a German, Print-on-Demand service. Headquartered in Leipzig, Spreadshirt was founded in the year 2002. The most popular product categories at Spreadshirt include T-Shirts, Hoodies, Sweatshirts, Mugs, Drinkware, Aprons, Tank Tops and Phone Cases.
Have you already tried any of these print-on-demand fulfillment services? We would love to know about your experience and it would be helpful for other readers of this page too. If you know about some other good and affordable sites like CafePress, please don't forget to share in the comments section below.
Related Links