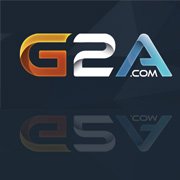 G2A is a very popular online digital gaming marketplace that connects millions of global customers with hundreds of thousands of sellers from around the globe. Presently, G2A has a huge inventory of more than 50,000 digital products that is being offered to sell by 0.26 million sellers. Headquartered in Kwun Tong, Hong Kong, G2A was founded in the year 2001. In this post, I am going to introduce you to some of the best alternatives to G2A. All of these websites offer video games for PC, Mac, Playstaion, Xbox and more at comparable or low prices. Below is a list followed by some basic introduction and links to the Top 10 Sites Like G2A.
Top 10 Digital Gaming Marketplaces Like G2A
Humble Bundle > #1 on My List of Sites Like G2A

Humble Bundle can serve as one of the best alternatives to sites like G2A to buy video games. Headquartered in San Francisco, California, Humble Bundle was founded in the year 2010. A unique thing about Humble Bundle is, the buyer decides what he is willing to pay to purchase the video games bundle. Then, a portion of that price goes to the charity and remaining amount goes to the game developers.
All Key Shop > #2, Price Comparison From Top Video Game Sellers Online
If you are looking for a reliable alternative to G2A and your objective is to save some money, I suggest that you visit AllKey Shop. It is a very popular website that offers price comparison for video games in real time. Presently, AllKey Shop shows you the best prices from Top 50 online video game retailers.
Steam Powered > #3, The Platform For Video Game Enthusiasts

Steam (or Steam Powered) is a world-famous entertainment platform for video game enthusiasts. Steam has thousands of games under several categories from Action to Indie and almost everything in-between. Click Here to browse games at Steam. The Steam Powered community is another great feature of this online marketplace that gives you the opportunity to make new friends by connecting you with likeminded video game lovers.
Instant Gaming > #4, Up To 70% Discount On Popular Video Games

Instant Gaming is another great alternative to sites like G2A to save a lot of money on your favorite games. Presently, Instant Gaming offers up to 70% discount on thousands of best sellers. All the CD Keys sold at Instant Gaming are official and it is 100% safe and legal to buy and download your favorite games through this online marketplace.
GamersGate > #5 on Digital Gaming Sites Like G2A

GamersGate is another well reputed alternative to retail stores and websites like G2A to buy video games. Headquartered in Stockholm, GamersGate is a privately owned Swedish company that was founded in the year 2006. GamersGate has a comprehensive variety of Video Games for multiple platforms that include PC, Mac, Linux and Android.
Kinguin > #6, More Than Fair Prices World-Famous Video Games & PC Software

Kinguin is relatively a new name in the industry but it has earned the trust of millions of buyers and sellers in a very short span of time. At Kinguin sellers meet buyers to trade popular PC software and video games at a fair price. Kinguin was founded in the year 2013 and presently it has a customer base of more than 4 million from almost every corner of the planet.
Bundle Stars > #7, Sold Over 27 Million Steam Game Bundles

Bundle Stars is another online marketplace that specializes in digital gaming. Bundle Stars was founded in the year 2012 and since then it has sold over 27 million Steam Games. All of the Steam Keys sold at Bundle Stars are sourced from the game's official publisher. That makes Bundle Stars are reliable and 100% legal alternative to G2A.
CDKeys > #8, But Digital Codes & Authentic Serial Keys For Cheap

CDKey is another good place like G2A to buy digital codes for the latest products at lowest prices. My research suggests, CDKeys has one of the biggest range of games for PCs, PlayStation, Xbox, Nitendo and more. Visit CDKeys and I hope you'll find plenty of reasons to try this as one of the best sites to buy Video Games online.
Green Man Gaming > #9, One Of The Best Places To Buy PC & Console Games

Green Man Gaming is another popular online retailer of PC and Console Games. Headquartered in London, United Kingdom, Green Man Gaming was founded in the year 2010. Presently, Green Man Gaming has an inventory of over 5200 video games that it sells to a wide customer base from more than 180 countires across six continents on the planet.
GameFly > #10 on Sites Like G2A That Sell Games For Xbox & Playstation

GameFly is a privately owned American company that is in the business of providing games for handheld game consoles e.g. Xbox and PlayStation. Headquartered in Los Angeles, California, GameFly was founded by David Hodess in the year 2002. Presently, more than 8000 video games titles can be availed from GameFly.
Related Links