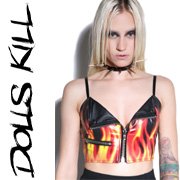 Dolls Kill is a world-famous fashion brand that is extremely popular in teenage girls and women in their early twenties. Dolls Kill was founded by Bobby Farahi and Shoddy Lynn in the year 2011. Headquartered in San Francisco, California, Dolls Kill primarily sells very stylish clothing and unique fashion accessories. In this post I am going to introduce you to some of the best fashion brands like Dolls Kill. All of these trendy clothing retailers offer similar quality stuff, while some of these are also cheaper than Dolls Kill. Below is a list followed by some basic introduction and links to the official websites of Top 10 Stores Like Dolls Kill.
List of Top 10 Stores Like Dolls Kill
Nasty Gal > #1 on My List of Stores Like Dolls Kill

Started as an ebay store in 2006, today, Nasty Gal is one of those names in the world of American Fashion, that are very high in demand. Sophia Amuroso, the founder and CEO of Nasty Gal was named, "The Sexiest CEO Alive" by the Business Insider magazine. Nasty Gal offers a very unique collection of vintage-inspired clothing, shoes and accessories for women.
Related Link: Fashion Websites Like Nasty Gal
Tobi > #2, Similar to Dolls Kill but Cheap

Tobi is a Los Angeles, United States based online specialty store that offers a very beautiful and affordable collection of dresses, footwear and accessories for women. Every product offered at Tobi reflects the casual, cool, and sexy attitude of Los Angeles. Tobi was founded in the year 2007 and it is a cost-effective alternative to Dolls Kill for fashion-forward women on a budget.
Related Link: Stores Like Tobi
Urban Outfitters > #3, High Quality But Affordable Fashion Retailer

Urban Outfitters is a major retailer of trendy clothing, footwear, fashion accessories, beauty products and home furnishing goods in the United States. The huge variety of high quality and affordable products makes Urban Outfitters another great alternative to Dolls Kill. Founded by Richard Hayne in the year 1970, Urban Outfitters is headquartered in Philadelphia, Pennsylvania.
Related Link: Stores Like Urban Outfitters
Akira > #4, Branded Fashion Accessories at Discounted Price

Akira is a well-known online fashion retailer for women that primarily sells clothing, footwear, and accessories of popular brands. Some of the most popular brands that you can find at Akira Stores include Adidas, Calvin Klein, Dolce Vita, Jeffrey Campbell, and Jessica Simpson. Such a huge and high-quality collection of fashion products makes Akira a good alternative to Dolls Kill or any other retailer in this category.
ModCloth > #5 on Stores Like Dolls Kill

Modcloth is a San Francisco, California-based online retailer of vintage-inspired clothing and accessories for young women. Modcloth was founded by Eric Koger in the year 2002. In the year 2015, Modcloth generated over 200 Million Dollars in annual sales. If you are interested in a retailer that offers unique designs, take a look at the collection offered by Modcloth.
Related Link: Stores Like Modcloth
Topshop > #6, A Little Expensive, But Very Good!

Topshop is a London, United Kingdom-based fashion retailer that specializes in clothing, footwear, cosmetics, and accessories for women. Presently, Topshop operates some 500 retail stores in several countries across the world. Founded in the year 1964, Topshop is fully owned and operated by the Arcadia Group. If you are not too price-conscious, Topshop can be a good alternative to Dolls Kill for you.
Related Link: Stores Like Topshop
Gypsy Warrior > #7, Hand-Picked Collection of Clothing & Accessories For Women

Gypsy Warrior offers a beautiful collection of hand-picked clothing, footwear, and accessories for trendsetting girls. Gypsy Warrior was founded by Nicola DiCosmo and Michel Bezoza in the year 2010. Gypsy Warrior is very popular among adventure-loving girls. If you like Dolls Kill, I'm sure you'll love Gypsy Warrior too.
Missguided > #8, Trendy Dresses by Mindful Fashion Fanatics
Missguided is an online fashion brand that is famous for its unique offerings of trendy dresses, shoes, and accessories for women. The company heavily relies on customer feedback to create new and improve existing products. founded in the year 2008, Missguided is operated by a dedicated team of passionate and mindful fashion fanatics. If you are a fashion-forward, free-thinking woman, Missguided is a great alternative to Dolls Kill for you.
Related Link: Stores Like Missguided
Charlotte Russe > #9, Stylish Clothing For Teenage Girls

Charlotte Russe is a great place to buy trendy clothing for teenage girls and women in their early twenties. Founded by Daniel Lawrence in the year 1975, Charlotte Russe is named after a famous French dessert. The most popular product categories at Charlotte Russe include Dresses, Tops, Jeans, Bottom, Lingerie, and Swimwear.
Related Link: Clothing Stores Like Charlotte Russe
GoJane > #10 on Stores Like Dolls Kill

Gojane is on No:10 on my list of stores like Dolls Kill. GoJane is ideal for women aged between 15 to 35 years. In addition to a wide range of casual clothing for women, Gojane also offers beautiful dresses for almost every occasion.
Related Links