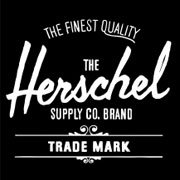 Herschel (or Herschel Supply Co.) is one of the leading Canadian brands that offer design-driven and finest quality backpacks for men and women. Headquartered in British Columbia, Vancouver, Herschel introduced its first series of backpacks in 2009. That was an instant hit. In addition to its official online store, Herschel Backpacks & luggage can be purchased from more than ten thousand retail locations across the United States and Canada. In this post, I'm going to introduce you to some of the best backpack brands like Herschel. All of these companies offer similar quality travel gear at comparable or low prices.
Whether you are need a smart bag or suitcase for travel or you need an eye-catching backpack for fashion or everyday use, we hope you are going to fall in love with at least one of these handpicked and affordable alternatives to Herschel.
List of Top 10 Luggage Brands Like Herschel
Eastpak > #1 on My List of Brands Like Herschel

From street-smart backpacks and easy-to-carry shoulder bags to large suitcases, Eastpak is a reliable alternative to Herschel. Any travel gear purchased from Eastpak comes with a 30 years guarantee (hope you understand why we call it a reliable alternative). Eastpak was originally founded as Eastern Canvas Products in 1952, making tough gear for US Army.
JanSport > #2, Backpacks & Outdoor Gear Since 1967

Like Eastpak, JanSport is also a wholly-owned subsidiary of VF Corporation. Headquartered in Seattle, Washington, United States, JanSport was founded in 1967. Like Herschel, JanSport is one of the best places to buy premium backpacks, laptop bags, luggage and collegiate apparel. In most cases JanSport is cheaper than Herschel.
Fjällräven > #3, Clothing & Rucksacks From Sweden

Fjällräven is Swedish brand that is primarily known for its functional and durable outdoor equipment. Some of the most popular categories at Fjällräven include outdoor clothing including Jackets, Anoraks, Parkas, trekking backpacks, travel and shoulder bags. Fjällräven also offers a wide range of backpacking tents, sleeping bags, hunting equipment and accessories at affordable prices.
The North Face > #4, Easy-To-Carry Daypacks & Spacious Backpacks For Multi-Day Hiking Trips

The North Face is primarily known for its wide range of outdoor clothing and recreational goods including tents and sleeping bags. But it is also offers a beautiful collection of daypacks and backpacks for overnight and multi-day hiking trips. The North Face was founded in the year 1968 and the headquarter of the company is located in California.
Related Link: Brands Like The North Face
Tumi > #5 on Brands Like Herschel

Tumi is an American manufacturer of world-class business and travel products. Headquartered in South Planfield, New Jersey, Tumi was founded in the year 1975. Presently, Tumi is owned and operated by Samsonite. Like Herschel, Tumi offers an impressive variety of suitcases and travel bags at a comparable price point.
Vans > #6, Cute Backpacks In Leather or Durable Polyester Material

Vans is an American manufacturer, marketer and retailer of footwear and clothing for skateboarding and snowboarding and surfing. Like The North Face, Vans is also a wholly owned subsidiary of VF Corporation. Moreover, Vans is also a good place to buy high-quality school bags and backpacks for men and women.
Patagonia > #7, Backpacking Packs, Clothing & Footwear For Extremely Cold Weather

Patagonia offers weatherproofed outerwear, fine-quality packs,  outdoor gear and shoes for men, women and kids for freezing temperatures. I personally love their lightweight, windproof and water-resistant jackets. Headquartered in Ventura, California, Patagonia was founded in the year 1973.
Related Link: Popular Brands Like Patagonia
Samsonite > #8, The Most Durable & Innovative luggage, Business cases, Backpacks & Travel Accessories

Samsonite is the parent company of Tumi and one of the leading companies in luggage manufacturing industry in the world. Originally founded in Denver, Colorado, United States in 1910, Samsonite is presently headquartered in Tsim Sha Tsui, Hong Kong. If I needed a suitcase, a backpack, a briefcase or even a small toiletry bag, I would prefer Samsonite and not Herschel.
LL Bean > #9, Finest Clothing, Warmest Boots, Outdoor & Travel Gear

LL Bean is a famous American retailer of high quality clothing, shoes, outdoor gear and much more. With reference to this post, LL Bean can be a good alternative to Herschel as well. Checkout the new arrivals of Backpacks at LL Bean. The company ships its products to over 100 countries across the globe. LL Bean was founded in the year 1912.
Related Link: Clothing and Shoes Stores Like LL Bean
Rimowa > #10 on Brands Like Herschel

Rimowa is another over-a-century old brand that specializes in premium travel and carry-on luggage made of finest-quality aluminum and polycarbonate. Headquartered in Cologne, Germany, Rimowa was founded in 1898. Presently, LVMH owns almost 80% shares of the company. Rimowa may be a bit expensive than Herschel. But it is a great place to buy upscale travel gear.
Related Links