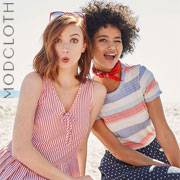 Modcloth is famous for its stunning collection of vintage-inspired dresses, tops, bottoms and shoes for women. In this post, I've shared some of the best websites and online stores that sell similar styles for ladies at comparable or low prices. I've also included some good alternatives to cover the home decor and accessories section of Modcloth.
For those of you who don't know, Modcloth was originally founded to sell used vintage dresses in 2002. The company introduced its first collection of New clothing in the year 2008. Year after year, this clothing website produced a magnificent growth. And today, Modcloth is a synonym to vintage clothing and one of the most successful women's fashion brands in this category in the United States, Canada, Australia, UK and many other countries across Europe.
Top 10 Modcloth Alternatives
Lulus > #1, Cute Dresses, Trendy Tops & Shoes for Women

LuLu's primarily showcases women's clothing, footwear and accessories designed by emerging new designers from around the world. This internet based fashion-retailer was founded in the year 1996. LuLu's is a good alternative to ModCloth to buy Formal Dresses, Club Dresses, Cocktail Dresses, Maxi Dresses and more. Visit the official website of the company to browse their impressive collection of clothing, shoes and accessories for women.
Limited Time Offer: Up To 70% Off at Lulu's (Selected Items)
Asos > #2, Up To 50% Discount On Vintage-Style Clothing

In addition to its own range of clothing and accessories, Asos offers more than 40,000 unique styles from 850 well-known fashion designers and companies. Asos itself is not a direct competitor of Modcloth. However, it gives you plenty of similar options (from other) brands and most of them are more affordable than Modcloth.
Asos is headquartered in London, United Kingdom. For a limited time, this online fashion retailer is offering up to 50% discount on dresses, maternity clothing and boots.
Torrid > #3, Cute & Trendy Plus Size Fashion

Modcloth believes, good things don't only come in small packages. That's why, it offers an impressive range of cute plus size dresses. Torrid can be a great substitute of Modcloth in this category. From little black dresses to lovely long dresses Torrid gives you so many options to choose from. And any of them could potentially be you next favorite piece.
Anthropologie > #4, Elegant Dresses & Vintage-Inspired Home Decor

The curated assortment of elegant dresses at Anthropologie really deserves your attention. In some cases, Anthropologie may be slightly expensive than Modcloth. But quality comes at a cost, I hope you understand that. In addition to women's clothing, bridal collection, footwear, swimsuits and accessories, Anthropologie has a dedicated home furnishing section too.
Nasty Gal > #5 On Stores Like Modcloth

Originally founded as a small ebay store in 2006, Nasty Gal is another good clothing website that most Modcloth fans will like. Vintage dresses, outerwear and footwear at Nasty Gal are recommended for women in their early twenties. For a limited time, Nasty Gal is offering flat 40% discount on everything for US customers and 20% discount for UK customers along with free next day delivery.
Madewell > #6, Skinny, High-Waist & Mom Jeans

Modcloth features a versatile and classic collection of denim jeans for women. But would you be interested in a better option? Please note, this isn't about a cheap alternative. If you are a real jeans fanatic, I hope you'll enjoy your trip to the official website of Madewell.
Don't worry, Madewell is not as expensive as Guess, Diesel and Levi's Strauss. And it is an affordable option for the majority of Modcloth customers.
GAP > #7, Stylish Skirts & Perfect Fitting Pants For Women

I don't know why, but whenever I write a post and suggest alternative clothing companies, I always try to fit GAP somewhere in my list. (Actually, I Do Know why). No, I'm not a GAP affiliate and I don't get paid to do this. I don't care if you leave GAP and move on to the next option.
GAP is one of the best places to buy comfiest clothing for the whole family. It is just one of my personal favorites and I strongly recommend that you check out the new arrivals in women's pants, skirts and leggings.
Dorothy Perkins > #8, Must Have Sundresses & Party Dresses

Like Asos, Dorothy Perkins is also based in London, United Kingdom. Dorothy Perkins features a wide variety of sensational day and evening dresses. Most of the articles at Dorothy Perkins are also available in plus size. It is also a good place to buy dresses for tall women. The price range at Dorothy Perkins is comparable to Modcloth.
J Crew > #9, Iconic Pieces & Timeless Designs

J Crew is unquestionably one of the most popular premium clothing brands in the United States. But it wasn't my plan to include the parent of Madewell in this post. Like most online shopaholics, I love to explore more and more options. Last night, I checked the latest collection of cardigans, tunics and blouses at J Crew. I thought, Modcloth admirers will be interested in these options too.
Charlotte Russe > #10, Vintage Dresses Under 20 Dollars

This one is probably the cheapest alternative to Modcloth on this page. Can you believe a nice pair of women's sandals for as low as $5? And vintage inspired dresses under $20. It's hard to believe unless you visit the official website of Charlotte Russe.
This clothing website also offers a complete range of plus size clothing, swimwear and accessories e.g. sunglasses, hats, jewelry, bags, makeup and skincare products. Another good news is that, you get free shipping on all orders above $50.
Thanks for visiting my blog. Your comments always help me improve the things. Moreover, if you want to suggest some other good stores like Modcloth that specialize in American vintage clothing, please let me know in the comments section.
Further Reading