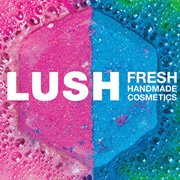 Lush (or Lush Pvt. Ltd.) is an English cosmetic retailer company that was founded in the year 1995. Headquartered in Poole, United Kingdom, Lush is famous of its Fresh and Handmade range of Hair and Beauty Products. Last year, Lush cosmetics generated almost 400 million US Dollars in revenue. In this post I am going to introduce you to some of the best cosmetics stores like Lush. All of these stores offer Skincare, Hair Care & Body Care products made with 100% Natural Ingredients. Some of these stores are also more affordable than Lush. Below is a list followed by some basic introduction and links to the official websites of Top 10 Stores Like Lush.
List of Top 10 Stores Like Lush
Kiehl's > #1 on My List of Stores Like Lush

Kiehl's is an New York, based American cosmetics brand that produces and sells products, made with 100% natural ingredients. Founded in the year 1851, Kiehl's is a great alternative to Lush to buy beauty products under several categories including Skin Care, Hair Care, Body Care, Cosmetics, Facial Moisturizers, Lotions, Cleansers, Toners and a lot more.
Aveda > #2, Pure Flower & Plant Essences

Aveda (or Aveda Corporation) is a Blaine, Minnesota based American company that specializes in professional-grade hair and skin care products. Like Lush Stores, all of the beauty products sold at Aveda Stores are manufactured with high quality, natural ingredients. In addition to retail stores, Aveda also runs a whole network of beauty salons, SPAs and Institutes where it offers cosmetology, esthiology and massage programs for students.
Burt's Bees > #3, High-End Personal Care Products

Burt's Bees is a subsidiary of Clorox and it specializes in personal care products. Headquartered in Durham, North California, Burt's Bees was founded in the year 1984. Burt's Bees offers over 200 products under different categories e.g. Facial & Body Skin Care, Lip Care, Hair Care & more. That makes it another good alternative to Lush.
The Body Shop > #4, by L'Oreal

The Body Shop is an English cosmetics company that is wholly owned and operated by L'Oreal. The Body Shop is based in the West Sussex, United Kingdom and it was founded in the year 1976. Presently, The Body Shop operates more than 2600 retail stores across the Europe, Americas and Asia.
Sephora > #5 on Stores Like Lush

Sephora is a world-famous, French chain of cosmetics stores that was founded in the year 1969. Headquartered in Paris, France, Sephora Stores feature products from over 300 brands. Like Lush Stores, Sephora is a wonderful place to buy many products including makeup, skincare, fragrances and hair care. Last year, Sephora Stores generated more than 4 billion US Dollars in revenue.
Clinique > #6, Very High Quality Beauty Products

Clinique (or Clinique Laboratories LLC.,) is a subsidiary of Estee Lauder Companies. Founded in the year 1968, Clinique is headquartered in New York, United States. The company manufactures, markets and sells many products with a primary focus on Skincare, Cosmetics, Toiletries and Fragrances. Clinique's products can be purchased online or from any high-end department store across the country.
Origins > #7, Powered by Nature, Proven by Science

Origins (or Origins Natural Resources Inc.) is one of the original brands of Estee Lauder Companies. Founded in the year 1990, Origins is a Skincare, Haircare, Makeup and Fragrance manufacturing company. All of the beauty products manufactured and sold by Origins are produced with 100% natural ingredients.
Ulta Beauty > #8, Cosmetic Stores & Beauty Salons

Ulta Beauty is a publicly traded business in the United States that operates a popular chain of cosmetics stores in the United States. Headquartered in Bolingbrook, Illinois, Ulta Beauty was founded in the year 1990. Presently, Ulta Beauty operates over 720 cosmetics stores and each of these stores is equipped with a beauty salon.
Aveeno > #9, by Johnson & Johnson

Aveeno is a subsidiary of world-famous consumer goods company, Johnson & Johnson. Aveeno was originally founded by Albert Musher in the year 1945. The company specializes in Skin and Hair Care products, making it a good and reliable alternative to Lush. Aveeno also offers natural products to address skin conditions e.g. dermatitis, eczema and psoriasis.
Neutrogena > #10 on Stores Like Lush

Neutrogena is a Los Angeles, California based company that manufactures products for skin care, hair care and cosmetics. Originally founded in the year 1930, Neutrogena is a subsidiary of Johnson & Johnson. The products manufactured by Neutrogena are world-famous and are freely available in over 70 countries on the planet.
Related Links