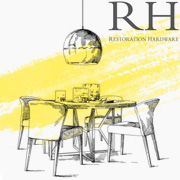 Restoration Hardware (a.k.a RH) is one of the most popular luxury home-furnishing companies in the United States. If you are a fan of timeless designs, unique taste and style of RH and are looking for similar but cheaper alternatives, we hope you'll find this post helpful. Below is a quick list, followed by some basic introduction and links to the official websites of Top 10 Stores Like Restoration Hardware. All of these affordable home decor experts offer similar furniture, bedding, rugs, lighting and bath ware. And most of them can serve you as a cheaper version of Restoration Hardware.
In addition to the similar furniture brands, in this post we are also going to share a quick and easy DIY tip on how to gray wash furniture like Restoration Hardware at home.
Top 10 Restoration Hardware Alternatives
Wayfair : Expertly Crafted Masterpieces For Less!

Wayfair doesn't promote itself as a luxury home furnishing website. What Wayfair simply says is, we have products for "Every Budget". Our research indicates, they REALLY mean it! Every budget does mean EVERY budget! If you dig a bit deeper, you will find a wealth of amazing and very unique products designed by independent artists and passionate design experts from around the world.
These expertly crafted masterpieces reflect the unique vision of those talented artists. Moreover, they are made with solid wood, high-quality metal, glass, genuine leather and finest fabric. That's why, they may be slightly expensive than the regular inventory of furniture, bedding and lighting etc. but still, way cheaper than Restoration Hardware!
Pottery Barn : Finest Outdoor Furniture

Pottery Barn is one of the most trusted names in upscale home furnishing industry. This San Francisco, California based company was founded in 1949. If you are looking for an alternative to Restoration Hardware to buy outdoor furniture, we strongly recommend that you check out the latest offerings by Pottery Barn before buying anything from anywhere else.
Arhaus : Unique, Yet Functional!

Like Pottery Barn and Restoration Hardware, Arhaus is also famous for using sustainable materials to craft finest quality handmade furniture. Arhaus is headquartered in Cleveland, Ohio, United States. The first-ever Arhaus store was opened in 1986. Presently, Arhaus owns and operates over 70 full-featured home furnishing stores across the United States.
Room & Board : Modern Furniture & Home Decor

American craftsmanship, sustainable design and outstanding service are just some of the many features that make Room & Board a great alternative to Restoration Hardware. Room & Board has one of the largest selections of furniture for living rooms, dining rooms, kitchens and bedrooms. Each masterpiece produced and sold by Room & Board is designed to fit the modern lifestyle.
Ethan Allen : #5 on Stores Like Restoration Hardware

Ethan Allen is a Danbury, Connecticut based, American home furniture company. Ethan Allen has a strong network of over 300 retail furniture stores across the United States, Canada, UK and several other countries across Asia and Middle East. Ethan Allen is primarily famous for its finest seating collections including sofas, sectionals, chairs and recliners.
Ethan Allen also offers custom furniture, custom upholstery, custom window treatment and free design service. Everything you purchase from this furniture store is eligible for free and fast shipping.
Z Gallerie : Great Discounts [Limited Time]

Z Gallerie is another modern home furnishing store that is famous for its unique offerings of affordable, chic and stylish home decor. Headquartered in Gardena, California, Z Gallerie was founded in the year 1979. For a limited time, Z Gallerie is offering flat 25% discount on a large selection of sofas, chairs, bedding, dining tables, entryway furniture and lighting.
West Elm : Inspiring Designs & Colors

Here comes another subsidiary of Williams Sonoma and one of the global leaders in contemporary home furnishing. West Elm was originally founded in San Francisco, California and presently it is headquartered in New York City, NY, United States. West Elm is primarily known for its beautiful collection of modern furniture and home decor featuring inspiring designs and colors. Moreover, it is also great store to buy wall art, mirrors, fancy lighting and outdoor furniture.
Williams Sonoma : Elegant Collection of Luxury Furniture

Williams Sonoma is primarily known for its finest quality cookware, cooking utensils and kitchen decor. But unquestionably it is one of the best places to buy designer furniture online. Williams Sonoma is the parent organization of Pottery Barn. Like Restoration Hardware, Williams Sonoma also offers premium quality bath linens, bath towels, bath rugs and shower curtains.
Ballard Designs : Sophisticated Home Decor & Superior Customer Service

Ballard Designs is slightly different than most of the furniture stores shared on this page. However, if you are looking for a store like Restoration Hardware to buy furniture and bedding with a classic European touch, Ballard Designs is the top-recommended option for you. Ballard Designs is headquartered in Atlanta, Georgia, United States and it was founded in 1982.
Crate & Barrel : #10 On Stores Like Restoration Hardware

Well-crafted accent chairs, sleeper and sectional sofas and one-of-a-kind dining room collections attract thousands of customers to C&B stores, every single month. Crate & Barrel also serves a global customer base through its popular network of eCommerce websites. Presently, Crate & Barrel is shipping its home furnishing goods and cookware to thousands of international destinations in over 180 countries across 6 continents. In most cases, Crate & Barrel is cheaper than Restoration Hardware.
How To Gray Wash Furniture Like Restoration Hardware?
Recently, one of our readers sent us an email and asked, I want to make my furniture look like Restoration Hardware. What is the easiest way to do that at home?
To answer this, we have selected the following short video to share with you. We hope it would be helpful!
Further Reading