Carhartt is a trusted name in the workwear world, primarily famous for its durable clothing and high-quality work boots. Whether you are looking for some affordable alternatives to Carhartt or want to have more options, you have come to the right place. After careful research, we have selected to share the best brands like Carhartt available in the US market.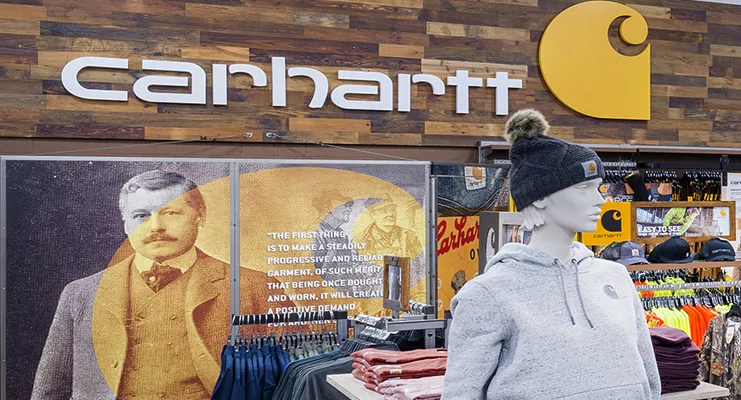 Carhartt : A Quick Intro and History of the Company
Carhartt is the oldest and one of the most iconic American workwear brands. Carhartt was originally founded in 1889 by Hamilton Carhartt, a businessperson from Dearborn, Michigan, United States.
From heavy-duty, snag-proof, and wind-resistant jackets to durable jeans, dungarees, and fire-resistant clothing, everything offered at Carhartt stores truly is a class of its own. That's one of the major reasons that American construction workers, miners, farmers, hunters, and many outdoor enthusiasts simply love and trust Carhartt.
After 134 years, Carhartt still is a family-owned business and is headquartered in Dearborn Michigan. This year, the Carhartt brand is expected to generate more than $1 billion in revenue.
List of Top 10 Brands Like Carhartt
Dickies : #1 on Our List of Clothing Stores Like Carhartt

Dickies (originally Williamson-Dickie) is one of the oldest American workwear and apparel brands like Carhartt. Headquartered in Bryan, Texas, United States, Dickies was founded in 1918 and presently it is owned and operated by VF Corporation. Dickies offers a wide range of products under several categories including high visibility, flame-resistant and tactical clothing, outerwear, and tall & big workwear.
Sheplers > #2, Low-Priced Western Wear & Boots

Sheplers is a more than 120 years old American clothing and footwear brand for men and women. Sheplers is primarily famous for its unique offerings and hot deals on cowboy boots. Sheplers is owned and operated by BootBarn Inc. In addition to its finest collection of tough jeans, jackets, cowgirl hats and baseball caps, Sheplers also offers similar quality clothing for boys, girls and toddlers. In most cases, Sheplers is a cheap alternative to Carhartt.
Duluth Trading Company > #3, Affordable Clothing, Accessories & Outdoor Gear For Men & Women

Duluth Trading Company is relatively a new name in  the American workwear industry. But still, it can be a great and reliable alternative to Carhartt. In fact, it is one of the leading companies in this category today. In addition to a complete range of work clothes, accessories and footwear for men and women, Duluth Trading Company also offers affordable outdoor recreational goods.
Tougher > #4, Great Looking Workwear That Fits Women

Tougher is another great alternative to Carhartt. But it is a bit different than most workwear brands on this page. Tougher specializes in workwear for women only. The company was founded in 2015. In a very short span of time, Tougher has achieved a noticeable level of popularity among female construction workers, farmers, forestry professionals, and field scientists. In many cases, work clothes and footwear by Tougher are cheaper than Carhartt.
Timberland > #5 on Brands Like Carhartt

Timberland is a distinct name in American Outdoor wear. The company manufactures and sells a huge range of products with an exclusive focus on footwear. Timberland was founded in the year 1952 by Nathan Swartz. The most popular product categories at Timberland stores include work boots, hiking boots, boat shoes, pants, polo shirts, jackets & outerwear, backpacks and other accessories.
Related Links: Boots Like Timberlands
Wolverine > #6, Men's & Women's Work Boots, Shoes & Apparel

Wolverine is an over 135 years old company and one of the best workwear brands like Carhartt in the United States. Headquartered in Richmond, Indiana, Wolverine was founded in the year 1883. In addition to its finest quality work clothing and reliable safety toe boots and shoes, Wolverine is also a great place to buy lightweight and durable hiking shoes for men and women.
Orvis > #7, High-End Clothing & Sporting Goods

Orvis specializes in high-end fly fishing, hunting and sporting equipment. Orvis is a family-owned business that was founded by Charles F. Orvis in the year 1856. Presently, Orvis operates over 70 retail stores across the United States along with a full-featured eCommerce Website. The headquarter of the company is located in Sunderland, Vermont.
Related Link: Stores Like Orvis
Filson > #8, USA Made, Quality Outerwear, Clothing & Bags

If you are an outdoor enthusiast and are looking for a good alternative to Carhartt in this category, try Filson. Headquartered in Seattle, Washington, Filson is a privately owned business that specializes in premium clothing and goods for outdoor activities. The price range at Filson may be a bit higher than other similar stores. But if you prefer quality over cheap price, we assure you that you'll love the stuff offered by Filson stores.
Related Link: Brands Like Filson
Levi's > #9, Tough Jeans From The House Of The Original Inventor

Levi's Store (originally Levi Strauss & Co.) is a world-famous American clothing company that was founded by Levi Strauss in the year 1853. This privately owned company is famous for its Levi's brand of Denim Jeans. Presently, Levi Strauss & Co. operates over 2800 Levi's Stores around the world. Last year , Levi's Stores generated almost 5 billion US Dollars in revenue.
Related Link: Brands Like Levi's
Wrangler > #10 on Stores Like Carhartt

Every American knows Wrangler (and we hope you do too). Wrangler is a world-famous American clothing brand that is primarily known for its durable jeans. Headquartered in Greensboro, North Carolina, Wrangler was first introduced in the year 1904. Presently, it is owned and operated by VF Corporation. The price range of rugged work jeans for men and women by Wrangler is comparable to Carhartt.
Related Links