Lululemon is a good (REALLY Good) athletic clothing brand. But buying $100 leggings is not always a good idea. In fact, in many cases, Lululemon gets ridiculously expensive. That's why we spent a few hours in research and carefully selected some other technical clothing brands like Lululemon that will do just fine for most people in the United States.
All of these alternative active clothing companies manufacture a wide range of clothing for different fitness activities including yoga, running, workouts, and many other sweaty pursuits. Their quality is comparable to Lululemon but they are almost always cheaper than Lululemon Athletica.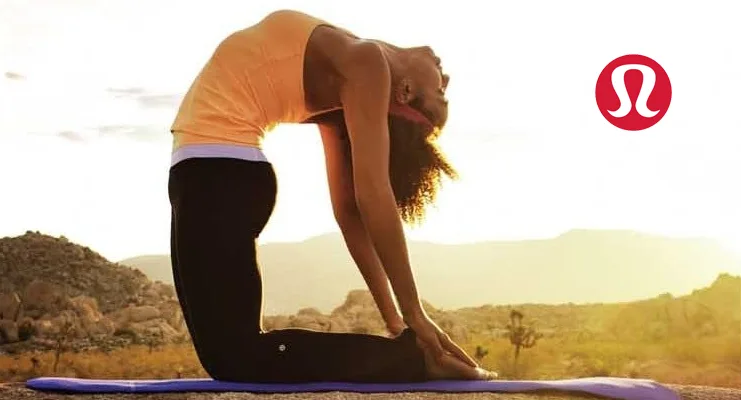 Lululemon : A Quick Intro and History of the Company
Lululemon is a Canadian multinational company that specializes in high-end athletic apparel for fitness enthusiasts women and men. Headquartered in Vancouver, British Columbia, Lululemon Athletica was founded in the year 1998.
The use of the finest quality materials to produce yoga pants and the RIGHT marketing strategy were the key ingredients of the recipe that made Lululemon an almost instant success.
In addition to its signature yoga pants, sports bras, activewear tops, and yoga mats, in recent years, Lululemon has also introduced a high-quality range of coats & jackets, shoes, backpacks, water bottles, and many other accessories.
Presently, Lululemon operates a chain of almost 600 brick-and-mortar stores across South & North America, Europe, Asia, and Australia. This year, Lululemon is expected to generate almost $7 billion in revenue.
Top 10 Yoga Clothing Stores and Brands Like Lululemon in The United States
Athleta : #1 on Our List of Active Clothing Stores Like Lululemon

Athleta is a famous American company that can be a great alternative to Lululemon to buy premium quality fitness apparel for women. Headquartered in Petaluma, California, Athleta is wholly owned and operated by the world-famous clothing company, Gap Inc. The company was founded in the year 1998 and presently, Athleta operates over 100 retail stores across the United States.
Related Link: Stores Like Athleta
Fabletics > #2, Similar to Lululemon but Cheaper in Most Cases

Fabletics is an eCommerce store that specializes in sportswear for women. Headquartered in El Segundo, California, Fabletics was co-founded by Kate Hudson in the year 2013 with a mission to offer stylish and high-quality activewear at an affordable price. Like Lululemon, Fabletics is a great place to buy outfits for Yoga, Running, Gym & Workout.
Related Link: Other Websites Like Fabletics
Under Armour : The Most Innovative Sportswear Company in the World

Under Armour is a publicly traded American company that specializes in sportswear and casual apparel. The company also offers a good range of footwear. Last year, Under Armour generated over 4 billion US Dollars in revenue. The quality of products offered by Under Armour is comparable to Lululemon.
Sweaty Betty : A Trusted Sports Clothing Brand from London

Sweaty Betty is a London-based chain of retail stores that sell activewear and sports equipment for women. Founded in the year 1998, Sweaty Betty operates almost 60 brick-and-mortar stores across the United Kingdom and the United States. Like Lululemon, Sweaty Betty's eCommerce website gives you the option to shop from the convenience of your home.
Lucy Activewear > #5 on Stores Like Lululemon

Lucy Activewear is a subsidiary of VF Corporation that was founded in the year 1999. Lucy is another good alternative to Lululemon for women to buy activewear especially, clothing intended for use during Yoga. Presently, Lucy Activewear operates 60 retail stores across the United States. In the year 2015, Lucy Activewear stores generated over 500 million US Dollars in annual sales.
Victoria's Secret : Sexiest Sports Bras & Yoga Clothing

Victoria's Secret is a subsidiary of L Brands that was founded in the year 1977. Victoria's Secret is primarily famous for its very unique collection of the sexiest bras and lingerie. However, Victoria's secret can be a very good alternative to Lululemon to buy activewear, especially for Yoga & Gym.
Related Link: Stores and Brands Like Victoria's Secret
Patagonia : Sustainable Yoga Pants and Leggings Like Lululemon

In addition to sportswear and yoga clothing, Patagonia offers weatherproofed outerwear, fine-quality packs, gear, and shoes for men, women, and kids for freezing temperatures. We love their lightweight, windproof, and water-resistant jackets too. Headquartered in Ventura, California, Patagonia was founded in the year 1973.
Related Link: Popular Brands Like Patagonia
The North Face : High-Quality Sportswear & Outdoor Products

The North Face offers and wide range of activewear, outerwear, fleece, coats, and footwear. The company also sells a beautiful collection of outdoor equipment e.g. backpacks, tents, and sleeping bags. The North Face was founded in the year 1968 and the headquarter of the company is located in California.
Related Link: Brands Like The North Face
New Balance : A World-Famous Athletic Shoes Manufacturer

New Balance is a Boston, Massachusetts-based multinational corporation that was founded in the year 1906. Presently, New Balance is one of the major suppliers of athletic shoes across the globe. Like Lululemon, the online store of New Balance also features a great variety of Sportswear for men, women, boys, and girls.
Foot Locker : #10 on Stores Like Lululemon to Buy Similar Shoes

Foot Locker is a Midtown Manhattan, New York-based chain of retail stores that sells athletic footwear and activewear. Founded in the year 1974, Foot Locker operates over 3500 sportswear stores in 20 countries across the world, making it one of the best alternatives to Lululemon. Last year, Foot Locker generated more than 8 billion US Dollars in revenue.
Related Links