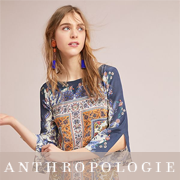 From women's casual clothes and formal dresses to bedding, furniture and other home products, Anthropologie offers thousands of products under different categories. In this post, I've shared some of the best stores like Anthropologie to buy similar fashion and houseware brands for less.
To make it easier for you to find the right alternatives, I've divided this post into two sections. The 1st section includes places that offer similar but cheaper women's clothing, shoes, jewelry, bags and other accessories.
The 2nd section is dedicated to home decor enthusiasts. If you like Anthropologie Home, I hope you will love what you are going to find under this section. From similar furniture and bedding to beautiful curtains, rugs and pillows, I'll help you find everything at comparable or low prices.
For those of you who don't know, Anthropologie is headquartered in Philadelphia, Pennsylvania, United States. Like Free People & BHLDN, it is one of the several clothing, footwear and housewares companies, owned by Urban Outfitters. In addition to almost 220 brick-and-mortar stores across the US, Anthropologie also serves customers from Canada, France, Germany and UK through its eCommerce website.
Please Click Your Desired Category
Top 10 Anthropologie Alternatives To Find Elegant Dresses For Women
Lulu's > #1, Exclusive Cuts For A Standout Look That Is Unique & Chic!

From playful mini dresses to elegant gowns, Lulu's has something for every vibe, shape and dress code. Lulus features dresses, shoes and accessories form hundreds of brands and emerging designers at low prices. For a limited time, Lulus is offering up to 70% discount on selected items and free shipping on orders above $50.
Francesca's > #2, Great Assortment Of Women's Tops, Bottoms, Outerwear & Dresses

Francesca's is another great place to find a winsome collection of carefully curated dresses for special occasions. In most cases, Francesca's is cheaper than Anthropologie. And Cheap doesn't mean low-quality, Trust Me! Francesca's boutiques also feature a beautiful collection of casual dresses and tops, kimonos and blouses. Francesca's offers free shipping on all US orders over $60.
Shopbop > #3, Over 800 Designer Brands At One Place

Shopbop is not a direct competitor of Anthropologie. But still, it gets more attention than other alternatives I shared on this page. The simple reason is, Shopbop has more variety and it gives women more options to choose from. From dresses and jackets to boots and bags, Shopbop features more than 800 international fashion designers and brands like Tory Burch, Miaou, Ulla Johnson and Loeffler Randall. Finally, Shopbop also offers free 3-day shipping worldwide and free returns.
Bebe > #4, Sexy Tops & Cute Shirts For Less

From parties and date nights to work and weekends, Bebe is another very good alternative to Anthropologie to shop sexy & chic clothing for women. In addition to a chain of over 70 stores worldwide, the official website of Bebe also features the complete assortment of Bebe merchandise. This online fashion retailer offers free shipping on all US orders above $100.
Modcloth > #5, Women's Vintage-Style Fashion

This vintage clothing specialist comes from the house of BIG DADDY of retail industry a.k.a Walmart. Modcloth is the go-to place to buy vintage-inspired must-haves for women. Most of the dresses, tops, bottoms and swimwear at Modcloth are available in plus size too. Like Anthropologie, Modcloth also has a good variety of home decor products and vintage-style gifts under $25.
Chico's > #6, Missy, Petite & Tall Styles

Chico's is not cheaper than Anthropologie. But still I strongly recommend that you visit their official website and check out the new arrivals. There is a reason why hundreds of thousands of women from USA, Canada, Italy, UK and more than 100 other countries prefer Chico's to shop designer clothing, shoes, accessories and more.
Tobi > #7, Flat 50% OFF [New Customers Only]

Here comes one of the cheapest alternatives to Anthropologie on this page. But price is not the only reason to include Tobi in this list. From cute dresses and sexy heels to work clothes and trendy coats, Tobi gives you a long list of interesting reasons to shop. One more thing, Tobi offers a flat 50% discount on everything to all new customers.
J Crew > #8, Women's Wear-To-Work Clothing

J Crew is a major retailer of premium quality clothing for men, women and kids in the United States. Men's and Kids' clothing is beyond the scope of my today's post, so let's get back to women's clothing. From skirts and suiting to cashmere and coats, I've already blogged about so many offerings of J Crew. Recently I visited their shirts & tops section. I'm sure, an Anthropologie customer can't reject wear-to-work tops for women by J Crew.
Ann Taylor > #9, Casual, Professional & Party Silhouettes

If I had to define Ann Taylor in one word, it would be Elegance. Flattering dresses, perfect fitting pants and stunning blouses, each masterpiece offered at Ann Taylor stores truly is a class of its own. Ann Taylor is a great place to shop timeless clothing for tall women too. It's not a cheap alternative to Anthropologie, but I hope you'll enjoy your trip to Ann Taylor's online store.
Madewell > #10, Seriously GREAT Jeans For Women Since 1937

Madewell is primarily famous for its finest quality denim jeans, leather jackets and boots for women. I have included this brand in my today's post for two reasons. #1 Madewell's latest collection of wide-leg crop jeans has really impressed me. #2 I'm love with their accessories section that includes leather bags, wallets, sunglasses and jewelry.
In the next update, I'll also include some alternatives to cover the beauty and wellness section of Anthropologie. For now, let's move to home furnishing, the second half.
Top 10 Anthropologie Home Alternatives
Wayfair > #1 On My List Of Stores Like Anthropologie Home

Wayfair is an all-in-one alternative to Anthropologie Home. From modern and classic furniture to bedding and unique decorative accessories, Wayfair offers everything you need to furnish and beautify your space on a budget. The good news is, you can buy everything from the convenience of your home. And the GREAT news is that, Wayfair offers free shipping on most items, even big items.
Amazon > #2, Amazon : Save Tons Of Money On Furniture, Decor & Kitchenware

Everyone knows Amazon. In fact, I hope you are already a customer of the largest online retailer. It won't be a good idea to compare Amazon with Anthropologie Home. But I strongly recommend, before buying furniture, home decor, kitchenware or bedding from anywhere else, don't forget to check out the new arrivals at Amazon Home. Chances are, it will save you tons of money.
Macy's > #3, Free Shipping On Most Orders

Macy's is one of the oldest chains of department stores In the United States. The first-ever Macy's store was opened in 1858. Well, I know you are not here for a history lesson. Macy's can serve you as another good and more affordable alternative to Anthropologie.
In addition to great discounts on latest fashion brands for women, Macy's also offers home accents, bedding, bath accessories and almost everything else that you can find at Anthropologie Home. Most US orders at Macy's Stores are eligible for free shipping as well.
Kohl's > #4, Great Deals On Decorative Accents, Linens, Art & Furniture

With almost 1160 locations, Kohl's is one among the largest chains of department stores in the United States. From kitchen and dining to bedrooms and bathrooms, Kohl's offer thousands of products from world-famous home furnishing companies at very attractive discounts. Kohl's also sells beautiful toys, unique gifts, tech gadgets and home appliances. Each order of $75 or more is eligible for free shipping at Kohl's.
West Elm > #5, Modern Wall Art and Mirrors

West Elm may not be cheaper than Anthropologie Home in some cases, but still it is an affordable home furnishing store for many people. I hope you'll be impressed by the inspiring and sophisticated furniture and modern home decor offered at West Elm stores. From beautiful mirrors and handcrafted wall decor to unique sculptures, vases and other decorative objects, West Elm's official website deserves your visit for so many reasons.
World Market > #6, Unique & Affordable Rugs & Curtains

What is the best way to bring some new style and color to your room on a budget? Ask any home decor expert, chances are, you'll be advised to do something for your floor and windows. World Market is one of the best places to buy curtains and imported handwoven rugs to add new life to any room. And below is why I recommend this store.
Like Anthropologie, the buyers and seasoned designers at World Market travel the world and collaborate with creative artisans to bring you high-quality and original items at low prices.
Zulily > #7, Up To 70% Discount On Branded Furniture

Zulily is a leading flash sale website. If you don't know already, a flash sale is a discount offer by an ecommerce website. Zulily flash sale events feature clothing, shoes, fashion accessories, housewares, cookware, kitchenware and many other products under different categories from hundreds of companies and brands like Anthropologie. On an average, Zulily offers 70% discount on women's clothing, furniture and home decor.
Crate & Barrel > #8, Make your kitchen A Functional & Fashionable Place

Crate & Barrel is famous for its simple, well-designed and affordable home furnishing goods. Originally founded in 1962 in Chicago, Illinois, Crate & Barrel has over 170 brick-and-mortar stores along with an ecommerce website. I have selected Crate & Barrel as the best alternative to kitchen & dinning section of Anthropologie. From dinnerware and glassware to knife sets and cooking utensils, Crate & Barrel offers everything you need for a modern and stylish kitchen.
Pottery Barn > #9, Bedding Collections in a Range of Fabrics & Patterns

Pottery Barn is an upscale home furnishing company. Like West Elm, Pottery Barn is also owned by Williams-Sonoma. It is one of my personal favorites and it's hard to recommend a store like Pottery Barn to buy products under a specific category. During my recent visit to their official website, I checked the bedding section. I hope you will also like the latest duvet covers, quilts, comforters, sheet sets and decorative pillows at Pottery Barn.
Overstock > #10, Quality Home Goods At Low Prices

Last but certainly not the least, Overstock. If you are interested in some all-in-one type online shopping websites, Overstock is one of the best options. This ecommerce company is famous for its unique offerings of up to 70% discount on furniture, rugs, décor, bed & bath and kitchen essentials. In most cases, it's hard to beat the prices at Overstock.
Would you like to suggest some other alternatives to Anthropologie to include in this list? I have made every effort to make this list as complete as possible. But I know, there is always a room for improvement. Please share your favorite clothing stores and home furnishing websites in the comments section below.
Further Reading