The living room acquires greater exposure than any other room in your home. This is where the family gathers, and this is where you entertain your guests etc. etc. That's why, arranging furniture in a living room is something that requires a little more planning.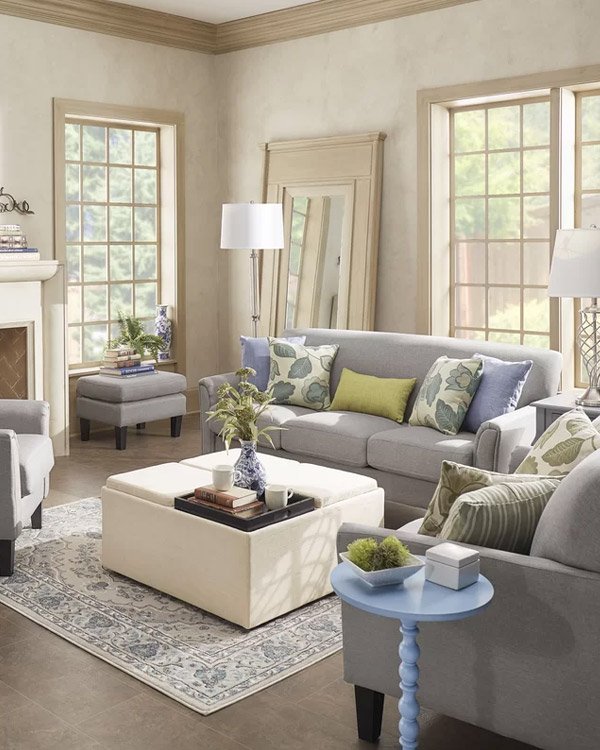 Whether your living room needs a complete overhaul or just a quick refresh, we hope this post will help you make your family's favorite room a more comfortable and inviting place.
Must Have Pieces for a Modern & Contemporary Living Room
Wayfair : Modern & Traditional Living Room Sets For Any Budget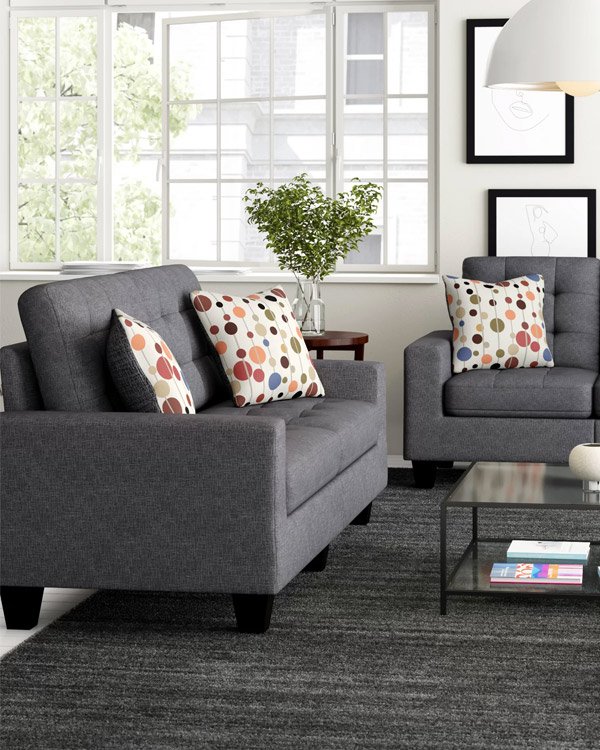 If you want to accomplish more in less time, we strongly recommend that you think about buying a living room set instead of individual furniture pieces. Doing this will not only save you tons of time, but also take all the hassle out of finding things that complement each other.
Wayfair is one of the most trusted American websites to buy high-quality and reasonably priced living room furniture sets online. And the good news is, most orders at Wayfair are eligible for free shipping across the United States.
Headquarters: Boston, Massachusetts, United States

Popular Products: Cheap Living Room Sets, 3 Pieces Living Room Sets, 5 Piece living Room Sets
Ashley Furniture : Incredibly Well-Made & Comfortable Sofas at Low Prices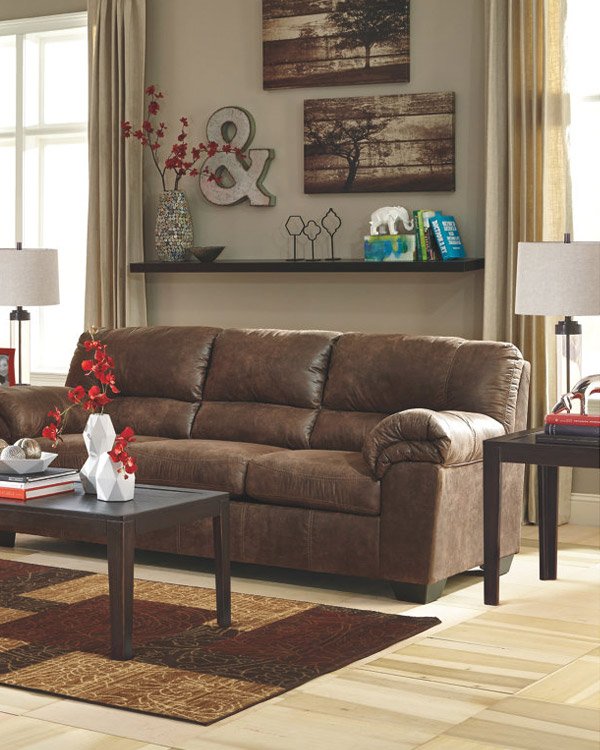 Buying a new sofa is very similar to buying a new car. It's a major investment (and a BIG decision). That's why, it is very important to devote sufficient time to find one that is durable, comfortable, aesthetically pleasing and perfect for your living room.
For more than two decades, Ashley Furniture is one of the top-rated home furniture stores in the United States. Ashley offers an extensive variety of stylish living room furniture at great prices!
Headquarters: Arcadia, Wisconsin, United States

Popular Products: Sofas, Loveseats, Sectional Sofas, Futons & Sleeper Sofas
Pier 1 : Best Accent Chairs For Living Rooms to Compliment Your Existing Color Scheme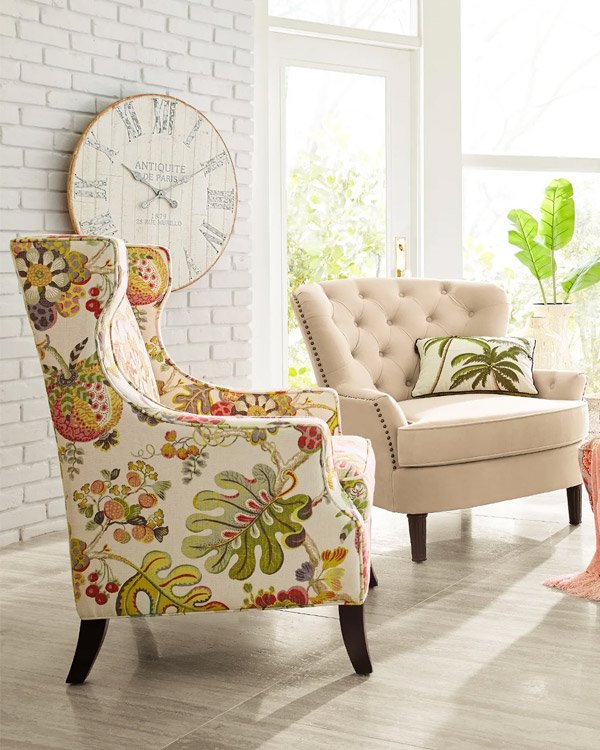 Using a couple of accent chairs is a great way to beautifully add more seating to your living room. Pier 1 offers an impressive collection of stylish, comfortable, sturdy and affordable living room chairs to compliment your existing color scheme and decor of the room.
Pier 1 Imports has been around for over six decades now. With a huge customer base, Pier 1 Imports is a trusted name in American home furnishing industry. And as the name suggests, this company specializes in imported furniture and decorative accessories.
Founded: 1962, San Mateo, California

Headquarters: Fort Worth, Texas, United States

Popular Products: Club chairs, Slipper Chairs, Occasional Chairs, Wingback Chairs, Rocking Chairs and Tub Chairs
Living Spaces : Guaranteed Low-Prices on Best Recliners for Living Rooms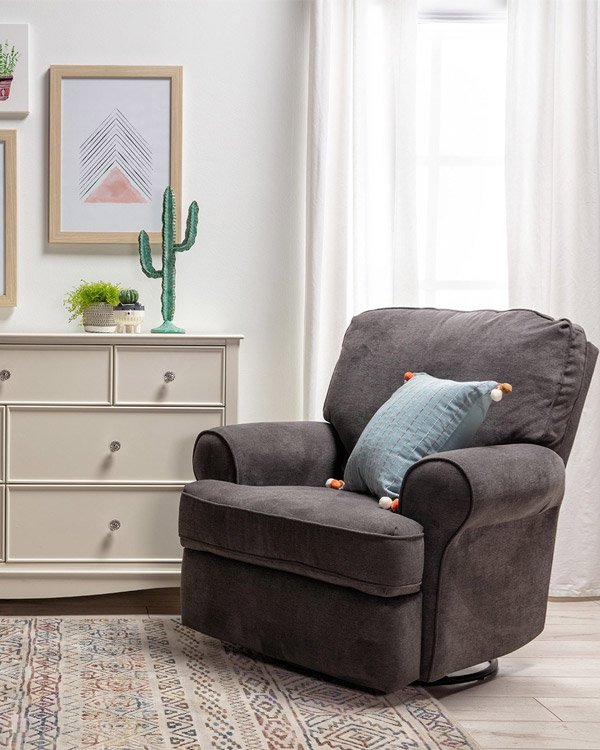 Recliners not only look extremely beautiful and modern, but they also offer relieving comfort with many functional and technologically advanced features. During our research for this post, we found the most stylish and competitively priced recliners for living rooms at Living Spaces.
Living Spaces is one of the fastest growing home furnishing companies in the United States. This American furniture store is primarily known for its guaranteed low prices with same day shipping options. For a limited time, Living Spaces is offering an unmatched selection of 100% Leather Power Recliners at special discounted prices.
Headquarters: La Mirada, California, United States

Popular Products: Genuine Leather Recliners, Power Recliners, Rocker Recliners, Small Spaces Recliner Chairs & Oversized Recliners
Crate & Barrel : High-End Chaise Lounges & Chairs for Living Rooms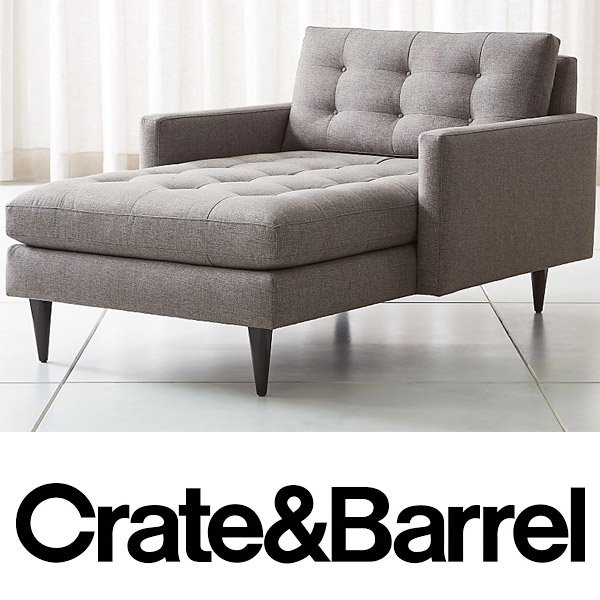 Chaise Lounges are great when it comes to achieving the ultimate relaxation experience. Crate & Barrel has a very unique selection of most comfortable and elegant chaise lounge sofas to add some serious style to your living room.
Crate & Barrel specializes in high-end housewares, home furniture and accessories. This company may be slightly expensive than most other living room furniture retailers we shared on this page. But we assure you, anything you purchase from Crate & Barrel is absolutely worth the extra money.
Headquarters: Northbrook, Illinois, United States

Popular Products: Chaise Lounge Chairs, Bench Sofas, Guest Beds, Fainting Couches and Long Lounge Chairs
Pottery Barn : Best Coffee Tables, End Tables & Side Tables for Living Rooms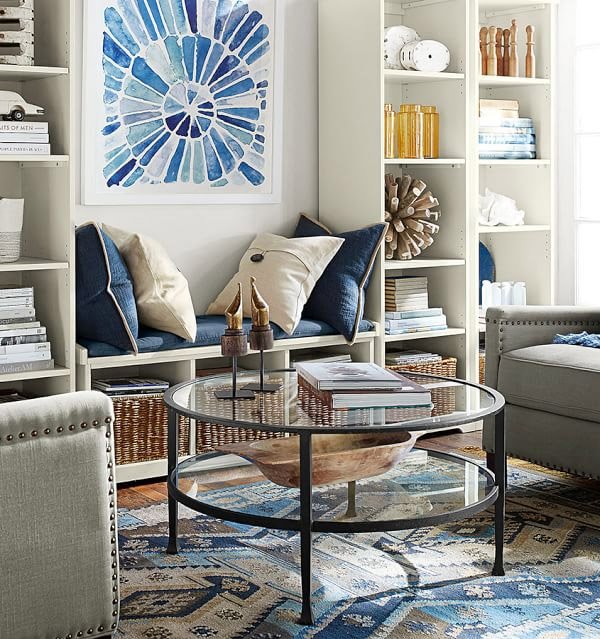 A coffee table is the furniture must-have of the century for many reasons. From sharing drinks with your friends to placing your tired feet, having a casual dinner or simply placing a stack of your favorite books, Coffee Tables serve many functions.
Pottery Barn has an extensive collection of well-crafted glass, wood and metal coffee tables. Pottery Barn is a sister company of West Elm and a wholly owned subsidiary of Williams Sonoma. For a limited time, Pottery Barn is offering a huge variety of modern coffee tables, side tables and end tables at special discounted prices.
Headquarters: San Francisco, California, United States

Popular Products: Round Coffee Tables, Rectangular Coffee Tables, Square Coffee Tables and Grand Coffee Tables
Home Depot : Best TV Stands to Enhance Your Viewing Experience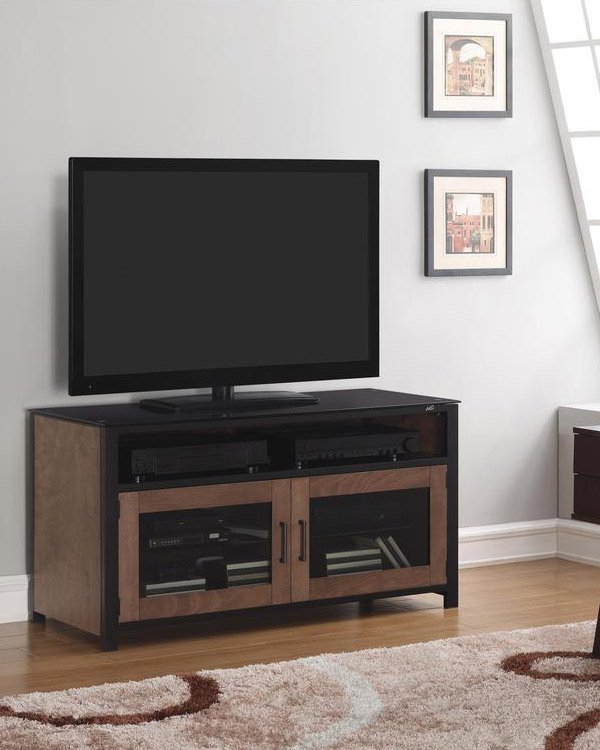 Home Depot is primarily known as a major supplier of heavy-duty tools, building material and construction products in the United States. But it also is a trusted store to find a good variety of living room furniture, lighting and decorative accessories.
Especially, if you are looking for a great place to buy the best TV Stands and Media Centers at lowest prices, we strongly recommend that you check out Home Depot before making a purchase decision.
Headquarters: Atlanta, Georgia, United States

Popular Products: Corner TV Stands, Flat Panel Mount TV Stands, TV Armoires, Entertainment Centers, TV Stand Fireplaces and TV Stands with Hutch
Bed Bath & Beyond : Stylish & Low-Priced Accent Cabinets & Chests for Living Room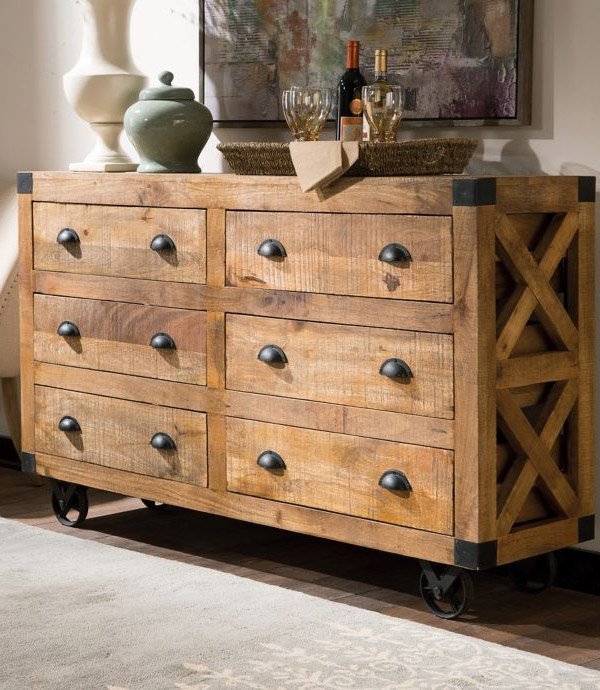 Using accent cabinets that compliments the overall theme of your living room is a good way to add additional storage space. Bed Bath & Beyond offers functional yet stylish storage cabinets and chests for living rooms at affordable prices.
With over 1550 brick and mortar stores across the United States, Mexico and Canada, Bed Bath & Beyond is one of the largest American chains of furniture stores. BB&H is also the parent company of World Market and One Kings Lane, a famous website that sells luxury living room furniture and decor.
Founded: 1971 in Springfield, New Jersey

Headquarters: Union Township, New Jersey, United States

Popular Products: Accent Cabinets, Chests and Storage Trunks
Room & Board : Contemporary & Modern Accent Benches for Living Room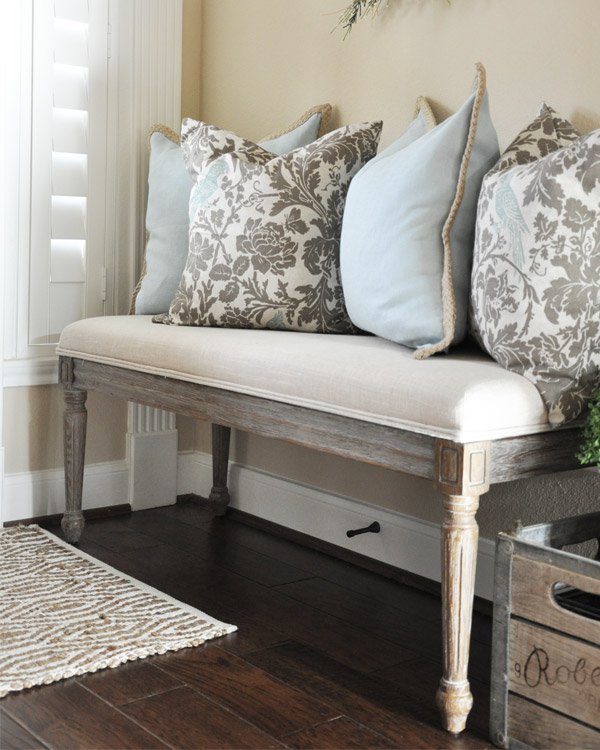 Strategically placed Accent Benches can add a versatile seating and savvy style to your living space. Room & Board has one of the largest inventories of contemporary and modern benches for living rooms.
Room & Board is a very popular retailer of high-quality and modern furniture and home furnishings in the United States. For a limited time, Room & Board is offering attractive discounts on handcrafted, American-made storage benches.
Headquarters: Minneapolis, Minnesota, United States

Popular Products: Accent Benches, Storage Benches, Upholstered Stools and Ottomans
The Container Store : Best Living Room Bookshelves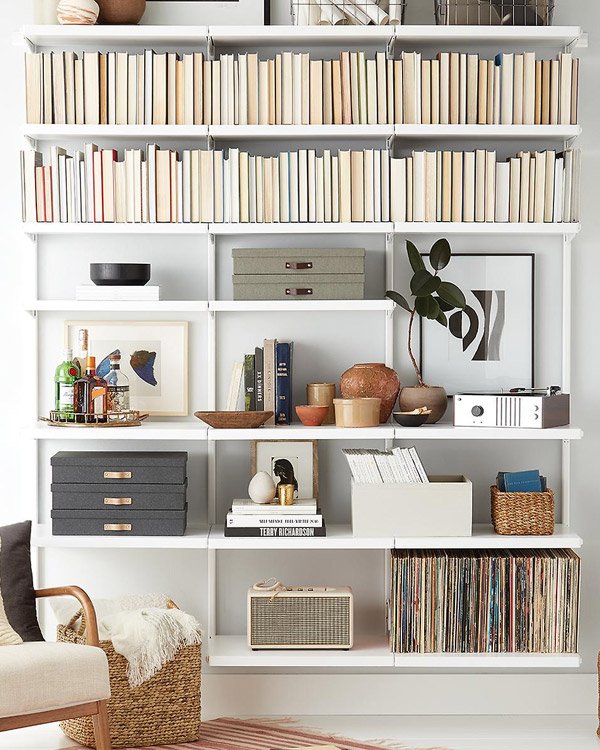 From organizing your favorite books to displaying framed photos, art and accent pieces, well-made bookshelves serve many purposes.
Featuring sophisticated lines, subtle elegance and exceptional durability, The Container Store offers perfect bookshelves for any living room. This publicly traded American company is one of the best places to buy high-end storage and organization product. This year, The Container Store is expected to cross 1 Billion Dollars in annual sales.
Founded: 1978, Dallas, Texas

Headquarters: Coppell, Texas, United States

Popular Products: Standalone Bookshelves, Small Bookcases and Custom Closets