When shopping for sectional couches and sofas, comfort and durability unquestionably are the two very important considerations. But how to narrow-down the right style, size, and material? In today's post you'll find some pro tips on how to find the best sectionals for your place.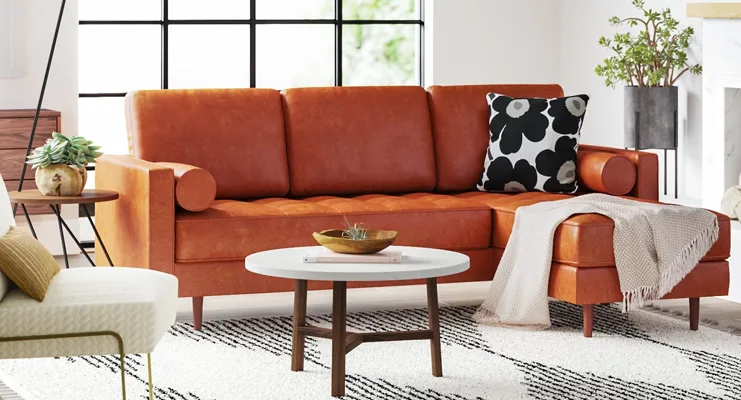 We have also selected some of the most trusted furniture stores and home furnishing websites in the United States that offer the best deals on sectional sofas for small and large living rooms.
Top 10 Places to Find the Best Sectionals Online
Ashley Furniture : Stylish Sectional Couches & Sofas at Great Prices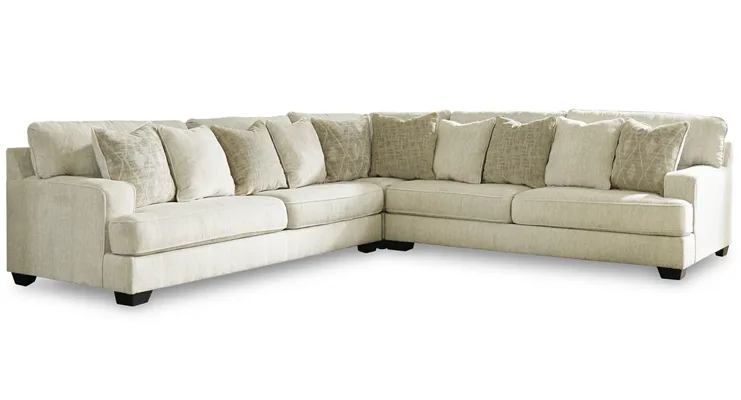 No matter what kind of sectional sofas you are looking for… From standard and reclining pieces to modular, sleeper sectionals, or sectionals with chaise, Ashley Furniture has the widest range of high-quality options at VERY affordable prices.
Ashley Furniture (or Ashley Home Stores) is around for almost eight decades. Ashley Furniture presently operates over 2000 brick-and-mortar stores. Last year, Ashley Furniture generated more than $5 billion in revenue.
Headquarters: Arcadia, Wisconsin, United States

Customer Service No: +1-866-436-3393
IKEA : Affordable Sectionals, Offering Lots of Seating for Family & Guests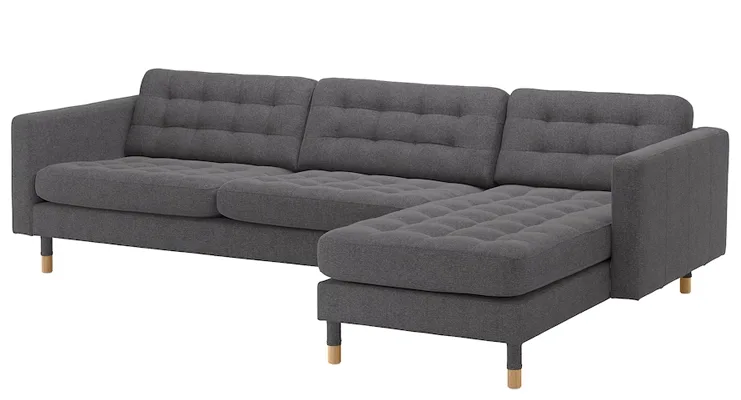 If you are looking for a sectional sofa set that allows creating your own combination, the modular sectional collection at IKEA is something you should NOT miss!
IKEA is the largest retailer of ready-to-assemble furniture on the planet. IKEA is primarily famous for its unique and modern furniture, accessories, and home appliances collection.
Founded: 1943, Älmhult, Sweden

Headquarters: Leiden, Netherlands

Customer Service No: +1-888-888-4532
Overstock : HOT Deals on Mid-Century Top Grain Genuine Leather Sectionals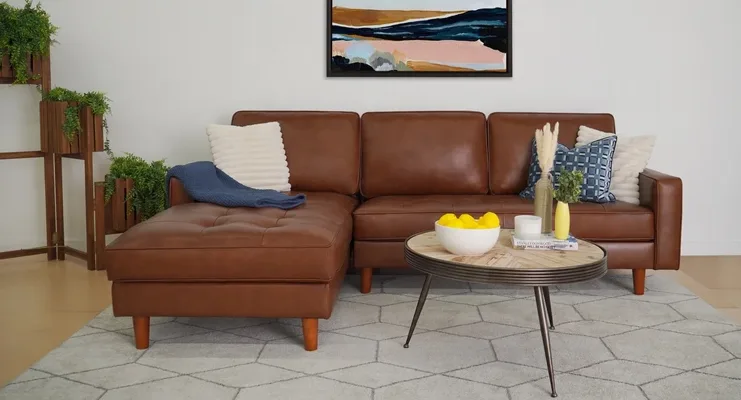 Overstock is best known for its hugely discounted deals on a wide range of home and office furniture. Overstock also is one of the pioneers in the American online retail industry. Click Here to check out the latest offerings of sectional sofas and couches at Overstock.
Headquarters: Midvale, Utah, United States

Customer Service No: +1-800-843-2446
West Elm : A Global Leader in Contemporary & Modern Living Room Furniture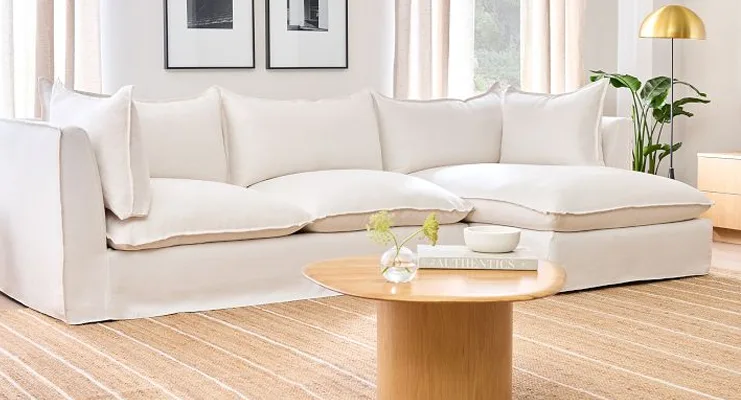 Modern sectionals by West Elm are designed with clean lines and are expertly crafted for comfort. West Elm is one of the leading contemporary and modern home furnishing companies in the United States.
Parented by Williams Sonoma, West Elm is a sister company of Rejuvenation and Pottery Barn. West Elm also is a widely trusted modern home furnishing brand across Canada, Mexico, England, UAE, and Australia.
Founded: 2001, San Francisco, California

Headquarters: Brooklyn, New York, NY, United States

Customer Service no: +1-888-922-4119
Wayfair : FREE Shipping on Sectional Sofas & Couches Across the United States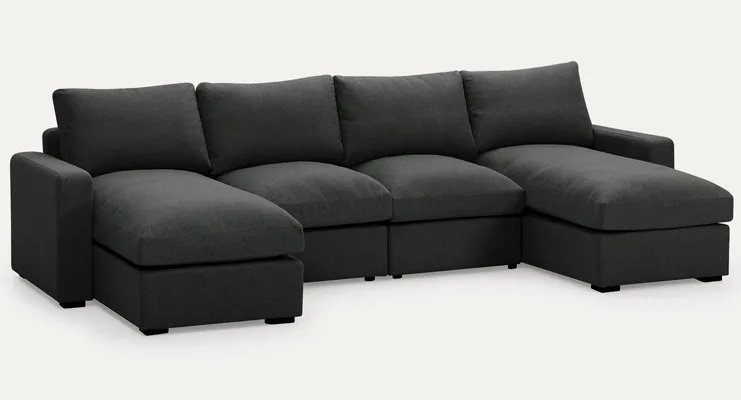 Wayfair is the place to find masterpieces at PERFECT prices. Your budget doesn't matter, Wayfair has many styles of sectionals that can truly become the anchor piece of furniture for your living room.
Wayfair is one of the largest American online home furnishing websites. Additionally, Wayfair also owns and operates some other very successful furniture companies including AllModern, Joss & Main, Birch Lane, and DwellStudio.
Costco : Low Warehouse Prices on Name-brand Living Room Furniture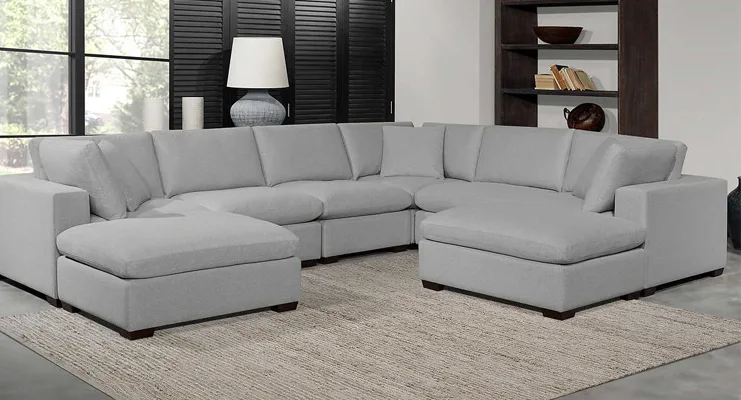 Costco is a highly recommended place for those who are on a tight (really tight) budget but don't want to compromise on quality. Get the best deals on name-brand sectionals for any space.
Costco is primarily known for being an American Wholesale Corporation that operates a huge chain of MEGA retail stores. Costco is presently the fifth-largest retail company in the world.
Founded: 1976, San Diego, California

Headquarters: Issaquah, Washington, United States

Customer Service No: +1-800-774-2678
Macy's : Modern Sectionals with Features Like Built-In Cupholders and USB Charging Ports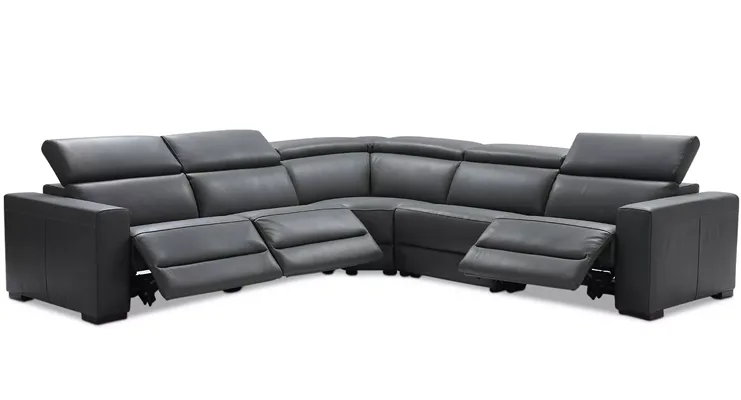 At Macy's, you'll find the most comfortable (and affordable) ways to upgrade your living space. Right now, Macy's is offering generously discounted deals on power reclining sectionals.
Macy's is a very popular and one of the oldest American chains of mid-range department stores. The first-ever Macy's store was opened in the month of October 1858.
Headquarters: Cincinnati, Ohio, United States

Customer Support No: +1-800-289-6229
Living Spaces : Sectional Sofa Sets with Tasteful Designs and Highly Customizable Configurations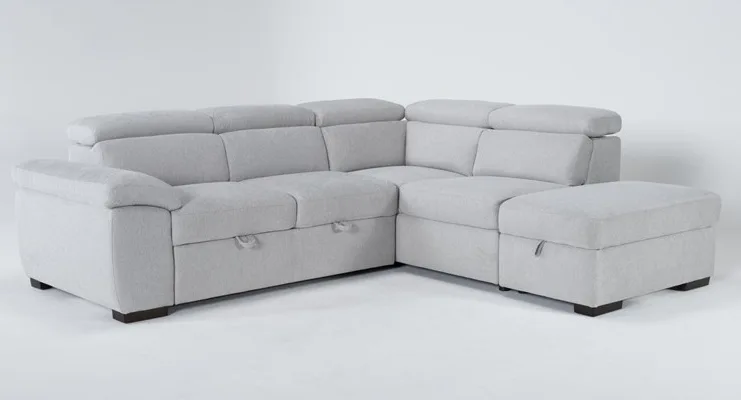 Living Spaces is one of our personal favorites. Living Spaces (in just some cases) may be a bit more expensive than some furniture stores we shared above.
However, if you don't paying a few hundred extra bucks to have high-quality materials, special custom features, and exceptionally well-built sectionals, Living Spaces is a highly recommended website for you.
Headquarters: La Mirada, California, United States

Customer Service No: +1-877-266-7300
Crate & Barrel : The Most Complete Range of Sectionals with Different Shapes e.g. U-Shape and L-Shape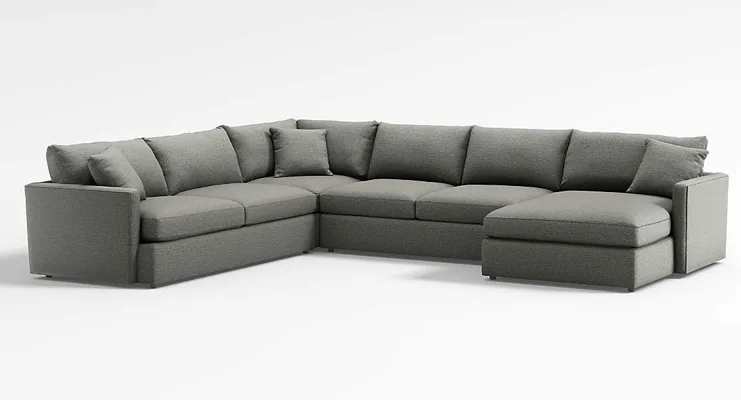 Plain & Simple… Crate & Barrel is NOT the place to find cheap furniture. That's why C&B is only recommended if you are looking for a place to shop for high-end designer sectional sofas.
Crate & Barrel is a wholly-owned subsidiary of Otto GmbH, a German business group and one of the world's largest network of eCommerce companies. Otto GmbH also operates CB2, Bonprix, Crate Kids (formerly The Land of Nod), and many other popular brands.
Headquarters: Northbrook, Illinois, United States

Customer Service No: +1-800-967-6696
Home Depot : Just SignUp for Their eMail List and Get Flat 10% OFF on the Entire Collection of Living Room Furniture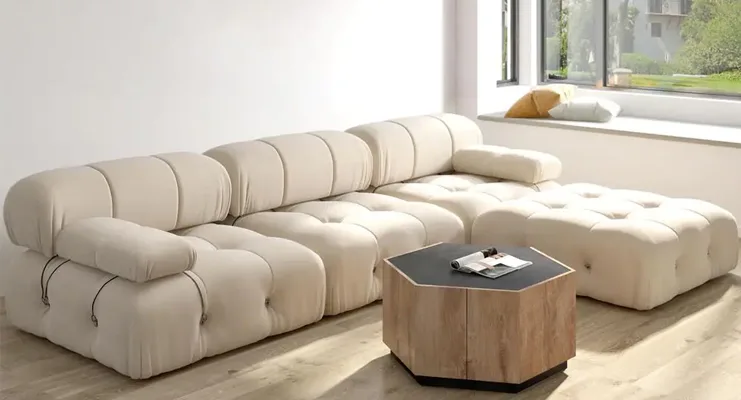 highly durable and ultrasoft sectionals… why? Most pieces offered at Home Depot are made with solid wood and they use the finest quality velvet for upholstery.
The Home Depot is the largest American chain of retail stores that specialize in home improvement products and services. Presently, Home Depot operates 2312 brick-and-mortar stores across the United States, Puerto Rico, Mexico, Canada, and US Virgin Islands.
Headquarters: Atlanta, Georgia, United States

Customer Service No: +1-800-466-3337
What to Look for When Buying a Sectional Sofa or Couch?
Before moving ahead and sharing tips from the industry's leading professionals, let's see what our in-house experts have to say about choosing the right sectionals.
Comfort is essential for ensuring that the piece of furniture you are going to buy is enjoyable to use, as well as appropriate for its intended purpose. Durability, on the other hand, ensures that the piece remains attractive and functional over time.
Comfort is a subjective quality that can vary depending on individual preference and body type. When selecting upholstered sectionals, it's important to test out different models to find one with an optimal combination of firmness and softness.
Additionally, adjustable features like reclining backs or footrests can provide extra comfort when needed.
Durability should also be taken into account when choosing sectional sofas and couches. Look for materials that are known to last a long time without requiring much maintenance or repair work. Solid wood frame sectionals often provide superior durability compared to other materials such as particle boards or plastic composites.
We are NOT against these materials as at times when heavier-duty construction isn't needed (e.g., accent pieces) particle board or plastic composites can serve the purpose very cost-effectively and save you a lot of money.
What to Look for in the Fabrics Used for Upholstery?
Fabrics used in upholstery should be checked for their resistance against fading and wear and tear over time. Synthetic fibers tend to fare better than natural ones in this regard but may lack some of the latter's aesthetic qualities.
It's also important to consider how easy it will be to maintain any given piece of sectional sofa or couch, as many items come with special treatments designed specifically with this purpose in mind, for example, stain-resistant sectionals.
In conclusion, both comfort and durability are key considerations when purchasing sectionals for any place. By taking both into account before making a purchase decision you can ensure that your chosen sectional sofa will remain comfortable and attractive over the years without requiring too much upkeep from you along the way!
Pro Tips on How to Pick the Right Sectional for Your Home?
Before you begin shopping for a sectional, first consider what type of style best fits your home's décor and aesthetics.
Do you prefer traditional or modern designs? Do you prefer neutral colors or bolder hues? By taking into account the overall look and feel of your home, it will help narrow down which sectionals fit best within the space.
Next, think about how much seating capacity you need in order to accommodate all members of your family as well as any guests who may come over.
If possible, measure out an approximate area where the sectional will be placed so that you can get a better idea of sizing options and which ones would fit in that particular space without looking cramped or overcrowded.
Finally, take into account any special features such as built-in storage compartments or reclining seats that may be important to have within the sectional itself if necessary.
As long as all these factors are taken into consideration when selecting a new sectional for your home, then it should result in finding one that perfectly suits both its size requirements and aesthetic appeal!
Tips and Tricks on Measuring Your Room for the Perfect Sectional
Measuring your room for the perfect sectional can be a daunting task, especially, if you are going to do it for the first time. To ensure you get the right size for your space, below are some helpful tips and tricks.
Measure Your Room Accurately
Before you start shopping for a sectional sofa or couch, it's important to measure your room accurately so that you know how much space is actually available and what size fits best in the available space.
Make sure to measure from the wall to wall and take into account any obstacles such as windows or doorways when measuring.
How Many People Will be Using the New Sectional Sofa or Couch?
You should also consider how many people will use the sectional when selecting its size. A larger sectional may fit better in bigger rooms, but keep in mind that it will take up more floor space than a smaller one if you are limited on square footage.
Don't Forget to Consider Other Pieces of Furniture in The Room
When selecting a sectional, make sure to consider other furniture pieces that may already occupy the room such as end tables or coffee tables as they can affect placement options and the overall comfort of use of your new sectional.
Allow Extra Space Around the Edges!
It's also important to give yourself at least 18 inches of clearance between walls and corners so that there is enough walking space around it without being cramped or uncomfortable when sitting down on it with others nearby. This extra breathing room helps create an inviting atmosphere too!
Selecting the RIGHT Style of the Sectionals
Think about how much seating area is needed; whether an L-shape, U-shape, or even chaise-style sectional would work best depending on preferences.
Carefully think about what type of material works well with existing décor. Whether reclining sectionals are desired? If storage is required etc.
For best results, follow these tips and do your homework before actually making a purchase decision for a new sectional sofa for your living space. This will save you time, money, and of course the feeling of being overwhelmed.