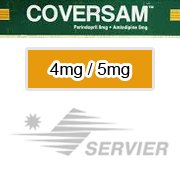 Coversam is a prescription medication that is indicated for the treatment of essential hypertension. Coversam is a combination of Perindopril, an angiotensin converting enzyme also known as ACE inhibitor class of drugs and Amlodipine Besylate, a calcium channel blocker. Each Coversam tablet contains Perindopril 4mg and Amlodipine Besylate 5mg.
Coversam is contraindicated in patients with known hypersensitivity to Perindopril and/or Amlodipine Besylate. This medicine should also be avoided in children under 15 years of age.
Coversam Side Effects
Like all active drugs, Coversam Tablets may case undesirable effects of varying severity in certain patients. The most commonly reported Coversam side effects include headache, edema, fatigue, somnolence, feeling of dizziness, flushing, palpitations, dizziness, mood and/or sleep disturbances, gastro-intestinal pain, heartburn and acid reflux, taste disturbances and dry cough.
For any persistent or any unpleasant experience during the treatment with Coversam Tablets, the patients should contact the doctor.
Coversam – Important Precautions
Due to the presence of lactose, Coversam should not be used in the case of congenital galactosemia, the syndrome of malabsorption of glucose and galactose or a deficit in lactase.
Caution should be exercised while prescribing Coversam Tablets to patients with impaired hepatic and renal functions. Assess renal function before and during treatment where appropriate. In patients with renovascular hypertension, surgery/anaesthesia, renal failure, the dose of Coversam should be cautiously adjusted in accordance with the creatinine clearance. There is a risk of allergic reactions and angioneurotic edema. The doctor should be informed about the treatment if the patient has to undergo hemodialysis.
Coversam gives no protection against the dangers of abrupt beta-blocker withdrawal because this formulation does not contain a beta-bloker in it. Any such withdrawal should be performed by gradual reduction of the dose of beta-blocker.
In patients with impaired left ventricular function the combination of Coversam Tablets with beta-blockers must be avoided. Combination with neuroleptics or imipramine-type drugs may increase the hypotensive effect. Serum lithium concentrations may rise during lithium therapy.
Amlodipine Besylate may rarely cause acute hypotension. Caution should be exercised when administering Coversam, as with any other peripheral vasodilator particularly in patients with severe aortic stenosis. In general, calcium channel blockers should be used with caution in patients with heart failure. Symptomatic hypotension is rarely seen but is more likely in volume-depleted patients, those receiving diuretics, or with the first two doses. A diuretic may later be given in association if necessary; potassium-sparing diuretics are not recommended.
Related Links