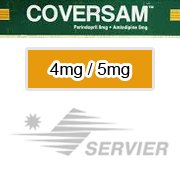 The usual dose of Coversam tablets is one tablet, once daily. The maximum recommended daily dosage is one Coversam tablet twice daily. The increments in the dosage should be adjusted to each patient's need to attain the control of the elevated blood pressure. The increments should be spaced over the time intervals of one to two weeks.
Hypotension is the most likely result of over-dosage. If significant hypotension occurs, it may be countered by making the patient lie down with the legs elevated. Gastric lavage should be performed if necessary. For any emergency the doctor should be contacted immediately.
Coversam in Pregnancy and Lactation
As with other medicines, using Coversam is contraindicated during pregnancy. There are no data about the passage of Coversam into human milk. Therefore, administration of this medicine is not recommended for nursing women.
Coversam with other Hypertensives, Antianginal Drugs
Coversam can be co-administered with other hypertensive (potassium-sparing diuretics are not recommended) and/or antianginal drugs. However care should be exercised before prescribing in order to avoid any possibility of hypotension.
Coversam – Drug Interactions
Special attention is needed while prescribing other medications such as lithium salts, estramustine, potassium salts or a potassium-sparing diuretic and drugs that are likely to affect the drug displacements and potentiate the drug action.
Drivers and machine operators should take special care due to the risk of dizziness.