Betaloc ZOK Tablet contains metoprolol succinate 95mg corresponding to 100mg of metoprolol tartrate, excipients q.s. in the form of controlled release pellets.
Indications – What is Betaloc Zok Used For?
Hypertension
Stable symptomatic chronic heart failure with impaired systolic left ventricular function
Prevention of cardiac death and reinfarction after the acute phase of myocardial infarction
Cardiac arrhythmias especially including supraventricular tachycardia, reduction of ventricular rate in atrial fibrillation and in ventricular extrasystoles
Functional heart disorders with palpitations
Migraine prophylaxis
Betaloc Zok Dosage Administration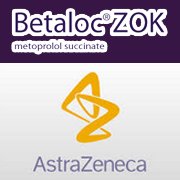 Betaloc ZOK is given once daily, preferably in the morning. The tablets can be divided. They must not be chewed or crushed. Betaloc Zok tablets should be swallowed together with at least half a glass of liquid. Concomitant intake of food does not influence the bioavailability of Betaloc Zok.
Dosage in Hypertension


50-100 mg once daily In patients not responding to 100mg, the dose could be combined with other antihypertensive agents, preferably diuretics and calcium antagonists of the dihydropyridine type, or increased.

Dosage in Angina pectoris


100-200 mg once daily if needed, the dose can be combined with nitrates or increased.

Dosage in Cardiac arrhythmias


100 to 200 mg once daily. If needed, the dose can be increased.

Prophylactic therapy after myocardial infarction


As maintenance dosage, 200mg is given once daily.

Functional heart disorders with palpitation


100mg once daily. If needed, the dose can be increased.

Betalok Zok for Migraine prophylaxis


100 to 200mg once daily.

Stable heart failure, function class II


A recommended initial dosage for the first two weeks is 25mg once daily. After two weeks, the dose can be increased to 50mg once daily, and thereafter it can be doubled every second week. The target dose for long term treatment is 200mg once daily.

Stable Heart Failure, Function Class III, IV


Recommended initial dose is 12.5mg given once daily. After 1 to 2 weeks, the dose can be increased to 25mg once daily. Then, after further two weeks, the dosage can be increased to 50mg given once daily. In those patients who tolerate a higher dose, the dosage can be doubled every second week up to a maximal dose of 200mg daily.
Betaloc Zok Dose Adjustment
Impaired Renal Function
The elimination rate is insignificantly affected by renal function, and dose adjustment is therefore not needed in impaired renal function.
Impaired Hepatic Function
Usually Betaloc ZOK is given in the same dose to patients suffering from liver cirrhosis as to patients with normal liver function. Only when there are signs of very severe impairment of liver function (e.g. shunt operated patients), a dose reduction should be considered.
Elderly
Dose adjustment is not needed
Children
There is limited experience with Betaloc ZOK treatment in children.
Related Links