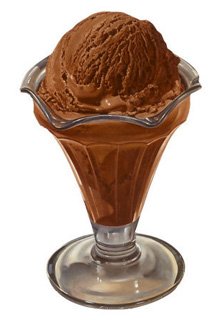 Following a Paleo eating plan allows you to consume a far wider variety of foods than you might imagine, but standard ice cream is most certainly off limits. Not only does it contain the dairy that is off-limits on a true Paleo eating plan most store brought brands also contain the additives, food colorings and processed sugars that are not allowed as well.
The good, or make that great, news is that ice cream itself is not a thing of the past for Paleo eaters, or not if they are willing to take a little time to make their own, dairy free. Paleo compliant versions instead.
Gathering Your Tools
Ice cream making in general is not nearly as hard as you might think but to do so efficiently and easily you will need to invest in a basic ice cream making machine.
Like any other kitchen appliance the costs of such a machine vary greatly. The basic operation of an ice cream maker is fairly standard, so costs differ because of brand name, capacity and design. You can usually pick up a smaller, more basic offering at a big box store like Amazon for $50 or less while the larger capacity, "brand name" offerings, complete with lots of extra bells and whistles (auto timers, stainless steel finish etc.) may set you back well over S100.
The primary goal for anyone following the Paleo Diet should be to develop a healthy eating plan for life and improve their overall health, not just lose weight. And any normal human craves something sweet sometimes! The following Paleo Ice Cream Recipes contains the natural ingredients that the Paleo diet calls for, are, in general, lower in calories than their store bought counterparts and when eaten in sensible moderation are perfectly "Paleo legal", as well as terribly delicious!
Sourcing Your Paleo Ice Cream Ingredients
As is the case for all of the ingredients you use when following the Paleo eating plan try to source the ingredients used in the following ice cream recipe as organically as possible. Commercially grown fruits are still often treated with pesticides and they are certainly not something you want to introduce into your healthy eating plan! Plus, an afternoon at the local farmer's market can be a lovely way to spend a little free time in general!
In today's paleo ice cream recipe you can use any kind of organic, unsweetened coconut milk you like. You will definitely get the best results with the full fat, rather than a reduced or low fat version. Most low fat coconut milks simply contain more water, making it harder to achieve that nice, creamy texture you will be looking for. The fat in coconut milk is of the "good" variety anyway and so by cutting out, nutritionally you are missing out.
Preparing The Paleo Version of Chocolate Ice Cream
Along with its peers vanilla and strawberry chocolate ice cream is the most popular such choice in the world. This version is not only every bit as tasty as the store bought standard offerings but it also adds fruit – in the form of bananas – for an extra nutritional boost.
Ingredients
13.5 OZ. can coconut milk
3 small ripe bananas
3 heaping tablespoons of Cacao powder
Stevia powder to taste (optional)
Procedure
Blend all of the ingredients together and mix until very well combined. Give the mixture a quick taste and if it is too bitter for you (which it can be for some) add a little Stevia powder to taste. Add mixture to your ice­ cream maker, churn for 15 minutes and enjoy this indulgent taste at your leisure!
Recommended Blender