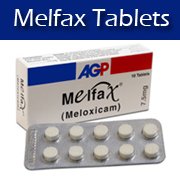 Melfax is chemically Meloxicam, a nonsteroidal anti-inflammatory drug. It is an oxicam derivative which selectively inhibits cyclooxygenase-2 (Cox-2). Melfax has a strong analgesic, anti-inflammatory and antipyretic effects. Melfax tablets are widely used to treat the following painful, inflammatory conditions;
The relief of signs and symptoms of acute and chronic osteoarthritis. Some healthcare professionals prescribe Melfax in combination with a dietary supplement e.g. Cartigen Plus to produce a synergistic effect. However, the effectiveness of these types of bone health supplements have not been evaluated by the FDA.
The relief of signs and symptoms of acute and chronic rheumatoid arthritis
The treatment of primary dysmenorrhea.
Melfax Dosage and Administration
The usual recommended dosage of Melfax is 7.5mg or 15mg once a day. In acute painful conditions with severe pain like rheumatoid arthritis the preferred dose is 15mg per day. The usual maximum daily, dose is 15mg.
Melfax is contraindicated in patients having hypersensitivity to the molecule. It is also contraindicated in patients with known peptic ulcer.
Melfax Precautions
Effects on Hepatic System
Few patients taking Melfax tablets report elevation of liver enzymes. Rarely the elevation can be more than three-folds the normal values. Jaundice, fulminant hepatitis, hepatic necrosis and hepatic failure are rarely encountered in patients taking Melfax tablets.
Effects on Renal Function
With pre-existing compromised kidney functions, it is advised to be cautious while using NSAIDs including Melfax. Physiological renal blood flow is dependent upon normal synthesis of prostaglandins. Interference of prostaglandins synthesis can cause renal decompensation. Heart failure, dehydration and use of diuretics make patients more prone to such side effects.
Special Population
Hepatic Insufficiency
In case of mild to moderate hepatic insufficiency dose, adjustment of Melfax tablets is not needed. There is not enough data on the pharmacokinetics in severe hepatic insufficiency.
Renal Insufficiency
In patients having creatinine clearance of more than 15ml/min. there is no need to bring about adjustment of dose of Melfax. In severe renal failure, however, enough studies have not been conducted to determine the dose.
Related Links