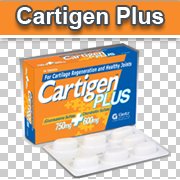 Cartigen Plus is indicated for the relief of osteoarthritis, a progressive disease of cartilage degeneration. It is used as a dietary supplement to decrease pain and improve mobility in people suffering from osteoarthritis. Cartigen Plus is also a support for healthy joints and connective tissues. It may be used to prevent or postpone the development of osteoarthritis in certain groups, such as the elderly and the athletes. Other recommended uses of Cartigen Plus are tendonitis and bursitis.
Cartigen Plus Formula (Ingredients)
Cartigen Plus is a combination of Glucosamine Sulfate and Chondroitin Sulfate. Both ingredients are naturally occurring structural components. Glucosamine is an amino sugar synthesized in the body from L-glutamine and glucose. Glucosamine stimulates the manufacture of glycosaminoglycan, and important component of the cartilage that plays a vital role to keep the joints healthy. Commercial sources of glucosamine are from the exoskeleton of certain shellfish and are available as glucosamine sulfate, glucosamine hydrochloride, and N-acetyl-Glucosamine. The sulfated form may most effectively incorporate sulfur into the cartilage. (Catigen Plus contains Glucosamine in Sulfated form.)
Chondroitin – Another Important Ingredient of Cartigen Plus
Chondroitin sulfate is also an important structural component of cartilage and provides much of its resistance to compression. Along with glucosamine, chondroitin sulfate has become a widely used dietary supplement for treatment of osteoarthritis.
Each Cartigen Plus Tablet Contains:
Glucosamine Sulfat 750 mg
Chondroitin Sulfate 600 mg
The recommended daily dosage of Cartigen Plus is 2 Tablets daily, preferably with meals. Please do not take any supplement including Cartigen Plus without asking a qualified healthcare professional.
Related Links