Melfax (Meloxicam) falls in Pregnancy Category "C".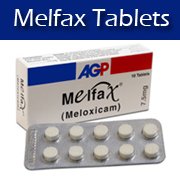 Because of lack of data in pregnant women, Melfax tablets should only be used during pregnancy if benefits clearly outweigh the risks to fetus and mother. Like other NSAIDs, Melfax (meloxicam) can cause premature closure of ductus arteriosus, therefore, it should not be used in the third trimester of pregnancy. It should also be kept in mind that inhibition of prostaglandin synthesis can also cause increase in delivery time.
Use in Nursing Mothers
Melfax has been shown to be excreted in milk of lactating rats. Therefore the use of this drug should be avoided in lactating women or a decision should be made to discontinue nursing.
Use in Children
The efficacy and safety of Melfax tablets has not been well studied in patients less than 18 years of age.
Use in Elderly Patients
In elderly patients of more than 65 years of age the administration of Meffax tablets should be carefully monitored.
Related Links