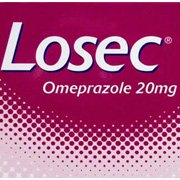 Losec (omeprazole) is well tolerated and side effects have generally been mild and reversible. The following events have been reported as adverse events in clinical trials or reported from routine use, but in many cases a relationship to treatment with Losec has not been established.
Losec Side Effects on Skin
Rarely rash and pruritus
In isolated cases photosensitivity
Erythema multiforme
Losec – Musculoskeletal Side Effects
In isolated cases arthralgia
muscular weakness
myalgia
Losec Side Effects on Nervous System
Headache
Rarely dizziness
Paresthesia
Somnolence
Insomnia and Vertigo
In isolated cases reversible mental confusion, agitation, depression and hallucinations, predominantly in severely ill patients were also reported as side effects of Loses.
Losec – Gastrointestinal Side Effects
Diarrhea
Constipation
Abdominal pain
Nausea, Vomiting and flatulence
In isolated cases dry mouth, stomatitis and gastrointestinal candidiasis
Losec – Hepatic Side Effects
Rarely increased liver enzymes
In isolated cases encephalopathy
in patients with pre-existing severe liver disease, hepatitis with or without jaundice, hepatic failure
Losec – Haematological Side Effects
In isolated cases leukopenia
Thrombocytopenia
Agranulocytosis
Pancytopenia
Losec – Hypersensitivity Reactions
Urticaria (rarely) and in isolated cases angioedema, fever, bronchospasm, interstitial nephritis and anaphylactic shock. In isolated cases increased sweating, peripheral edema, blurred vision and taste disturbance.
Does Losec Have Any Drug Interactions?
The absorption of some drugs might be altered due to the decreased intragastric acidity. Thus it can be predicted that the absorption of Ketoconzole will decrease during Losec treatment, as it does during treatment with other acid secretion inhibitors or antacids. No interaction with food or concomitantly administered antacids has been found. As Losec is metabolized in the liver through cytochrome P450 2C19 (CYP2C19), it can prolong the elimination of diazepam, warfarin (R-warfarin) and phenytoin. Monitoring of patients receiving warfarin and phenytoin is recommended and a reduction of dose may be necessary. However concomitant treatment with Losec 20 mg daily did not change the blood concentration of phenytoin in patients on continuous treatment with this drug. Similarly concomitant treatment with Losec 20 mg daily did not change coagulation time in patients on continuous treatment with warfarin.
Plasma concentrations of Losec and clarithromycin are increased during concomitant administration. Results from a range of interaction studies with Losec versus other drugs indicate that Losec 20 – 40 mg given repeatedly, has no influence on any other relevant isoforms of CYP, as shown by the lack of metabolic interaction with substrates for CYP1A2(caffeine, phenacetin, theophylline), CYP2C9 (S-warfarin, Piroxicam, Diclofenac and naproxen), CYP2D6(metoprolol), propranolol CYP2E1 (ethanol), and CYP3A (cyclosporin, lidocaine, quinidine, estradiol).