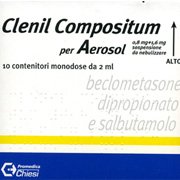 Clenil Compositum is a suspension for Nebulization. It is a Beta2 selective adrenergic bronchodilator and anti-asthmatic corticosteroid for aerosol. Clenil Compositum is used for the treatment of bronchial asthma, chronic obstructive bronchopathy with asthmatic component. Beclomethasone dipropionate and Salbutamol Sulphate are the active ingredients of Clenil Compositum.
Clenil Compositum – Contraindications
Beclomethasone dipropionate is contraindicated in active or quiescent viral and tubercular local infections.
Subjects with individual hypersensitivity to the components (beclomethasone dipropionate and salbutamol).
Generally contraindicated during pregnancy and lactation.
Precautions for Use
 Concomitant administration of Clenil Compositum with beta-blockers (e.g.
Betaloc Zok
) is not recommended.
Treatment in patients with concomitant treatment with systemic corticosteroids needs particular precautions and a strict medical control. Only following a continuous hyperdosage a certain degree of corticoadrenal atrophy may occur.
Sympathomimetic agents should be very cautiously used in patients who can be especially sensitive to their effects.
In patients with coronary artery disease, arrhythmia, arterial hypertension and in patients with glaucoma, hyperthyroidism, pheochromocytoma, diabetes and prostatic hypertrophy, Clenil Compositum should be used only in case of absolute necessity.
Special Warnings
Clenil Compositum should be used only in the starting period and not for prolonged treatments (continued treatment exceeding 10 days is not recommended). The use of Clenil Compositum for topical use, especially if prolonged, may give rise to sensitization phenomena and, exceptionally, to the drug classic systemic side effects. In any case treatment should be discontinued and a suitable therapy instituted.

For sportsmen:

the use of Clenil Compositum without therapeutic need is considered as doping and may cause positivity to anti-doping tests even at therapeutic doses.
Clenil Compositum is not contraindicated in subjects affected by celiac disease.
Clenil Compositum – Dosage and Administration
Adults:

1 mono-dose vial per Nebulization, 1-2 times a day.

Children:

Half mono-dose vial per Nebulization, 1-2 times a day.
The mono-dose vial has a Seri-graphed mark corresponding to half dose.
Shake well before use.
Related Links