Women's Midi Dresses are extremely popular for many reasons. They always look GOOD with heels…
Many women in the United States wear midi length dresses for their instant slimming magic. But the most wonderful thing about them is, from work to wedding and everything in between, knee length dresses are perfect for almost every occasion, Most of The Year.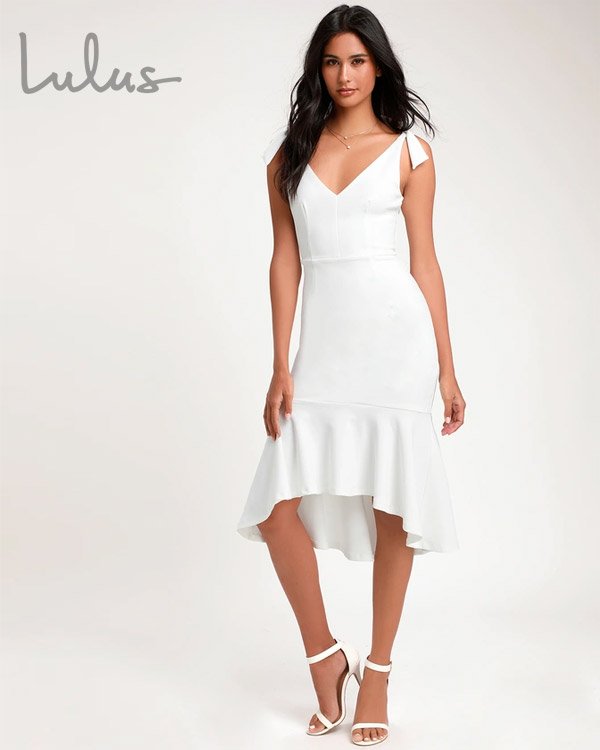 For this post, we have carefully selected some online clothing stores that offer best midi dresses for women. In addition to their affordable prices, most of these web-based boutiques have a free shipping and returns policy for customers in the United States.
Top 10 Places to Buy Women's Midi Dresses Online
Lulus : Perfect Length at The PERFECT Price!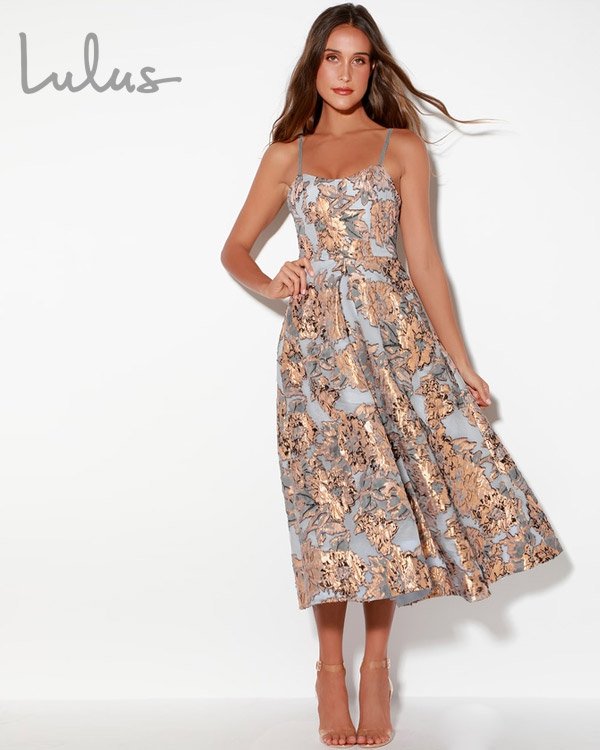 If we had to recommend only one store to buy trendiest midi dresses for women, unquestionably, it would be Lulus. Want to know why? Well, visit their official website and it will be REALLY hard for you to leave empty handed!
Lulus has been around for over two decades now, and still it is one of the fastest growing women's fashion retailers in the United States.
For a limited time, Lulus is offering flat 70% discount on a wide range of formal & casual dresses, shoes and on-trend fashion accessories for women.
Headquarters: Chico, California, United States

Popular Products: Floral Print Ruffled Midi Wrap Dresses, Striped Midi Bodycon Dresses & Tie-Front Knee Length Dresses
Last Call : Up To 70% Discount on Cocktail, Sheath & Lace Midi Dresses by Famous Designers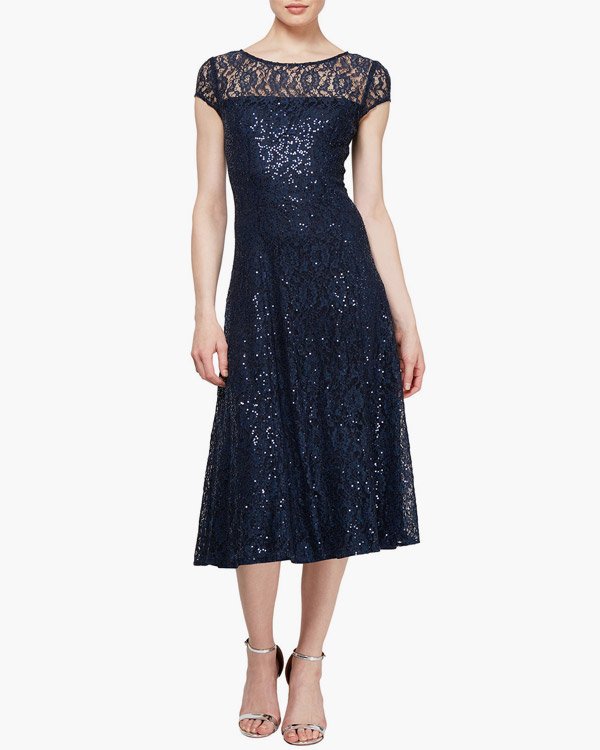 Last Call is a wholly owned subsidiary of Neiman Marcus, one of the most popular luxury department stores in the United States. Last Call offers up to 70% discount on an endless variety of designer midi dresses.
If you are in love with upscale midi dresses by world-famous designer labels and want to buy them at hugely discounted prices, we strongly recommend that you also visit flash sale websites like Zulily, HauteLook, Nordstrom Rack and Gilt.
Headquarters: Dallas, Texas, United States

Popular Products: Midi Cocktail Dresses for Wedding, Black Cocktail Dresses with Sleeves
Missguided : Up-To-The-Minute Styles in Knee Length Bodycon Dresses for Women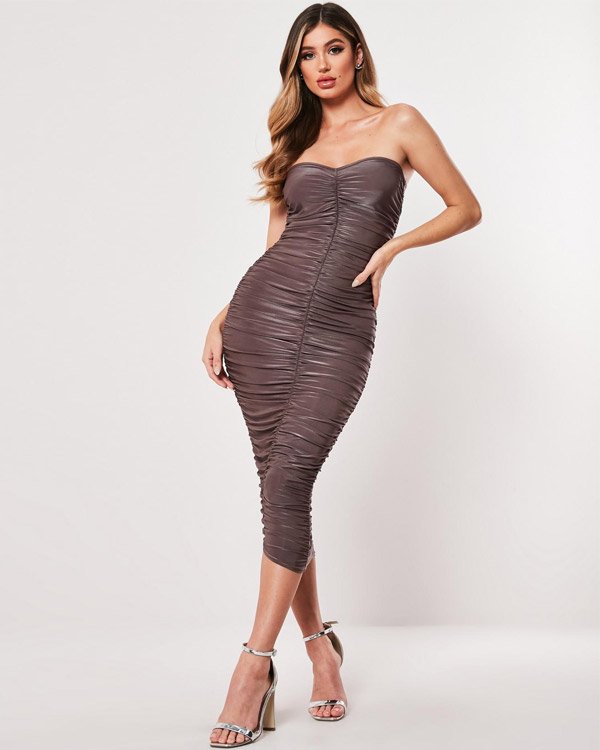 For more than a decade, Missguided is extremely popular among women in their early twenties. Missguided has a huge customer base across the United States, Canada, UK and many other countries for 2 major reasons.
The company adds hundreds of new styles to its midi dresses collection every week
Very reasonable prices and an uncommonly high level of customer care
Click Here to learn more about the taupe colored bandeau bodycon midi dress shown in the image. Or visit the official website of Missguided to check out the new arrivals.
Headquarters: Manchester, United Kingdom

Popular Products: Knee Length Formal Dresses, Cocktail Party Dresses & Casual Dresses
Windsor : White & Black Lace Midi Dresses for Special Occasions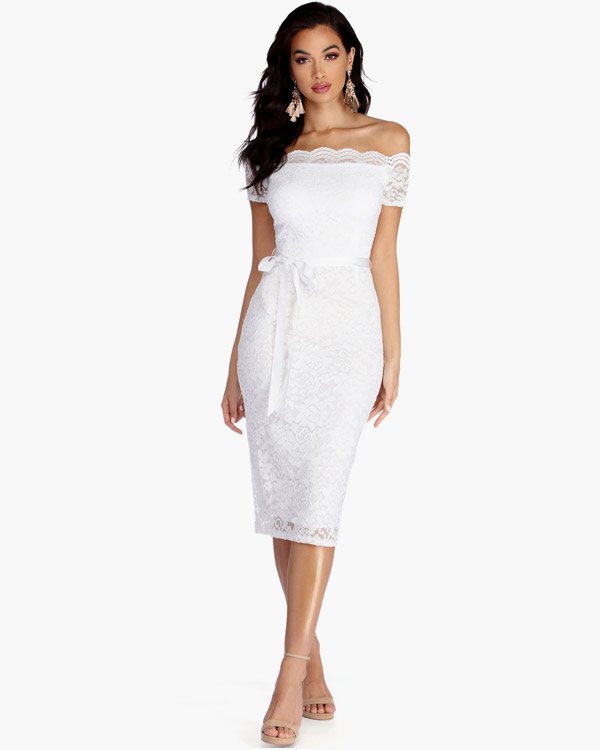 There is a type of Lace for every woman! All you need is to find the Right option at the Right place!
From chic and comfortable to striking and sophisticated, Windsor offers an endless variety of well-designed, well-crafted and affordable lace midi dresses that you can confidently wear for any occasion on the calendar.
Headquarters: Santa Fe Springs, California, United States

Popular Products: Lace & Embroidered Midi Dresses for Important Occasions
Modcloth : Vintage-Inspired, Mid-Length, Formal Occasion Dresses for Women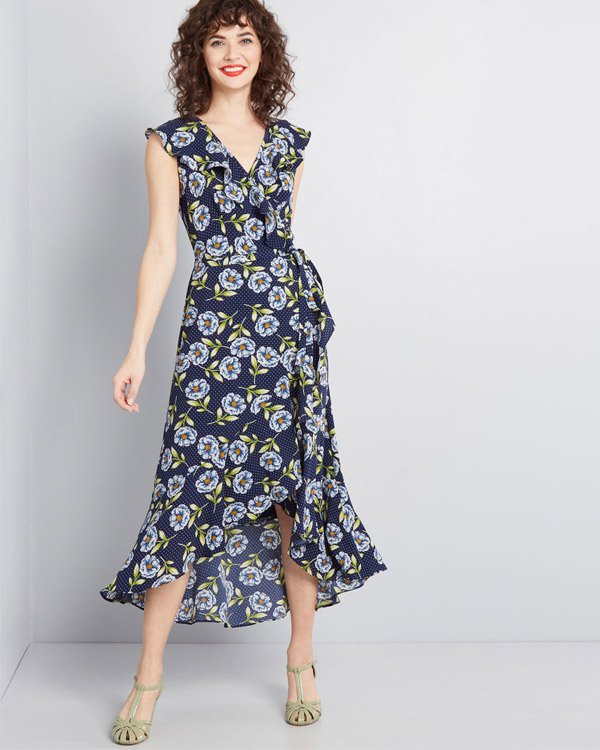 We hope you already know this one! A global leader in bohemian and vintage-inspired fashion for women, ModCloth is a wholly owned subsidiary of American Retail Giant, Walmart.
ModCloth is one of the best places to find super cute and most flattering midi dresses made with the finest quality materials.
The navy-blue floral wrap dress shown in the image is designed by Donna Morgan. Presently, this beautiful midi dress is being offered at a special discounted price.
Founded: 2002, Pittsburgh, Pennsylvania

Headquarters: San Francisco, California, United States

Popular Products: Medium Length Vintage Dresses, Formal Evening Dresses & Plus Size Lace Dresses
Boohoo : Low-Priced Medium Length Wrap Dresses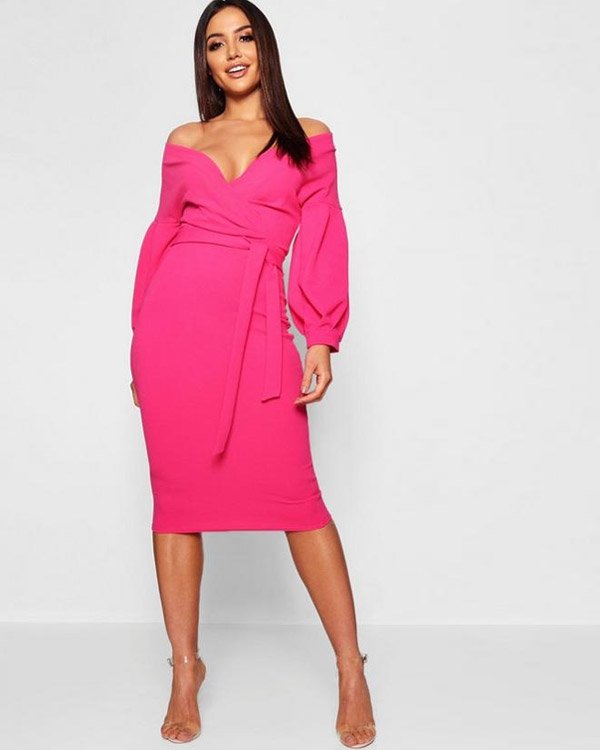 We haven't purchased anything from Boohoo directly, but we have tested some outfits from its subsidiaries including Nasty Gal and Pretty Little Thing, and we were really impressed. More importantly, tons of positive comments and reviews by verified customers have almost forced us to include this online fashion retailer in our today's post.
The Hot Pink, Off-the-Shoulder, Wrap Midi dress shown in the screenshot above is being offered by Boohoo at flat 50% discount. This stylish dress is available in 10 different colors in sizes between 4 and 16.
Headquarters: Manchester, United Kingdom

Popular Products: Tie Waist & Wrap Around Midi Dresses at Affordable Prices
Anthropologie : Elegant & Stylish Midi Dresses for Wedding Guest
Anthropologie may be slightly expensive than the majority of women's fashion retailers shared in this post. However, if you don't mind paying a few extra bucks, we assure you that exceptionally elegant wedding guest dresses by Anthropologie are absolutely worth it!
Like Free People and BHLDN, Anthropologie is also owned and operated by Urban Outfitters, one of the major clothing companies in the United States.
With a timeless sophistication and a touch of vintage-inspired chic, the occasion-ready dress shown above is just a sample from the latest midi dresses at Anthropologie.
Headquarters: Philadelphia, Pennsylvania, United States

Popular Products: Knee-Length Wear to Work Dresses, Elegant Wedding Guest Dresses & Crochet Midi Dresses
Fashion Nova : The Sexiest, Off-the-Shoulder Midi Dresses Online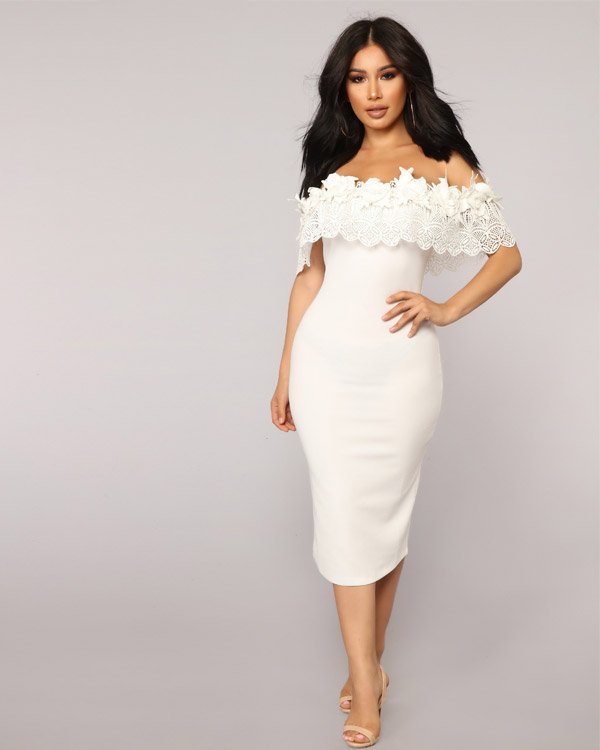 Fashion Nova introduced its very first collection of occasion dresses for women in 2006, and that really was an instant hit!
It's been more than a decade, and now Fashion Nova is one of the most trusted names in affordable fashion clothing in the United States. Click Here to learn more about the gorgeous off-the-shoulder dress shown above, or visit the official store of Fashion Nova to check out the latest, low-priced and sexiest midi dresses online.
Headquarters: Los Angeles, California, United States

Popular Products: Sexy Dresses for Women at Affordable Prices
Rainbow : Plus Size Midi Dresses Under $10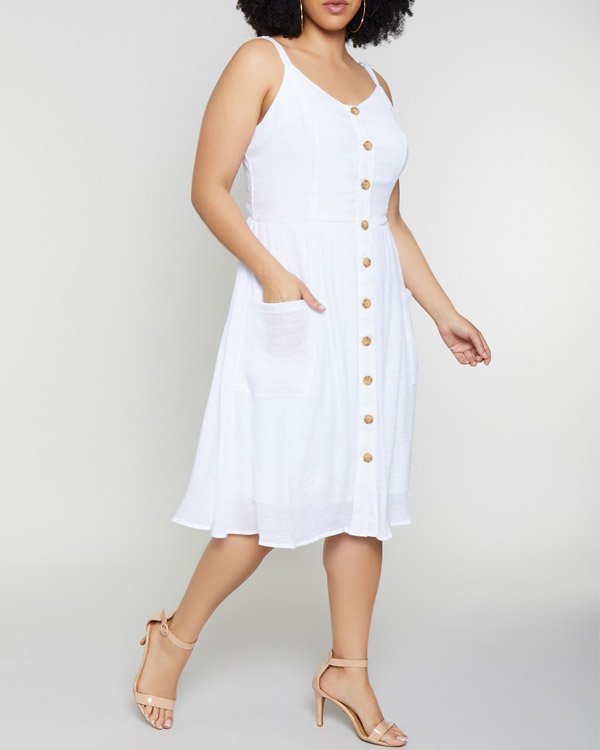 Rainbow (a.k.a. Rainbow Shops) is a great place to buy women's casual and formal dresses in plus size. For more than eight decades, Rainbow is trusted by millions of American women.
A stylish midi dress at Rainbow can be purchased for less than $10. And we assure you, that dress will be completely wearable and of acceptable quality.
Headquarters: Brooklyn, New York, NY, United States

Popular Products: Low-Priced Plus Size Dresses and Outfits for Women
Tobi : Knee Length Graduation Dresses & Outfits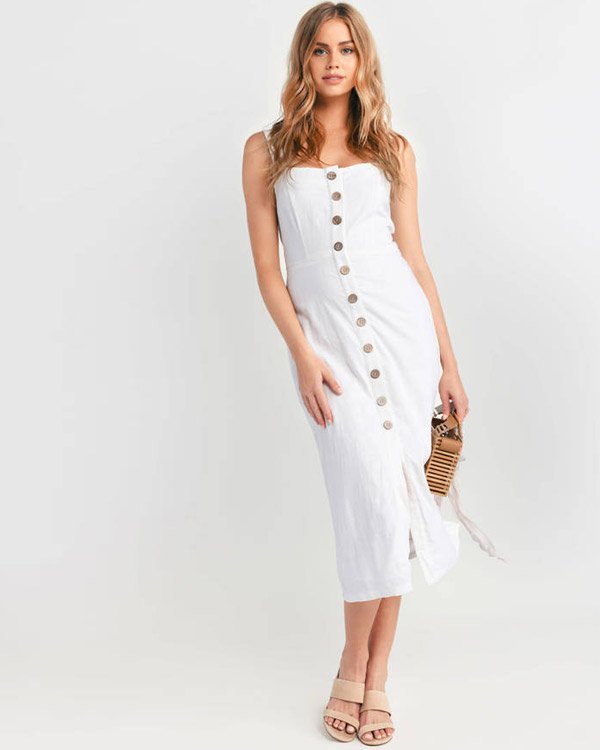 Tobi is one of our personal favorites. But, as always, this post is not about what we like personally. Based on the criteria we follow, in this season, we had to place Tobi at #10.
Tobi still has a flat 50% discount policy for new customers on their first order. And during our research for this post, we found an amazing collection of dresses that are perfect for graduation party. Click Here to visit the official store of Tobi.
Founded: 2010 in New York City, NY

Headquarters: Los Angeles, California United States

Popular Products: Midi Dresses for Graduation Party in White, Black, Red & Pink Colors