West Elm Bathroom Accessories & Decor
Would you like to have beyond-the-ordinary styles that your bathroom is missing? From antique brass hardware to modern LED lighting, sleek magnifying mirrors and finest quality bathroom essentials are just some of the reasons that thousands of Americans love to visit the West Elm Bathroom Accessories and Decor section.
Whether you want to Reinvent your bathroom or you simply need an updated bathroom decor to refresh its look and feel, West Elm offers a wide range of stylish and functional accessories that can-do wonders to redefine the entire look of any bathroom.
Most Popular Products in West Elm Bathroom Accessories Department
Sumptuously Soft Bath Towels by West Elm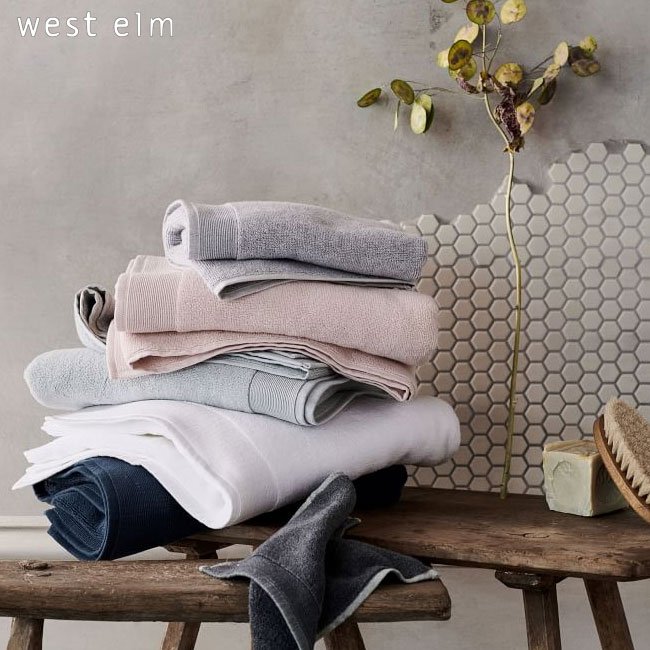 There are so many places to buy towels online. But there only a few stores that offer bath towels that are as functional & comfortable as they are beautiful. West Elm is already committed to use pure organic cotton in 100% of their bedding products. AND, recently, West Elm has introduced the finest bath towels collection, crafted with premium organic cotton from Turkey and Portugal.
West Elm Countertop Accessories for Modern Bathrooms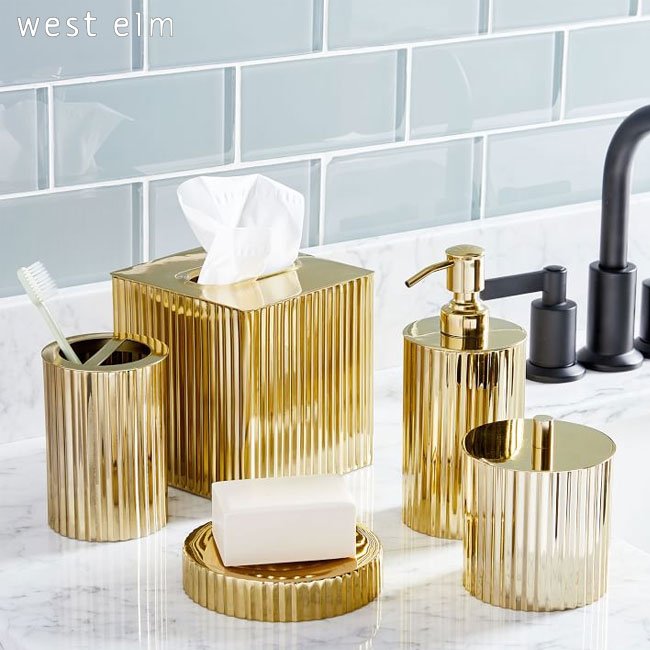 Using stylish and modern countertop accessories can be a great and cost-effective way to brighten up your bathroom in no time. All you need is to select the right options from a wide array of countertop accessories at West Elm.
For a limited time, West Elm is offering up to 75% discount on selected soap dishes, toothbrush holders, short & toll canisters, lotion pumps and tissue boxes.
100% Organic Bathroom Rugs & Mats by West Elm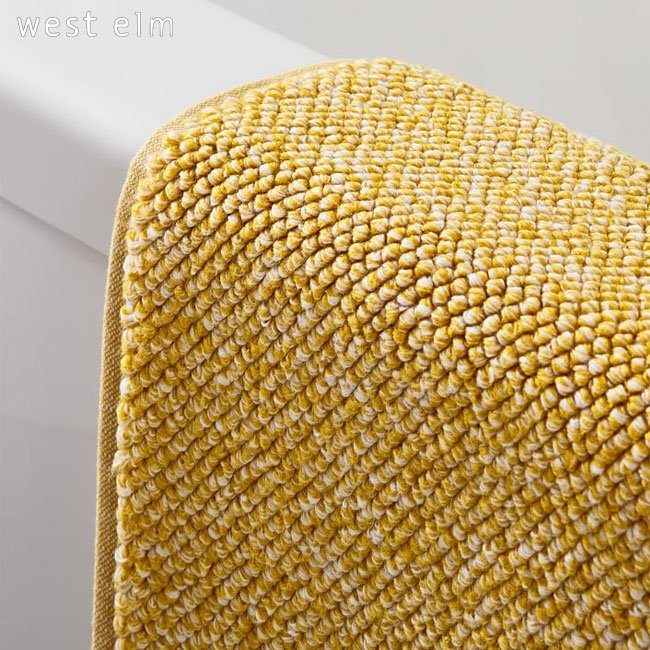 Nothing beats that feeling when you step out of that ultimate relaxing bath on to the plush comfort of a highly absorbent bathroom rug. In addition to machine-made bath mats, handwoven bathroom rugs by West Elm are also very popular.
During our research for this post, we found amazing deals on modern bathroom mats and rugs at some other trusted stores like Bed Bath & Beyond, CB2 and Target.
Oeko-Tek Certified Shower Curtains by West Elm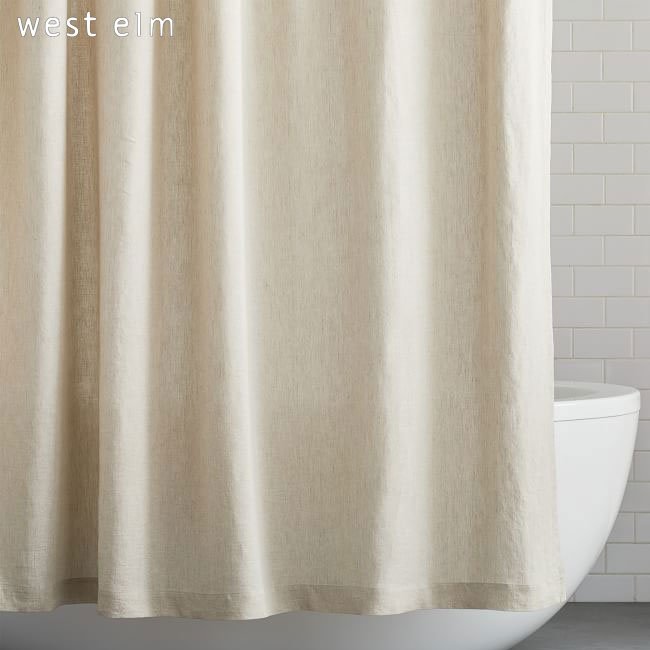 Centuries ago, the whole point of using shower curtains was to add a layer of privacy. Today, the primary objective of shower curtains is to add color and style in modern bathrooms.
West Elm Shower curtains collection features hundreds of beautiful and functional pieces that are Oeko-Tek Certified. What that simply mean is, these shower curtains not only add a decorative touch to your bathroom, but these are also good for the environment.
West Elm Laundry Baskets & Hampers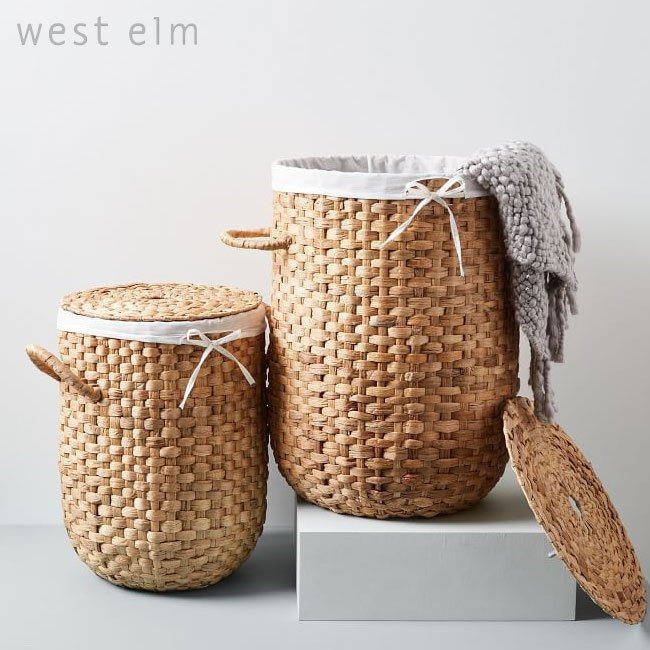 In this category, The Container Store is actually our top recommendation. But recently, West Elm has introduced a beautiful collection of modern laundry hampers & storage baskets in various styles, sizes and colors that simply can't be ignored.
Storage & Organization Solutions for Modern Bathrooms by West Elm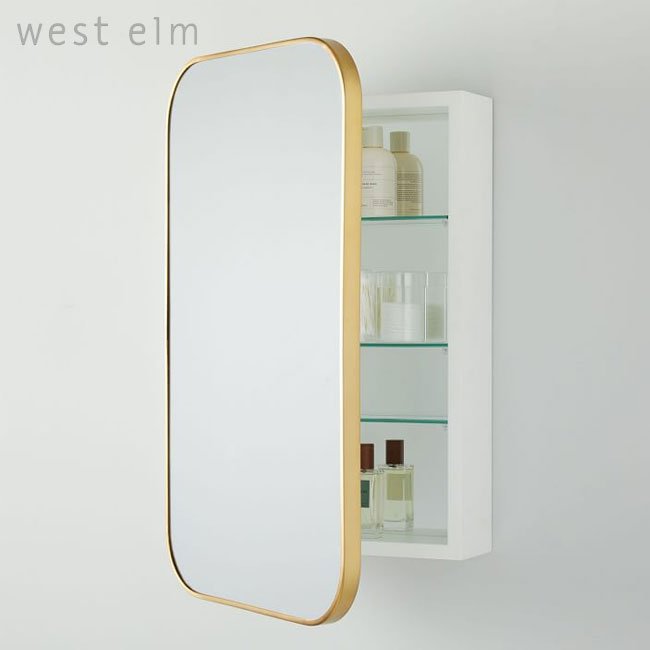 From tiered caddies to elegant towel hangers and one-of-a-kind architectural storage pieces, at West Elm Organization and Storage section, you'll find plenty of thoughtfully designed storage solutions. Click Here to check out the most recent additions in Medicine Cabinets and Wall Shelves for bathrooms collection at West Elm.
Some other good places to buy bathroom storage cabinets and shelves include Wayfair, Home Depot and Kohl's.
West Elm Bathroom Hardware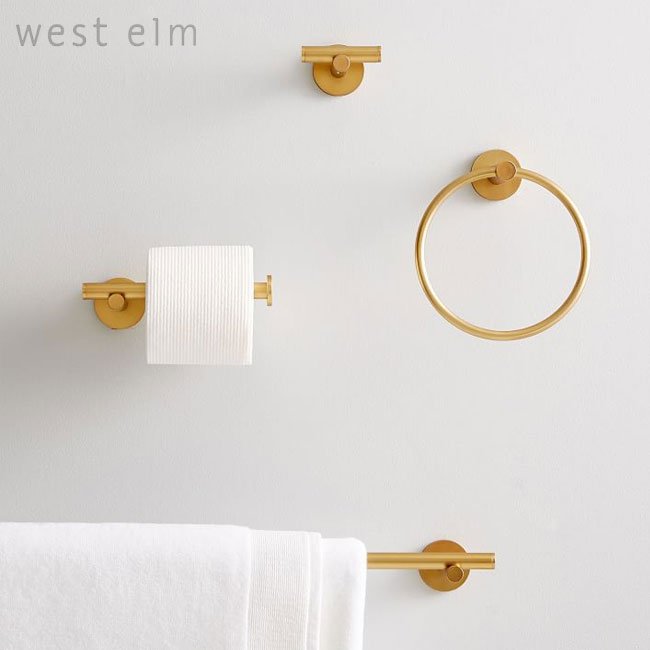 West Elm bathroom hardware section showcases the finest quality towel bars, shower curtain rods & rings, toilet paper holders and much more in several versatile metal finishes.
If you don't mind paying a bit more to have truly unique bathroom hardware sets, we strongly recommend that you also visit Anthropologie Home. For cost-effective alternatives, we suggest that you check out Lowes, Overstock, and Joss & Main to purchase all kinds of modern bathroom hardware at best prices.
Modern Bathroom Lighting Fixtures & Vanity Lights at West Elm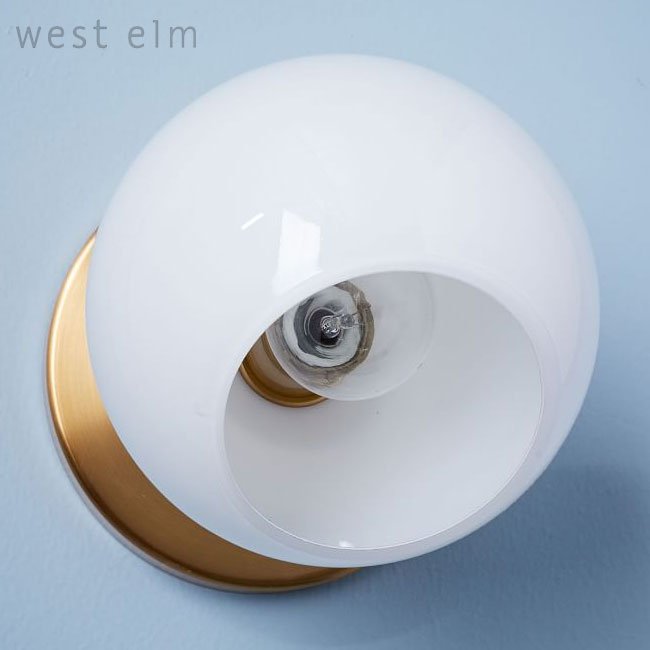 No Bathroom Accessories department can be completed without adding some good quality lighting solutions. According to our research, Lamps Plus and Living Spaces are the best places to shop bathroom lighting fixtures. But we hope you won't be disappointed by West Elm in this category too. In fact, we hope you'll enjoy checking out their flush mounts, wall scones, chandeliers and pendant lights.
West Elm Bathroom & Vanity Mirrors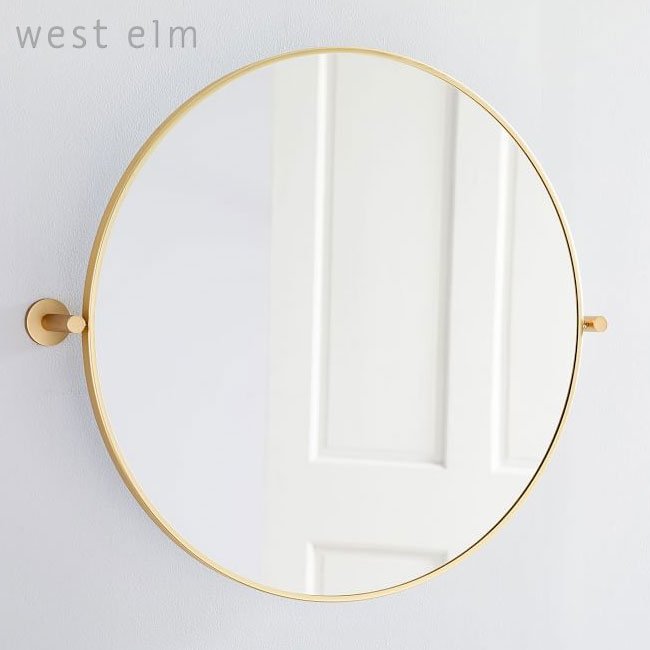 West Elm offers a variety of bathroom and vanity mirrors to beautify and enhance any space, no matter its size, shape and style. The availability of various finishes ensures that West Elm has at least one option that is perfect for your bathroom. Bellacor and Kirkland's are also good stores to find beautiful and high-quality bathroom mirrors at affordable prices.
West Elm Bath & Spa Gifts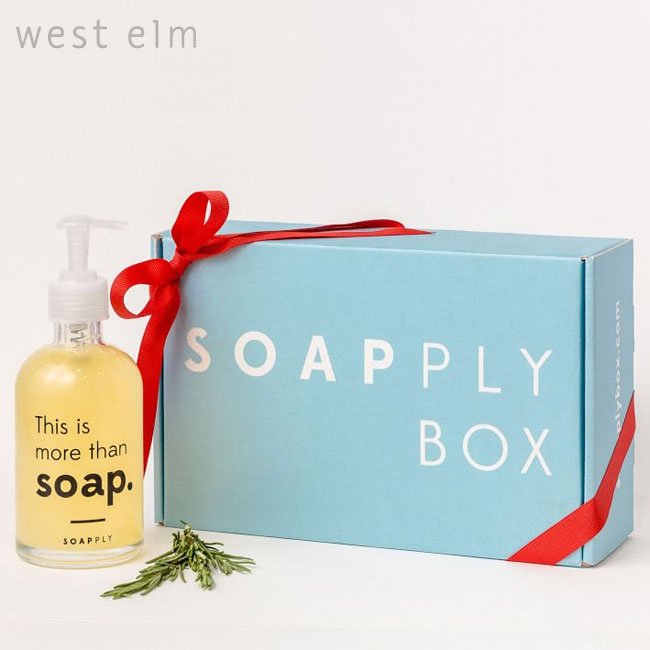 West Elm bath & spa gifts are popular for many reasons. From Bath Bombs and Essential Oils to Bathrobe and Slippers sets and spa gift baskets, everything really is a class of its own. West Elm bath bombs are made with the finest quality American ingredients.
If you want more options to choose from, Sephora and Bath & Body Works are some other highly recommended stores to find bath gift sets from top skincare brands.
West Elm Headquarters: Brooklyn, New York, NY, United States

Customer Support Number: +1-888-922-4119