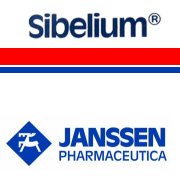 The most frequently reported Sibelium Side Effects are drowsiness and fatigue that were experienced by 20% of all cases treated by Sibelium capsules. Weight gain and an increase in appetite were also reported in most of these (20%) patients. During a long-term treatment with Sibelium Capsules, the following serious adverse events may occur.
Depression, of which female patients with a history of depressive illness may particularly be at risk.
Extrapyramidal symptoms (such as bradykinesia, rigidity akathisia, orofacial dyskinesia, tremor), of which elderly patients seem particularly at risk.
Infrequently reported Sibelium Side Effects
Gastrointestinal: heartburn, nausea, gastralgia
Central nervous system: insomnia, anxiety
Others: galactorrhoea, dry mouth, muscle ache, skin rash.
Special Precautions
In rare cases fatigue may increase progressively during Sibelium therapy: in this event, the therapy should be discontinued.
The recommended dose Sibelium Capsules should not be exceeded. Patients should be seen at regular intervals, especially during maintenance treatment, so that extrapyramidal or depressive symptoms may be detected early and if so, treatment should be discontinued. If, during maintenance treatment, the therapeutic effect wane, treatment should also be discontinued.
Sibelium during Pregnancy and Lactation
The safety of Sibelium for use in human pregnancy has not been estab­lished. An evaluation of animal studies does not indicate direct or indirect harmful effects with respect to reproduction, development of the embryo or fetus, the course of gestation or pre-and postnatal development.
Studies in lactating dogs have shown that Sibelium is excreted in the milk and that the concentration in the milk is greater than in the plasma. No data are available on the excretion in human breast milk. Nursing should therefore be discouraged in women taking Sibelium.
How Sibelium Interacts with other Drugs?
Excessive sedation can occur when alcohol, hypnotics or tranquillizers are taken simultaneously with Sibelium Capsules. Sibelium is not contra-indicated in patients who use beta-blocking agents e.g. Betaloc Zok and Concor Tablets.