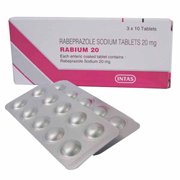 Rabium 20 (rabeprazole 20 mg) is generally safer and well tolerated in both short and long-term usage. Not all patients experience side effects associated with Rabium 20 Tablets. However, like any drug, Rabium 20 may also cause a number of undesirable effects. Below is a list of most commonly observed Rabium 20 side effects.
Headache
Diarrhea
Vomiting
Constipation
dry mouth
Muscle or bone pain
Drowsiness
Dizziness and abdominal pain.
 Rabium 20 Tablets are contraindicated for patients with known hypersensitivity to rabeprazole or any of the ingredients or this product.
Rabium 20 Falls in Pregnancy Category "B"
There are no adequate and well-controlled studies on Rabium 20 in pregnant women. Therefore, it should only be used during pregnancy if clearly needed.
Rabium 20 during Lactation
Many drugs are excreted in breast milk and there is a potential for adverse reactions or side effects to the nursing infants from Rabium 20. A decision should be made to discontinue nursing or discontinue the Rabium 20, taking into account the importance of the drug to the nursing mother.
 The effectiveness and safety of Rabium 20 in pediatric patients have not been established.
Rabium 20 – Drug Interactions
Rabium 20 Tablets are metabolized by the cytochrome P450 (CYP450) enzyme. Studies in healthy subjects have shown that rabeprazole does not have clinically significant interactions with other drugs (warfarin, theophylline and diazepam etc.) metabolized by the same enzyme system. However;
Rabium 20 may inhibit metabolism of cyclosporine
Coadministration of Rabium 20 with ketoconazole may decrease the bioavailability of ketoconazole.
Coadministration with digoxin may lead to increased AUC and (Cmax), values for digoxin.
In order to avoid this type of situations, it is recommended to monitor the patient such drugs are taken along with Rabium 20.
Related Links