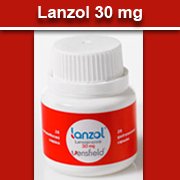 Lanzol (lansoprazole) is generally considered to be a safer treatment option for Duodenal and Gastric Ulcers. Not all patients experience Lanzol side effects. However, like any drug, Lazol may cause some adverse events. A low incidence of side effects have been reported during clinical trials, including headache, diarrhea, abdominal pain, dyspepsia, nausea, vomiting, dry mouth, constipation, flatulence, dizziness, fatigue rash, urticaria and pruritus. Increases in liver function test values have been observed. These events are generally self-limiting. Relationship to Lanzol therapy has not been established.
Lanzol – Additional Side Effects
Additional adverse experiences have been reported since Lanzol (lansoprazole) has been marketed. In The majority of these cases, a relationship to Lanzol has not been established. Because these events were reported voluntarily from a population of unknown size, estimates of frequency cannot be made. These Lanzol side effects include;
Body as a Whole: Anaphylactoid-like reaction
Digestive System: Hepatotoxicity, Vomiting
Hemic and Lymphatic System: Agranulocytosis, Aplastic Anemia, Hemolytic Anemia, Leukopenia, Neutropenia, Pancytopenia, Thrombocytopenia and Thrombotic Thrombocytopenic Purpura
Special Senses: Speech Disorder
Urogenital System: Urinary Retention
Lanzol Overdosage
In a Lanzol (lansoprazole) Overdose case the subjected ingested 600 mg of Lansoprazole (20 Capsules of Lanzol 30 mg) with no adverse reaction and Lansoprazole was not removed from the circulation by hemodialysis.
Lanzol – Use in Pregnancy and Lactation
Pregnancy


There is insufficient evidence to recommend the use of Lanzol in pregnancy. Animal studies do not reveal any teratogenic effects. However, it should only be used if clearly needed.

Lactation


Animal studies indicate that Lanzol is secreted into breast milk. There is no information on the secretion of Lanzol into breast milk in humans. However, breast-feeding should be discontinued if the use of Lanzol is considered essential.
Related Links