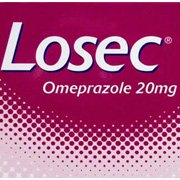 As with most drugs, Losec should not be given during pregnancy and lactation unless its use is considered essential. Losec given in doses up to 80 mg during 24 hours in women in labor has not revealed any adverse reaction of omeprazole on the child. Animal studies have not shown evidence of any hazard from the administration of Losec during pregnancy and lactation and there is no evidence of fetal toxicity or teratogenic effect.
Losec should be avoided in case of known hypersensitivity to omeprazole.
Losec Overdosage
Single oral doses of up to 400 mg of Losec have not resulted in any severe symptoms. The rate of elimination was unchanged (first order kinetics) with increased doses and no specific treatment has been needed.
Special Warnings And Special Precautions For Use
When gastric ulcer is suspected the possibility of malignancy should be excluded as treatment may alleviate symptoms and delay diagnosis.
Have Your Doctor Prescribed Losec?
If your doctor has prescribed Losec capsules for you, judging them to be a suitable medicine for treating your illness and improving your state of health. Please follow his instructions exactly. Before you take this medicine, please read through the below information carefully. If you have any question please speak to your doctor.
What Is Losec?
Losec (omeprazole) reduces gastric acid secretion through a highly targeted mechanism of action. It is rapidly acting and provides control through reversible inhibition of gastric acid secretion with once daily dosing. Oral dosing with Losec once daily provides for rapid and effective inhibition of daytime and night-time gastric acid secretion with maximum effect being achieved within 4 days of treatment.
Oral dosing with Losec 20 mg 2 capsules maintains an intragastric pH of >.3 for a mean time of 17 hours of the 24 hours period in duodenal ulcer patients.
How should Losec Capsules be taken?
Losec capsules are recommended to be given in the morning and swallowed whole with liquid. For patients with swallowing difficulties the capsule might be opened and the contents swallowed or suspended in a slightly acidic fluid e.g. juice, yogurt or soured milk. The suspension should be taken within 30 minutes. Alternatively these patients can suck the capsule and swallow the contents. The contents of the capsule should not be chewed or crushed.
Related Links