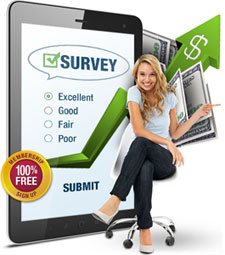 Finding online surveys is easy. Finding legitimate, well-paying online surveys is a different matter. Going online and doing a quick web search will return lots of hits, but as the popularity of doing online surveys grows, so does the number of scam sites that are only trying to rip you off. The question then becomes, how can you tell the difference between a scam site and a legitimate one? Here are some pointers.
5 Tips to Find Legitimate Surveys for Money
Is the survey company asking you to pay money in order to complete the survey? This is a big one. Although there are some legitimate companies that do ask for money upfront, the majority are not legitimate and are just try to rip you off. All things considered, it's best to avoid any company that asks for you to pay money.
Is there information available about this company from a site other than its own? If you can't find any other information or reviews about a particular research company, it's probably best to avoid it. It may sound like the best thing since sliced bread, but if you can't find independent verification that the company's legitimate its best to leave it alone. There are plenty of other companies out there, so don't take the risk.
Is the company paying money? It may sound odd that a company undertaking a paid survey won't pay you in cash, but some companies pay in products, which may be okay for you, if you go through a lot of shampoo, but if your objective is to make money then obviously companies that don't pay in cash should be eliminated from your shortlist. Some people do prefer to be paid in products however and save themselves a lot of money by only doing those surveys that will give them things they would otherwise have to buy. Also watch out for research companies that pay you in sweepstake style tickets that only give you the chance to win a bigger prize. These in-house draw prizes are not controlled by any external gaming agencies and are certainly poor compensation for the time you spend filling out a survey. If you want to gamble, buy a lottery ticket.
Another thing to be aware of is how much money you have to earn before you are paid. The higher the threshold, the longer the wait. Some companies pay when you reach $10, others will be higher. As a rule of thumb, if you are being paid in cash, the threshold will be higher than if you are being paid with products or gift cards.
Is the company using a free e-mail address? If the company is using a free e-mail account like Gmail or Yahoo, then the chances are it's not a legitimate company. Legitimate survey companies like to create a brand and that will extend through the domain name in the e-mail address. A free e-mail account is a major red flag and if you need more confirmation about the reliability of the company, do a quick search on the company background using Whois.com and check such things as when the domain was first created, company address and any other information that could verify that the company is serious about doing business and not just some flyby night operation.
Related Links