MSN Hotmail was one of the first and most popular free web based email systems on the planet. This service was founded by Sabeer Bhatia with the aim to let users access their inbox from anywhere across the globe. I have been a user of Hotmail since January 1997 (the service was actually launched in the month of July 1996). At that time Hotmail was offering only 2 MB Space (total space to store emails).
I Got An Invitation to Try Gmail
In the year 2004 I got an invitation to try Gmail (initially Gmail was invitation-only service and was not opened to general public). Like many other long-time Hotmail users, I accepted the invitation and signed-up with Gmail for a couple of advantages. Gmail was faster, secure, offering more disk space and above all it was offered by Google (the most feared and respected search engine among the business communities).
Last year, I read in a popular tech magazine that outlook.com (formerly MSN Hotmail and Windows Live Hotmail) has 400 million active users. I was curious to know, what made Outlook.com such a huge success for Microsoft? I logged back into Hotmail and upgraded my free Windows Live Hotmail account to the brand new Outlook inbox. Since then my @hotmail.com account has become my primary email address once again.
Why Outlook is Superior than Gmail?
Its been around a year I am using Outlook as my primary web-based email service. The Outlook Vs Gmail table shown below explains why Outlook is a superior than Gmail.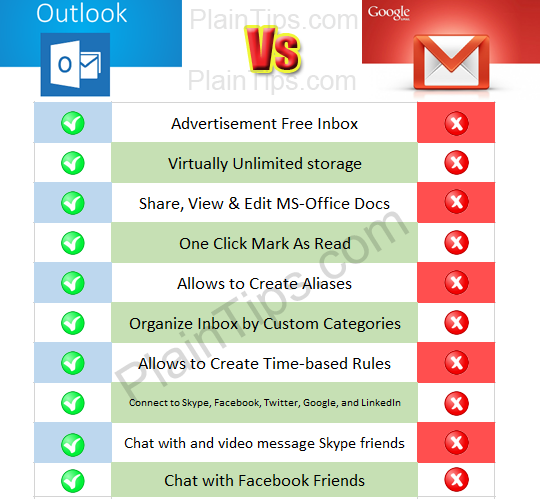 What is the best email service according to your experience? Outlook, Gmail or something else? Let me know in the comment section below.