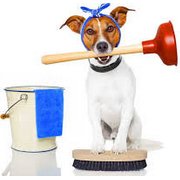 Chances are you'll never feel like tackling your home when you feel like your whole life is out of control. Use these simple tips to get things back under your control so you can feel confident enough to handle household cleaning and organizing.
11 Tips to Handle Household Cleaning
Write down three important tasks you want to be sure to complete each day, these are not the same as tasks you want to do during your morning routine, but things you need to do to establish a happy, healthy home.
Don't let yourself put items down. Instead, encourage yourself to constantly put items away. It takes a little extra time right then, but that extra 30 seconds actually puts an item away rather than leaving a mess for you to clean up later!
Throw things away! You'll be amazed how much can simply be tossed out and how much better you'll feel once it's gone.
Spend a little bit of time on things like meal planning and meal prep. You'll appreciate the extra time spent on the weekend when you have a busy week and can come home and throw already prepared ingredients into a pot or dish and have dinner a few minutes later!
Don't expect yourself to spend a day cleaning or organizing! Dedicate a few minutes each day, and then make sure you keep up what you do so you don't waste time the next day going back to pick up the same thing you picked up earlier.
Make yourself a cleaning or organizing playlist and make it short! Pick enough upbeat songs to keep you moving for about 20 minutes, and then take a good break before starting over again on a new area.
Remind yourself that housework is exercise! You're definitely killing two birds with one stone; you're getting housework done and doing your daily work out!
Invest in binders. Three ring binders filled with organizational tools from day planners to meal planners and everything else you could possibly need will help you stay organized and motivated! Spend some time online looking through the resources that are available to help you build binders that will be most effective at helping you to handle your household. Go for those that have been designed to be customizable for your specific needs or make your own!
Build yourself a morning routine so that you know you'll get started on the right foot. Make sure your routine has three kinds of tasks to complete: those you must do every day like brushing your teeth and making your bed, catch up quick tasks like filling the dishwasher, and enjoyable tasks like reading the paper or taking a walk. Routine tasks are about creating a happy, healthy you so you are prepared to tackle your home.
Balance your incoming with your outgoing; for example, every time you buy a new shirt, find two to donate. Do this in every area of your home you can to avoid becoming overwhelmed.
Get your kids involved. Come up with ways for them to help out around the house. Remember, housekeeping is an important skill for them to learn!
Related Links