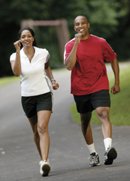 Sometimes, people laugh at the very thought of using walking as an exercise. If you too are of the opinion that walking cannot be hailed to be an exercise, you definitely need to reconsider your thoughts. Walking is one of the most robust exercises that has the potential to bring about the right kind of change in your wellbeing.
When we are using walking as an exercise, we do not merely mean that you can loiter around at extremely slow pace. While walking is distinct from running, there is a specific manner and style to walking that will help you shed the extra pounds. Do not merely stroll around and walk at a snail's pace. If you are serious about using walking as an exercising method, you will have some specific points that you need to bear in mind;
In order to lose a pound every week, you have to make sure that you burn 500 calories per day.
On an average, a walking session of 30 minutes is likely to burn 150 calories every day. However, this figure is subjective because it depends greatly on your walking speed walking style, your body mass index, height and plenty of other factors too.
Once you manage to shed the extra pounds, the key is to stick to your schedule so that you do not end up gaining back the old weight.
Walking can help you in cutting down the extra pounds, however you have to be mindful of other points too which you must use in conjunction.
So, if you were wondering that walking is not an exercise, it is important to know that there are people who gave lost the extra pounds by walking at a brisk pace. If you walk extremely slowly, it is not going to impact your calorie count at all. At the same time, you need to devote ample time to your walking regime too. If you are not strict with your exercising regime, it is not going to bring you any type of rewards.
For you to reap the best results out of walking, you have to make sure that you are aware of the exact plan which you need to follow. When you follow a rigorous walking plan, you will be able to use it as an exercise and your body will start showing visible signs of improvement.
Related Links