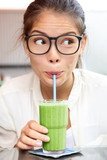 Losing weight is not easy, but there are a few things that you can do to make things happen—and diet plays a big role in all of this. Diet can greatly contribute to weight loss and one of the things that weight loss enthusiasts love is to devote themselves to creating the best weight loss smoothies so that they can successfully drink their way to a sexy body.
When first introduced during the 1960s, Green Smoothies were sold in health food stores and ice cream shops, but in later years and much more so today, smoothies have become quite mainstream—with many households being equipped to function as a sort of household smoothie bar.
10 Reasons Why Green Smoothies Help Weight Loss
What is in a glass of smoothie? Why is it worth the effort of making one? There are a number of ways that you can lose weight, but when you choose to do so by enjoying a green smoothie as a substitute for one or more of your daily meals, you will enjoy the following benefits:
It will help boost your stomach's digestive abilities.
It helps reduce bad cholesterol levels in your body.
It burns fat that has accumulated in your body.
It improves bowel movements and your body's capacity to get rid of waste materials.
It energizes and boosts cardiovascular system function.
It provides a good path to the perfect detox.
It is an efficient way to hydrate your body.
It will improve your unhealthy cravings and effectively reduce your appetite for sugars and processed foods which do more harm than good.
It is low in calories and is a perfect addition to your weight loss plan.
It is high in fiber, especially if you choose ingredients that are fiber-rich. This means that it can quench hunger.
Related Links