Fucidin H Cream combines the antibacterial action of fusidic acid with the anti-inflammatory effect of hydro­cortisone acetate. Fucidin H Cream is cosmetically acceptable for use on the face and hands and convenient for use in the groin area and armpits.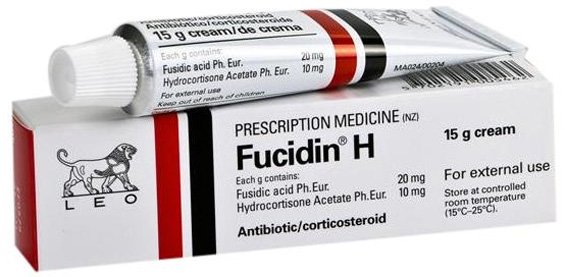 What is Fucidin H Cream Used For?
Fucidin H Cream is indicated for the treatment of dermatitis, including atopic dermatitis and contact dermatitis, where an infection with bacteria sensitive to fusidic acid is suspected or confirmed. Because of its hydrocortisone content, Fucidin H Cream is particularly appropriate in cases where a milder corticosteroid is indicated, including milder inflammatory dermatoses – on the face and on children's skin.
Recommended Dosage of Fucidin H Cream
Apply the cream to the affected area three times daily for up to 2 weeks. Caution should be exercised when the product is used near the eye, since hydrocortisone acetate can cause glaucoma if the preparation gets into the eye. Long-term continuous therapy should be avoided.
Individuals with known hypersensitivity to any of the components or with primary bacterial, viral and fungal skin infection should not use Fucidin H Cream.
Fucidin H Cream during Pregnancy and Lactation
Fucidin H Cream or any other Topical corticosteroids should not be used extensively, in large amounts or for prolonged periods in pregnant patients, as fetal abnormalities have been seen in animals due to systemic absorption.
It is not known whether ingredients of Fucidin H are excreted in breast milk, problems in humans have not been documented. Topical corticosteroids should not be applied to the breast prior to nursing. It is strongly recommended to avoid using Fucidin H or any other similar preparation during pregnancy and lactation without asking a qualified healthcare professional.
Possible Side Effects of Fucidin H Cream
Generally, it is safe to use Fucidin H Cream, however, mild stinging, irritation and hypersensitivity reactions to the active ingredient in the form of skin rashes have rarely been reported.
Related Links