Mycelex (Clotrimazole) is a broad spectrum antimycotic with fungicidal action for skin infections.
Mycelex is for external use only.
What Is Mycelex Used For? – Mycelex Indications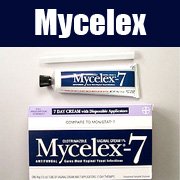 Mycelex Skin Cream or Solution is effective against all fungal skin infections due to dermatophytes (e.g. Trichophyton Species); yeast (e.g. Candida Species); moulds and other fungi. These include ringworm (tinea) infections, athlete's foot, paronychia, pityriasis, versicolor, erythrasma, intertrigo, fungal nappy rash, Candida vulvitis and Candida balanitis.
Mycelex Is Contraindicated If…
Do not use Mycelex if the patient is hypersensitive to clotrimazole or any of the ingredient of this formulation.
Mycelex – Dosage and Administration
Apply small quantity of Mycelex Skin Cream or Solution thinly 2-3 times daily to the affected parts and rub gently until absorbed, preferably at night. Treatment should be continued for one month or at least for two weeks after the disappearance of all signs of infection (to prevent relapse).
Mycelex Side Effects
The following side effects have been reported in connection with the use of Mycelex cream and solution:

Erythema
Stinging
Blistering
Peeling
Edema
Pruritus
Urticarial
Burning
General irritation of the skin
If irritation or sensitivity develops with the use of Mycelex, treatment should be discontinued and appropriate therapy instituted.
Related Links