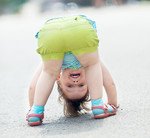 What do you want to do with your computer screen? This tutorial will be helpful to you if you want to learn one of the following;
Flip your computer screen upside down
Rotate your computer screen to the right
Rotate Your computer screen to the left
Make your computer screen to come back to Normal
The fourth option will be helpful if you have got your computer screen flipped accidently and you don't know how to make it normal.
How to Rotate Computer Screen Upside Down?
Before you continue, I recommend, do not do anything before reading everything on this page. It is very simple to flip/rotate your screen upside down. All you have to do is to press Ctrl+Alt+↓.
How to Get Your Screen Back to Normal?
Pressing Ctrl+Alt+↓will flip your screen upside down. Press Ctrl+Alt+↑ and your screen will be back to normal again. See the following to rotate a windows based computer's screen to other angles.
Ctrl+Alt+→ (Rotates your screen to the right)
Ctrl+Alt+← (Rotates your screen to the left)
Ctrl+Alt+↓ (Rotates Your screen upside down)
Ctrl+Alt+↑ (Screen Comes Back to Normal)
Related Links