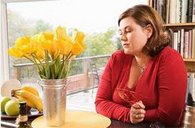 For males as well as for females, looking good is one of the fundamentals of feeling good. Physique matters a lot whether it is about fitting into a dress and looking good wearing it or about attracting people's attention and enjoying the stares you get while showing off a brilliantly toned body. Even though it seems to be a mutually shared dream across the masses, very few are lucky enough to turn these figments of imagination into reality.
There are several dozens of fitness regimes formulated and promoted by people from all walks of life – it is no longer specific to nutritionists or fitness experts. With the increasing numbers of "fitness solutions," the numbers of disappointed customers are also on the rise.
Most of these miraculous solutions fail to deliver their promises and are eventually led into obsolescence. Just a handful of these are adequately equipped to deliver what they advocate!
It is not only about the apparent inches and the superficial pounds but also about the inherent balance of your body that plays a role in defining your fitness level. Most people are misled into believing the former is all that they seek only to discover they end up worse off than when they started. For this reason I believe the definition of weight loss and fitness is in order. So here it goes!
Definition of Weight Loss and Fitness
Typically, most people think fitness is all about shedding off the extra fat content in your body so that the inches shrink automatically. Little or no attention is given to the fact that your health does not depend on these inches, (at least not directly) but is rather dependent on internal body balance.
The idea behind attaining fitness is to achieve the correct internal body balance which does not only translate into enhanced strength, balance, stamina and well-being, but also promotes longevity. The goals and results have a long-term focus as compared to the short-term focus most people have these days.
If you've achieved your dream physique but at the same time tend to remain ill often, the purpose and motivation of your fitness is lost. Same is the case if you experience unexplained fatigue, lethargy and negativity.
Fitness is a positive notion and should therefore not be associated with negative emotions. If you don't feel good about your fitness goals or achievements, it is most probably because you are not doing it right!
What Is The Best Way To Lose Weight?
It is HEALTH that is real wealth and not pieces of gold and silver. To be honest, the best and safest way to lose weight is to consult a specialist. I strongly recommend to take a look over the professional weight loss advice shared below.
Men Click Here   ||   Women Click Here