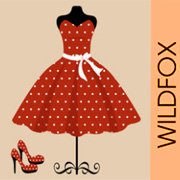 Wildfox is an American clothing company that specializes in knitwear, vintage-inspired dresses, sunglasses and accessories for fashion-forward women. Headquartered in Los Angeles, California, Wildfox was founded in the year 2007. Wildfox also offers an impressive variety of Denim Jeans, Swimwear, Intimates and Unique Fragrances. In this post, I am going to introduce you to some of the best brands like Wildfox Clothing. All of these stores offer similar quality clothing and fashion accessories for women. Below is a list followed by some basic introduction and links to the official websites of Top 10 Stores Like Wildfox.
List of Top 10 Stores Like Wildfox
Nasty Gal > #1 on My List of Stores Like Wildfox

Started as an ebay store in 2006, today, Nasty Gal is one of those names in the world of American Fashion, that are very high in demand. Sophia Amuroso, the founder and CEO of Nasty Gal was named, "The Sexiest CEO Alive" by the Business Insider magazine. Nasty Gal offers a very unique collection of vintage-inspired clothing, shoes and accessories for women.
Related Link: Fashion Websites Like Nasty Gal
Lulu's > #2, Very Similar But More Affordable Than Wildfox Clothing

Lulu's is a popular American Fashion brand for women that offers up to 70% discount on a variety of products. Headquartered in California, Lulu's was founded in the year 1995. Some of the bestselling product categories at Lulu's include formal dresses, bridal dresses, denim, boots, handbags, jewelry and other fashion accessories.
Related Links: Stores Like Lulu's
Dolls Kill > #3, Clothing For Teenage Girls and Young Women

Dolls Kill is a world-famous fashion brand that is extremely popular in teenage girls and women in their early twenties. Dolls Kill was founded by Bobby Farahi and Shoddy Lynn in the year 2011. Headquartered in San Francisco, California, Dolls Kill primarily sells very stylish clothing and unique fashion accessories.
Related Link: Stores Like Dolls Kill
American Apparel > #4, Stylish Clothing & Accessories

American Apparel is another famous name in the American fashion industry that designs, manufactures and markets clothing and accessories for men, women and kids. American Apparel was founded by Dov Charney in the year 1989. Headquartered in Los Angeles, California, American Apparel presently operates 273 retail clothing stores across the United states.
Related Link: Stores Like American Apparel
Gypsy Warrior > #5 on Clothing Stores Like Wildfox

Gypsy Warrior offers a beautiful collection of hand-picked clothing, footwear and accessories for trendsetting girls. Gypsy Warrior was founded by Nicla DiCosmo and Michel Bezoza in the year 2010. Gypsy Warrior is very popular among the adventure loving girls. If you like Dolls Kill, I'm sure you'll love Gypsy Warrior too.
Wet Seal > #6, Another Affordable Alternative to Wildfox Clothing

Wet Seal is an American Chain of specialty stores that offers cost-effective and trendy fashion clothing for girls and young women. In addition to its in-house products, Wet Seal also sells clothing from other low-priced brands. Wet Seal is a good alternative to Wildfox Clothing and I assure you that low-price doesn't mean low quality.
Related Link: Other Stores Like Wet Seal
Fresh Tops > #7, Casual Clothing Retailer from Las Vegas

Fresh Tops is a Las Vegas, Nevada based casual clothing retailer that was founded in the year 2012. The most popular product categories at Fresh Tops include T-Shirts, Muscle Tanks, Sweaters, Crop Tops, Tie Dye Collection, Bottoms and Pocket Tees.
Related Link: Stores Like Fresh Tops
Pink Ice > #8, Trendy Clothing for Women at Affordable Price

Started in 1990 from Orange County, Pink Ice has now become a world-famous boutique for fashion-forward women across the world. A wide range of products including all types of clothing, intimates, jewelry, sunglasses, bags, scarves, hats and footwear makes Pink Ice a very good and cost-effective alternative to Wildfox.
Related Link: Stores Like Pink Ice
Sabo Skirt > #9, Women's Clothing [Designed in Australia]

Sabo Skirt is a Brisbane, Australia based online fashion boutique that was founded in the year 2010. Sabo Skirt sells a huge variety of products under several categories including Dresses, Playsuits, Knitwear, Tops, Bottoms, Swimwear, Shoes and Fashion Accessories. All of the products showcased at Sabo Skirt are designed in Australia.
Related Link: Stores Like Sabo Skirt
GoJane > #10 on Similar Stores Like Wildfox

Gojane is another good alternative to Wildfox Clothing for women aged between 15 to 35 years. Founded in the year 1999, Gojane is operated by a team of fashion fanatics that is committed to the goal to connect their customers with the latest fashion trends. In addition to a wide range of casual clothing for women, Gojane also offers beautiful dresses for almost every occasion.
Have you already tried any of these similar clothing retailers? I would LOVE to hear about your experience. Moreover, If you know about some other good clothing brands and stores like Wildfox, please share in the comments section below.
Related Links