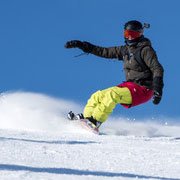 Snowboarding is one of the most popular outdoor recreational activities in the United States, Canada, Europe and several other regions in the world. In the year 1998, Snowboarding was included in Winter Olympics for the first time ever. Presently, there are hundreds of companies that produce snowboard equipment. Its good to have more options to choose from, but sometimes, an overwhelming number of options confuses most people and makes it difficult to find the right one. In this post, we are going to share some of the best snowboard brands to buy finest quality boards, clothes, boots, bindings, helmets, goggles and more.
Whether you are a powder fanatic, a free rider or you fall in the all-mountaineers group of snowboarders, we hope you'll fall in love with at least one of our handpicked snowboard brands we shared below.
Top 10 Snowboard Brands In The World
#1. Weston Snowboards & Splitboards

Weston is not as famous as other snowboard brands like Burton. But still, it is our top-recommended option. From All-mountain to freestyle and splitboards, every board offered by Weston is carefully tested in the backcountry of Colorado's Rocky Mountains. Headquartered in Minturn, Colorado, United States, Weston introduced its first series of Snowboards for men and women in 2012. Weston also offers a good range of skis, bindings & skins, apparel and accessories including snowboard mittens and gloves.
#2. Skis Rossignol : Alpine, Snowboard & Nordic Equipment

Skis Rossignol is over a century old, French winter sports brand that specializes in alpine, snowboard and Nordic equipment. Headquartered in Isere, France, Skis Rossignol was founded in the year 1907. The company offers a beautiful and high-quality range of snowboards and bindings for men, women and kids. Additionally, Skis Rossignol is also a great place to buy snowboard helmets, travel bags and technical bags.
#3. Burton Snowboards, Boots, Bindings & Outerwear For Pro Riders

Almost 55% of the total snowboard equipment market share is held by Burton. That unquestionably makes it the leading snowboard brand. But still it is on #3 in this list. Why? The top two brands offer similar quality snowboards and accessories. However, in most cases, Weston and Skis Rossignol are more affordable than Burton. A good thing about Burton is, it offers free shipping and returns on almost every order.
#4. Arbor Collective Snowboards, Skateboards & Clothing

Arbor Collective is a Venice, California based snowboard brand that was first introduced in the year 1995. Arbor primarily uses solid wood and bamboo to manufacture its unique and high-quality range of snowboards. In 1998, Arbor Collective started its skateboard division. Presently, Arbor Collective also designs, manufactures, markets and sells a good variety of snowboard clothing e.g. wovens, bottoms, headwear and graphic tees for men and women.
#5. Capita Snowboards

Presently, Capita Snowboarding is known to be the only hydro-powered snowboard manufacturing facility in the world. Moreover, Capita Snowboarding is also the only winter sports company in the world that has its own testing slope on-site. Capita Snowboarding has a global network of distributors across North America, Europe, Asia and Australia. Moreover, the company also gives you the option to shop online. Each Capita Snowboard comes with a two-years warranty.
#6. Jones Snowboards, Backpacks & Backcountry Gear

Jones Snowboards is a Truckee, California based company that offers high-quality snowboards for men and women. The company was founded in the year 2009. Since then, Jones has continuously tweaked and refined its snowboard collection. Jones also offers an impressive range of organic apparel, headwear, backpacks and accessories like insulated water bottles.
#7. Niche Snowboards : An Environmentally Conscious Snowboard Company

Skilled craftmanship and a passion for design are the elements that make Niche a bit different than most snowboard brands on this page. Niche Snowboards is also famous for its award-winning, eco-friendly snowboards. The company is based in Salt Lake City, Utah and it was founded in the year 2009.
#8. Bataleon Snowboards

Bataleon is another world-famous and very popular snowboard brand. Bataleon is primarily known for its patented 3D shape and triple-base technology. Headquartered in Amsterdam, The Netherlands, Bataleon Snowboards were first introduced in 2007. This brand is high recommended for men, women and kids with a passion for all-mountain boards.
#9. Lib Tech : Handcrafted Custom Snowboards, Surfboards, Skateboards & Skis

Lib Tech is a highly recommended snowboard brand for customers from the United States and Canada. Especially, if you are looking for a place to buy a custom-made snowboard, take a look over Lib Tech before buying anything from anywhere else. Like GNU Snowboards, Roxy Snowboards (women's freestyle and wide boards) and Bent Metal bindings, Lib Tech is also owned and operated by Marvin Manufacturing.
#10. Never Summer : Most Durable & High-Performance Snowboards

Never Summer is a Denver, Colorado based American company that was founded in the year 1983. Never Summer is famous for its unique, carefully hand-crafted, most durable and high-performance snowboards, longboards and wakeboards. Never Summer also offers a good range of clothing for snowboarding enthusiasts. Never Summer is the first snowboard brand to get the patent on any type of hybrid camber technology.
Are you a beginner, an intermediate or a very experienced snowboarder? Have you already tried one or more of these snowboard brands we shared in this post? Your experience can help other readers find the best places to buy snowboards. Please share your thoughts in the comments section below.
Further Reading