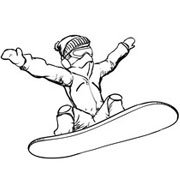 Choosing the right pair of snowboarding boots is an important step to build a strong and reliable link between you and the snowboard. Features like quick on & off, perfect fit with a smooth, uniform closure become more important when you have a plan to spend longer days on the hill. In this post, we are going to share our carefully selected, most comfortable and the best snowboard boots for freestyle, park and all-mountain snowboarding. These thoughtfully designed boots also feature a great foot protection system. What this simply means is that you can put more energy into keeping control and less into keeping your foot secure.
Below is a quick list, followed by some basic information and links to the official websites of our personal favorite (and top-rated by actual customers) snowboarding boot brands. At the end of this post, we have also shared some very useful tips on how to choose the perfect snowboard boots. You may also like to checkout the Best Snowboard Brands.
Top 10 Snowboard Boot Brands For Men, Women & Kids
#1. Salomon Snowboard Boots > Synapse
Salomon is a world-famous name in sports equipment industry. headquartered in Annecy, France, Salomon was founded in the year 1947. Salomon snowboard boots for men & women are great when it comes to optimal comfort, increased reactivity and perfect control of your snowboard.
#2. 32 Snowboard Boots > Lashed
ThirtyTwo is another great action sports brand and one of the best places to buy an impressive range of laced snowboard boots for men, women and kids, featuring Vibram and performance rubber outsoles for maximum grip. ThirtyTwo also offers mountain sports clothing, outerwear and accessories.
#3. Burton Snowboard Boots > Moto
If you are into snowboarding for any amount of time, chances are you already know about Burton Snowboard Boots.  Whether you are a beginner or a pro-grade snowboarder, Burton offers everything you need for your backcountry adventure. Some of the most popular product categories at Burton include snowboard pants, jackets, boots, bindings, helmets, gloves, neck warmers & face masks.
#4. Deeluxe Snowboard Boots > Spark
Deeluxe is an Austrian brand that offers a great variety of snowboard boots under different categories including soft and hard boots. Deeluxe snowboard boots feature an Ergolight footbed for maximum comfort and a slip-resistant outsole for outstanding traction and grip.
#5. Ride Snowboard Boots > Orion
Ride is an American action sports brand that started its journey in 1996 with a mission to design and manufacture the best snowboard boots and bindings in the world. Presently, Ride Snowboards is a wholly owned subsidiary of K2 Corporation. Checkout the complete range of Ride Snowboard Boots for men, women and kids.
#6. DC Snowboard Boots > Phase
DC Shoes is a wholly owned subsidiary of Quiksilver, a renowned brand in action sports equipment industry that needs no introduction. DC Shoes is a Huntington Beach, California based American brand that offers boots, jackets, pants and accessories for skate and snowboarding.
#7. K2 Snowboard Boots > Raider
K2 Snowboard is into the business for more than 25 years now. The company is known for its finest-quality, innovative and authentic snowboard boots, bindings and boards. In some cases, K2 Snowboard boots may be a bit expensive than most other brands on this page. However, the quality of snow gear by this manufacturer will never disappoint you.
#8. Rome Snowboard Boots > Libertine
Rome Snowboards is a Waterbury, Vermont based American brand that was first introduced in the year 2001. In addition to a complete range of snowboards, boots, bindings and gloves for young men and women, Rome also offers high-quality baselayer, riding hoodies, tees and headwear.
#9. Flow Snowboard Boots > Vega Lace
Flow is another very popular American winter sports brand. Headquartered in San Clemente, California, Flow was launched in the year 1992. In addition to its famous range of snowboarding boots and bindings, Flow has also included related apparel and accessories into its snow gear portfolio.
#10. Nitro Snowboard Boots > TLS
Nitro Snowboards is a Seattle, Washington based manufacturer of snowboarding equipment. Nitro Snowboards introduced its first batch of boots, boards, jackets and accessories in 1990.
How To Find The Best Snowboard Boots?
Finding the right pair of snowboarding boots can be difficult if you don't know what to look for. Below we have shared the basics and tried to answer the most commonly asked questions about Snowboard Boots. We hope this guide will be helpful for most men and women (especially beginners).
Do Snowboard Boots Fit The Same Way As Shoes?
Generally, snowboard boots are sized the same as your other shoes. However, the best snowboard boot is the one that fits snugly. More importantly, your snowboard boots should be well-matched to your riding style.
How Tight Do Snowboard Boots Have To Be?
As we said earlier, snowboard boots can't run on the loose side. What this simply means is that, they should be Fairly tight. But make sure they are not Very Tight and there is no feeling of pain or discomfort. Please note, you'll have to ride for several days in order to let your snowboard boots pack out and form to their true size. It is also very important to choose the right pair of snowboarding socks.
Do All Snowboard Boots Fit In All Binding?
The simplest answer to this question is "No". The bindings are your direct connection between you and your snowboard. In order to have a better riding experience, we strongly recommend that you invest some time in research to find the best snowboard bindings for your shoes.
What Is a BOA Snowboard Boot?
While the BOA system is around for almost 17 years. Still many people think what does "Bank Of America" has to do with snowboard boots? 🙂
BOA is an advanced enclosure system that makes it easy to get your boots on and off quickly. Moreover, it also lets you make instant adjustments. The interesting thing is that, you can do this without removing your gloves or mittens. Please watch this short video to better understand how BOA system works.
If you have more questions, please feel free to ask in the comments section below and we'll be more than happy to get back to you with an answer ASAP.
Further Reading