Each Xefo Rapid Tablet contains Lornoxicam 8mg
Xefo Rapid is a non-steroidal anti-inflammatory drug with analgesic properties. It belongs to the oxicam class of drugs. The mode of action of Xefo Rapid is partly based on inhibition of prostaglandin synthesis (inhibition of the enzyme cyclooxygenase). The inhibition of cyclooxygenase does not result in an increased formation of leukotrienes.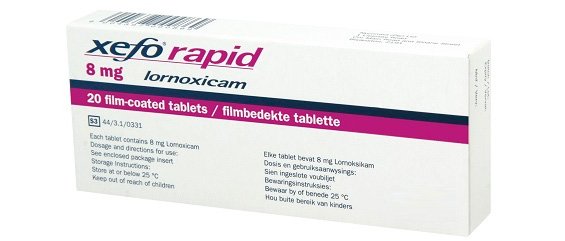 As with other non-steroidal anti-inflammatory drugs the mechanism of analgesic action of Xefo Rapid has not been determined in full detail.
What is Xefo Rapid Tablet Used For?
Xefo Rapid is used as a short-term treatment of moderate pain such as pain following dental surgery,
Management of pain associated with acute lumbago and sciatica,
Xefo Rapid is also used as a symptomatic treatment of pain and inflammation associated with rheumatoid arthritis and osteoarthritis.
Recommended Dosage of Xefo Rapid
The recommended dosage is 1 to 2 tablets a day. The maximum recommended dosage is 16mg per day. Do not take more than 2 tablets of Xefo Rapid in 24 hours. Moreover, this drug is not recommended for individuals under 18 years of age.
No dosage adjustment is required for elderly patients, unless renal or hepatic function is impaired. In such cases daily dosage should be reduced. For all patients dosage should be based on individual response to the treatment.
Xefo Rapid film-coated tablets are supplied for oral administration with a sufficient quantity of liquid.
When to avoid Xefo Rapid Tablets?
Xefo Rapid is contraindicated in the following conditions;
Hypersensitivity/allergy to Lornoxicam or any of the excipients used in this preparation
Patients having suffered hypersensitivity reactions (symptoms such as asthma, rhinitis, angioedema or urticaria) to other non­steroidal anti-inflammatory drugs including acetylsalicylic acid (Ascard)
Gastrointestinal bleeding, cerebro-vascular bleeding or other conditions with increased bleeding tendency
Active peptic or duodenal ulceration or recurrent peptic or duodenal ulceration
Severe liver function impairment
Severe renal function impairment (serum creatinine >700 µmol/L)
Severe thrombocytopenia
Severe heart failure
Elderly patients (>65 years) with a bodyweight of less than 50 kg in the course of acute surgery
Patients under 18 years of age
Special Warnings and Precautions
In the following cases, Xefo Rapid Tablets should only be used after careful risk-benefit assessment;
History with Gastrointestinal Bleeding and Peptic or Duodenal Ulceration


Regular clinical monitoring should performed. Patients developing gastrointestinal bleeding and/or peptic or duodenal ulceration while using Xefo Rapid should discontinue the medication and appropriate therapeutic action should be initiated.
Impaired Renal Function
Patients with mild renal function impairment (serum creatinine 150-300 µmol/L) should undergo monitoring every three months. Patients with moderate renal function impairment (serum creatinine 300-700 µmol/L) should be monitored every 1-2 months. Treatment with Xefo Rapid Tablets should be discontinued if renal function deteriorates during treatment.
Hepatic Diseases (e.g. liver cirrhosis)
Clinical monitoring and laboratory tests should be performed at regular intervals (e.g. liver enzymes)
Xefo Rapid (like other non-steroidal anti-inflammatory drugs dependent on the cytochrome P450 2C9 (CYP2C9) isoenzyme) has shown interactions with known CYP2C9 inducers and inhibitors (such as tranylcypromine and rifampicin). NSAIDs increase the risk of epidural or spinal hematoma when used concomitantly with heparin in spinal or peridural anesthesia. See Xefo Rapid Drug Interactions.
Xefo Rapid > Preclinical Safety Data
In most toxicological studies changes in the gastrointestinal tract and kidneys were observed similar to the expected pharmacological effects of all non-steroidal anti-inflammatory drugs. Results of studies with chronic dosing in primates showed a tolerable dose of 0.25 mg/kg/day over one year.
There is no definite evidence that Xefo Rapid has intrinsic genotoxic activity. In preclinical studies Xefo Rapid had no adverse effects on male fertility, but affected ovulation and nidation in female experimental animals and prolonged both gestation and parturition.
Preclinical reproductive and developmental studies with Xefo Rapid were conducted in rats and rabbits. Preclinical data show that Xefo Rapid induced premature closure of the ductus arteriosus as a result of its inhibition of cyclooxygenase. Although no evidence of any teratogenic potential was found, Xefo Rapid film-coated tablets are contraindicated in pregnancy as no adequate clinical experience in humans has been established.