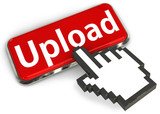 Whether you have created a single page (profile page or resume etc.) or a basic website with multiple pages, all this effort is useless if no one can see your work except you. If you want to share your web pages with the world, you'll need to upload them to a web hosting server. Getting your pages online is one of the most important pieces of The Web Puzzle. In this step by step tutorial you will learn how to upload files to a website or web hosting server. The simplest way to get this job done is to use an FTP (File Transfer Protocol) software.
Tools You Need To Get Your Pages Online
Domain Name (e.g. www.YourSiteName.com)
Web Hosting Account
FTP Software (e.g. Cute FTP, FileZilla)
If you have not purchased a personlized domain name and/or web hosting account yet, I would suggest you to sign up with a free web hosting service. Most free web hosting companies also offer a free subdomain e.g. http://YourSiteName.Example.com as an alternate to a personlized domain name.
Use free web hosting service at initial stage only. Once you are comfortable with how web hosting works, purchase a premium web hosting account (Paid Web Hosting) to get advanced services. Premium Hosting has certain advantages over free services.
The next step is to transfer your files (web pages) from your computer to your web server. For this purpose you will need an FTP software. In this tutorial I am using CuteFTP.