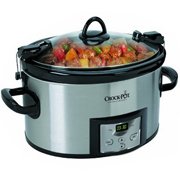 Slow cookers have experienced a huge revival in popularity in recent years. They have been making reappearance onto many wedding gift lists, as an essential culinary appliance, as well as people buying them for their own use. Not only are slow cookers convenient, but they also are very energy efficient, using the equivalent heat of two bright light bulbs to cook food over many hours. They have also become cheaper and cheaper to buy, as the technology to insulate and heat them has improved.
Slow Cookers Are Safer
Slow cookers are designed to be left on for long periods and it is perfectly safe to leave them in operation while you are out of the house or overnight. Many come with a digital timer included, so you can add the raw ingredients to the slow cooker, then set it to come on at a later time, meaning that the food will be perfectly cooked by the time you get home from work. (It is not a good idea, however, to leave food without refrigeration for long periods, so do not set them up too far in advance).
Smaller And Medium Sized Slow Cookers Are The Best!
When buying a slow cooker, think about how large you need it to be. The smaller and medium models will heat up faster and have a more even temperature distribution, but remember that you should not fill a slow cooker to the brim. So a model with a stated capacity of five liters will be able to cook around four liters of food (check the manufacturer's instructions as to the optimum capacity for particular models.) Also, a glass lid is a useful additional feature—since you should try to avoid removing the lid as much as possible during cooking, this allows you to check on the progress of your food. Some also cook the food inside a removable pot which is attractive enough to take straight to the table, thus saving on washing up.
Related Links