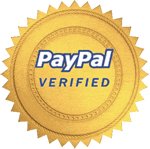 Paypal is the most widely used money processing system across the web. People trust Paypal because of their Buyer Protection Program and shop online with more confidence when the seller offers them Paypal as a preferred mode of payment. Whether you need an individual account to bid on ebay auctions or shop somewhere else online, or want to signup for a merchant account to sell your stuff or services, Paypal is equally beneficial, safe and cost effective. Moreover you can also use your Paypal account to get your affiliate commissions paid. Unfortunately Paypal does not directly operate in Pakistan. However, there is a risk free way to get a verified Paypal account in Pakistan. This verification process is absolutely free. You don't need to spend a single rupee and you don't need a bank statement or a Credit Card either.
What Documents Do You Need To Get Verified?
In order to begin the verification process, you need the following;
Where To Go Next?
Once you have the scanned copies of both the documents shown above, you are ready to go! See How to Use These Documents to Verify Paypal Account.