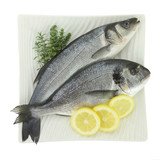 The solution to the ever growing problem of trying to lose weight and remain healthy is as close as your next meal. Most of you avoid fats to have a slim body. You might be wonder to know that not all fats are same; some fats are extremely beneficial and essential for your weight loss plan. Among these good fats is Omega-3.
What Are Omega-3 Fats?
Omega-3 refers to a group of polyunsaturated fatty acids, namely ALA (alpha-Linolenic acid) EPA (Eicosapentaenoic acid), and DHA (Docosahexaenoic acid). They are scientifically termed as EFAs or Essential Fatty Acids. Your body cannot prepare EFAs, so you always need to get them from your diet. In order to enjoy an optimal health it is necessary to add a significant amount of omega-3 in your diet. It helps your body to grow and to perform its functions properly.
Why You Need Omega-3?
The current understanding of the benefits of omega-3 fish oil could just be a drop in the ocean. Research shows strong evidences that people who consume fish oil regularly have lower obesity rate. There are certain foods that help you lose weight, omega-3 is one among the most effective natural weight loss tool. Moreover, it is likely to be effective for preventing heart disease, high blood pressure, arthritis, menstrual pain, stroke, weak bones, kidney problems and bipolar disorder.
How Omega-3 helps Lose Weight?
It assists you lose weight through many ways. Some of them are given below:
Decreases appetite
Increases body's capacity to burn more fat
Maximizes insulin sensitivity
Decreases fat production
Decreases food craving and loss of energy
Boosts energy level to for workouts
Helps your body to use fat stores for performing routine tasks
Maintains the level of certain hormone for weight loss
What are the natural sources of Omega-3?
Some of the natural sources of Omega-3 include:
Fish
Egg
Krill
 Meat
Mammalian eyes and brain
Seal oil
Berries
Green vegetables
Taking fish oil supplements with regular exercise boosts your metabolism and improves your weight loss regime.  Omega-3 is beneficial for your over all body, whether you are over-weight or you have a perfect body shape, there is no reason to avoid polyunsaturated Omega-3. As long as you keep an eye on balancing your calories, omega-3 will be your best friend in your goal to a healthier and better looking you.