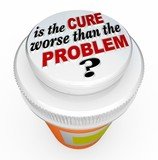 Neurontin (Gabapentin) is an effective drug in the treatment of Neuropathic Pain. It is also effective as an adjunctive therapy in the treatment of partial seizures with and without secondary generalization in patients over 12 years of age. In addition to the benefits the drug may have some side effects. The most common side effects of Neurontin are dizziness, somnolence, ataxia, headache, nystagmus, tremor, fatigue, diplopia, nausea and/or vomiting and rhinitis.
System Wise Side Eeffects
Nervous System
Dizziness, somnolence, ataxia, nystagmus, dysarthria, amnesia, confusion, insomnia, twitching, paresthesia and vertigo.
Digestive System
Nausea, vomiting, abdominal pain, dyspepsia, dry mouth, constipation, diarrhea and increased appetite.
Respiratory System
Rhinitis, pharyngitis, cough and respiratory tract infections
Skin and Appendages
Rashes.
Special Senses
Diplopia, amblyopia, conjunctivitis and otitis media.
Urogenital System
Impotence.
Musculoskeletal System
Myalgia, fatigue
Neurontin Side Effects on Body as a whole
Asthenia, infection, headache, accidental Injury and abdominal pain. There is no clinically important difference between men and women in the types and incidence of adverse events.
There are reports of 8 sudden and unexplained deaths in a cohort of 2203 patients treated with Neurontin. However the incidence of 0.0038 deaths per patient per year with Neurontin is not much different from 0.0005 to 0 003 in similar population of patients with epilepsy.
Additional post-marketing adverse events reported were pancreatitis, erythema multiforme, Stevens-Johnson syndrome and elevated liver enzymes.
Related Posts
Neurontin Dosage for Nerve Pain and Epilepsy