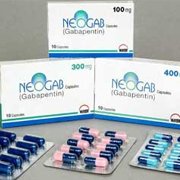 Neogab (Gabapentin) is related to the neurotransmitter GABA (gamma-aminobutyric acid). Neogab has proven affinity for special site in brain tissues such as neocortex and hippocampus. Though exact mechanism of its CNS depressant and anticonvulsant activity is not fully understood, Neogab is thought to be active through peptide-binding sites receptors.
Neogab Indications
There are many evolving indications of Neogab under trial. Its main indications are for the treatment of neuropathic pain and epilepsy.
Neogab in Neuropathic Pain
Neuropathic pain is pain due to diseases involving nervous system. Variety of different diseases such as diabetes, shingles, nerve injury and other diseases affecting nervous system cause it. Neogab is effective in various types of neuropathic pain and can be used to get rid of the following conditions;
Peripheral Diabetic Neuropathies
Trigeminal Neuralgia
Post herpetic neuralgia
Neogab in Epilepsy
Neogab is used to treat various forms of epilepsy. It is effective as adjunctive therapy with other anti-epileptic drugs in patients who have shown no or poor response in achieving seizure control. Neogab is effective in controlling both simple and complex partial seizures with or without secondarily generalized tonic clonic seizures.
Neogab (Gabapentin) studies are in progress to establish its efficacy in the treatment of Restless leg syndrome, Depression, Maniac disorders, Unspecified Headache and Migraine.
Neogab Contraindications
Neogab is contraindicated in patients who are hypersensitive to gabapentin. Enough data is not available for its safety in children, during pregnancy and lactation. Caution should be exercised in renal compromised patients.
Recommended Dosage
Adults & children over 12 years
Usual effective dose: 900-1800mg/day in 2-3 divided doses. Care should be taken to avoid a period of more than 12 hours between two doses. In certain patients, such as elderly patients, it may be preferable to up titrate the dose up to an effective level.
A suggested schedule is to start with Neogab 100 mg at night and increase with 100 mg per day up to 600 mg in 2 – 3 divided doses. Further increase can be made depending on patient's response.

Paediatric Use


Safety and effectiveness of Neogab in children under 12 years have not been established. However, physicians can decide to prescribe taking into account the necessity and safety issues.

Use in Elderly


When prescribing Neogab to elderly patients (> 65 years), careful monitoring should be carried out for adverse events. Older patient may require dosage adjustment depending on their baseline renal functions (creatinine clearance).
Compromised Renal Function
Patients with impaired renal function should be prescribed with caution depending upon the state of their creatinine clearance as elimination of Neogab is decreased in patients with impaired renal function.
Related Links